DirectX
ActiveMac
Downloads
Forums
Interviews
News
MS Games & Hardware
Reviews
Support Center
Windows 2000
Windows Me
Windows Server 2003
Windows Vista
Windows XP



News Centers
Windows/Microsoft
DVD
Apple/Mac
Xbox
News Search



ActiveXBox
Xbox News
Box Shots
Inside The Xbox
Released Titles
Announced Titles
Screenshots/Videos
History Of The Xbox
Links
Forum
FAQ



Windows XP
Introduction
System Requirements
Home Features
Pro Features
Upgrade Checklists
History
FAQ
Links
TopTechTips



FAQ's
Windows Vista
Windows 98/98 SE
Windows 2000
Windows Me
Windows Server 2002
Windows "Whistler" XP
Windows CE
Internet Explorer 6
Internet Explorer 5
Xbox
Xbox 360
DirectX
DVD's



TopTechTips
Registry Tips
Windows 95/98
Windows 2000
Internet Explorer 5
Program Tips
Easter Eggs
Hardware
DVD



ActiveDVD
DVD News
DVD Forum
Glossary
Tips
Articles
Reviews
News Archive
Links
Drivers



Latest Reviews
Xbox/Games
Fallout 3

Applications
Windows Server 2008 R2
Windows 7

Hardware
iPod Touch 32GB



Latest Interviews
Steve Ballmer
Jim Allchin



Site News/Info
About This Site
Affiliates
Contact Us
Default Home Page
Link To Us
Links

News Archive
Site Search
Awards



Credits
©1997-2012, Active Network, Inc. All Rights Reserved.
Please click here for full terms of use and restrictions or read our Light Tower Privacy Statement.



Product: PC-cillin 2000
Company: Trend Micro Devices
Website: http://www.antivirus.com
Estimated Street Price: $29.95
Review By: Julien JAY
Quarantine
Norton AntiVirus was the first antivirus software of the world to feature a quarantine feature. PC-cillin 2000 provides the same useful feature that will move dangerous files that are susceptible to contain viruses or files that are known to contain viruses in a protected folder in order to avoid a virus spreading on your medium like floppies, CD-R, hard drives, etc. You can have access to the quarantine contents through the PC-cillin interface and manage them: you can manually add some files to the quarantine, clean the virus infected files, definitely delete or restore the quarantined files or submit them to a Trend Virus specialist if the virus you've got is new and unrecognized by PC-cillin.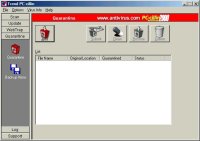 Internet Security Features
Many people use the Internet primarily to enjoy the various benefits of email-based communication. However viruses can be carried by emails that can even come from usually trusted sources like your best friend, but due to Virus refinements even your mother can't know she's sending you a killer virus. To prevent the disastrous ravages an email virus can generate on your system the real time scan applet scans every POP3 email server you defined in Outlook Express 4.01 or greater & Eudora Pro 4.0. This feature is more than efficient: to test it we sent us two dangerous viruses in an email that contained Happy 99 and the famous 'Love' bug: when we retrieved incriminated emails PC-cillin instantly alert us that the email attachment contain viruses so we were able to delete them without opening them first so the computer weren't infected. One of the new Internet related features of PC-cillin 2000 is the brand new update wizard that connects you to the Internet and checks for incremental updates to retrieve and install them. The purpose of weekly incremental updates is to reduce download time and speed up update process by downloading only the necessary new viruses pattern files. Best of all if your update download failed for a reason or another you can resume it by continuing to download it from the breaking point. The update feature can also be scheduled to run at the time of your convenience. Generally virus updates are small (900Kb in average) and really fast to apply. The web security feature of PC-cillin 2000 will make sure if you choose to enable it that the ActiveX and Java scripts that transparently ran by some websites are safe. Indeed some JAVA or ActiveX applets can contain malicious code that could be harmful for your computer. We tested this area of the program with a Java script that retrieves some files of the visitor's computer and PC-cillin instantly alerted us and blocked the program. We also tested various dangerous ActiveX files that send information on the computer to the website and once again PC-cillin did its job by blocking the program. Well you thought that Antivirus software is just a virus scanner? You're wrong! Indeed PC-cillin 2000 now includes a Web Filtering applet that will block every websites that may contain some objectionable content. Obviously the web filtering can be password protected to prevent children to disable it. However the big restriction of this feature is that you should add the undesirable websites yourself to the list… So if you're visiting an objectionable website that isn't listed in PC-cillin you'll have full access to it. It's quite a pity because without having a pre-made blacklist of tendentious websites that can be updated over the net the WebFilter feature is no use. However it provides a basic but efficient way to block some known bad Internet sites. Finally PC-cillin 2000 comes with an interesting ActiveDesktop feature: if you decide to enable a part of your ActiveDesktop will display the latest virus alerts and bulletins from Trend ensuring you're aware of any possible treat.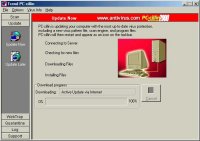 Macro viruses
PC-cillin 2000 uses the exclusive and unique Trend Micro 'MacroTrap' technology that provides a smart and real time way to scan documents that can be infected by macro viruses. Indeed the MacroTrap technology basis is to analyse documents by using rules to determine whether or not macrocode is viral. This is really important because new macro viruses can be spread very quickly and are created so often that the usual virus pattern fixes would arrive to late to repair or prevent the infection. Once again we put PC-cillin 2000 on the benchmark and we tested third different documents an Excel one containing the Laroux virus and a two Word documents: one containing the Jakarta virus and an other containing the Melissa virus. PC-cillin 2000 detected the third macro viruses and instantly warned us to take appropriate action to fix this dangerous macros. Sure once we have repaired the normal.dot model we were able to use Microsoft Word as usual as if it were never been infected.
Viruses tests
We tested PC-cillin 2000 with many virus samples including new and old ones! Our viruses test set of files contained Junkie Boot, King, RunMe, WorldCup98 and Necros viruses. All these viruses stored on a ZIP disk were detected accurately by PC-Cillin 2000 and also eradicated them. To prove that PC-cillin is probably the best today virus hunter out on the market we decide to use an other set of viruses files that contain the following ones: Demon, Hkill, Magnum, Oktubre 1784, Omega and Vice. Once again all the viruses were detected in a record time and the wizard suggested us good way to repair the infected files. According to these tests we can say that PC-cillin is the best virus hunter we've have ever tested yet. However it can be sometimes a bit alarming as it can detect some files with non-standard strings are viruses when they are not. But it's clear that the engine scanner sensibility is quite good and will protect every user. When a virus is found you have several choices: clean, quarantine if you're unsure, rename or delete the file. Finally we appreciate the virus list that lists all the viruses PC-cillin protects you against and its companion feature the Virus Encyclopedia that give clear and useful details about all the inventoried viruses.