DirectX
ActiveMac
Downloads
Forums
Interviews
News
MS Games & Hardware
Reviews
Support Center
Windows 2000
Windows Me
Windows Server 2003
Windows Vista
Windows XP



News Centers
Windows/Microsoft
DVD
Apple/Mac
Xbox
News Search



ActiveXBox
Xbox News
Box Shots
Inside The Xbox
Released Titles
Announced Titles
Screenshots/Videos
History Of The Xbox
Links
Forum
FAQ



Windows XP
Introduction
System Requirements
Home Features
Pro Features
Upgrade Checklists
History
FAQ
Links
TopTechTips



FAQ's
Windows Vista
Windows 98/98 SE
Windows 2000
Windows Me
Windows Server 2002
Windows "Whistler" XP
Windows CE
Internet Explorer 6
Internet Explorer 5
Xbox
Xbox 360
DirectX
DVD's



TopTechTips
Registry Tips
Windows 95/98
Windows 2000
Internet Explorer 5
Program Tips
Easter Eggs
Hardware
DVD



ActiveDVD
DVD News
DVD Forum
Glossary
Tips
Articles
Reviews
News Archive
Links
Drivers



Latest Reviews
Xbox/Games
Fallout 3

Applications
Windows Server 2008 R2
Windows 7

Hardware
iPod Touch 32GB



Latest Interviews
Steve Ballmer
Jim Allchin



Site News/Info
About This Site
Affiliates
Contact Us
Default Home Page
Link To Us
Links

News Archive
Site Search
Awards



Credits
©1997-2012, Active Network, Inc. All Rights Reserved.
Please click here for full terms of use and restrictions or read our Light Tower Privacy Statement.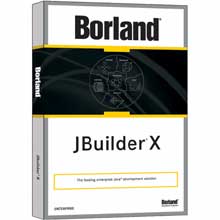 Introduction
Borland JBuilder X has been touted as Borland's most significant release in these two years. Building on the stable foundation of the previous releases, Borland JBuilder X Enterprise Edition introduces support for newer application servers, along with enhanced performances and better overall user experience.
With JBuilder X, Borland is taking application development into another level. Traditional development environments used to involve compilers, editors and debuggers incorporated into a single application. Software development took another leap with support for the whole application development lifecycle, integrating the designing, development and deployment process. The process involves a number of people, including architects, testers, programmers and product managers. The final part of the evolution revolves around increased collaboration. We are talking about seamless collaboration that is aided by programming methodologies like extreme programming and collaboration software. JBuilder X provides the tools for all personnel involved in the application lifecycle. The application allows architects to utilize UML, programmers to develop, test, debug and deploy code all using the same application, providing integrated workflow and smooth project management.

JBuilder X offers an improved development environment
Strictly speaking, JBuilder X comes in four flavors. There is the Enterprise edition, which the review is based on. It is the only version that includes support for UML visualization, Crystal Reports and plug-ins for major application servers (I am talking about WebSphere, WebLogic, Sybase Enterprise Application Server and Sun One), the Cocoon framework and lastly, an integrated web services designer. JBuilder Foundation and JBuilder Developer do not have the features mentioned above, although the Foundation edition is slightly better because of additional support for XML, JavaBeans, J2ME and finally, two-way migration. A version of JBuilder X also exists for the BEA WebLogic platform. This version of JBuilder is preconfigured and optimized for development and deployment on the BEA WebLogic platform.

The new IDE offering from Borland has support for various application servers
Installation
Borland recommends 768 MB of memory for JBuilder X Enterprise Edition, with 512 MB as the bare minimum. I tested the software on a system with 1 GB of RAM. Operation was smooth but resizing took a while at times. Aside from minor performance glitches at times, I was generally pleased by the performance of the compiler. Installation was speedy as well, taking my system four minutes, although a previous installation took twenty, no thanks to my computer dealing with other applications at the same time. The installation took up about 700 MB of my disk space, fairly justified, in my opinion. Resizing windows is still a hassle, taking a few seconds every time. In general, the software runs at a fast pace most of the time.