DirectX
ActiveMac
Downloads
Forums
Interviews
News
MS Games & Hardware
Reviews
Support Center
Windows 2000
Windows Me
Windows Server 2003
Windows Vista
Windows XP



News Centers
Windows/Microsoft
DVD
Apple/Mac
Xbox
News Search



ActiveXBox
Xbox News
Box Shots
Inside The Xbox
Released Titles
Announced Titles
Screenshots/Videos
History Of The Xbox
Links
Forum
FAQ



Windows XP
Introduction
System Requirements
Home Features
Pro Features
Upgrade Checklists
History
FAQ
Links
TopTechTips



FAQ's
Windows Vista
Windows 98/98 SE
Windows 2000
Windows Me
Windows Server 2002
Windows "Whistler" XP
Windows CE
Internet Explorer 6
Internet Explorer 5
Xbox
Xbox 360
DirectX
DVD's



TopTechTips
Registry Tips
Windows 95/98
Windows 2000
Internet Explorer 5
Program Tips
Easter Eggs
Hardware
DVD



ActiveDVD
DVD News
DVD Forum
Glossary
Tips
Articles
Reviews
News Archive
Links
Drivers



Latest Reviews
Xbox/Games
Fallout 3

Applications
Windows Server 2008 R2
Windows 7

Hardware
iPod Touch 32GB



Latest Interviews
Steve Ballmer
Jim Allchin



Site News/Info
About This Site
Affiliates
Contact Us
Default Home Page
Link To Us
Links

News Archive
Site Search
Awards



Credits
©1997-2012, Active Network, Inc. All Rights Reserved.
Please click here for full terms of use and restrictions or read our Light Tower Privacy Statement.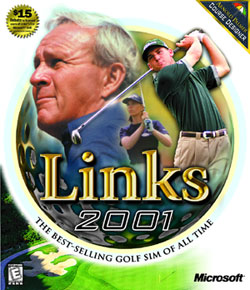 Product: Links 2001
Company: Microsoft
Website: http://www.microsoft.com/games
Estimated Street Price: $54.95
Review By: Julien Jay
Features
What's the main goal of a game such as this? Well for those golf lovers that are in a hurry most of the time, they can practice their favorite sport from the office or the home without moving! Newbies can even use Links 2001 to train in order to enhance their swing! You won't breath the fresh air nor feel the sun on your skin, but you will admire the beauty offered by the different courses as if you were in the real world, and best of all you won't have to carry your clubs! Previous Links users will instantly notice the interface of their favorite game has been totally revamped to make it more accessible & clear for novice users.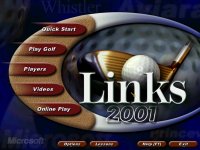 Microsoft Links 2001 GUI
Like in Links 2000 you'll be able to choose the two well-known golf players Arnold Palmer & Sergio Garcia (what about Tiger Wood for Links 2002?). These characters are provided with their own swing & 14 amazing new attitudes' animations (note that for the first time you can choose a left handed golf player). Thanks to the use of cutting edge movement acquisition technologies, the moves of characters in Links 2001 are more realistic than ever while every course was totally redesigned and refreshed ensuring the best simulation. While you'll play you'll notice that Microsoft did a great job focusing his efforts on the graphics engine: this golf simulation now looks like a golf game on live TV, really. Flying birds, butterflies, trees, divots, grass, skies, clouds, sandy, every details has been thought about and if your PC is powerful enough you'll be amazed and your breath will be definitely taken away by the unprecedented graphic quality that Links 2001 unveils.
This brand new rendering engine generates a terrain surface that includes rock beds, cliffs, arches and bunker overhangs and every on screen elements (from players to ball) is anti-aliased for seamless transitions. This outstanding, kick-ass, graphic engine offers a new high resolution for graphics up to 1280*1024. Links 2001 comes with 6 different courses (including five new ones: Aviara, Princeville, Chateau Whistler, Westfields, and Mesa Roja that complete the Scotland's St Andrews Links Old Course) offering modelled greens to ensure high accuracy up to within one centimeter of the real course thanks to the over 500 GPS (global positioning satellite) points used per green. One of the most important things a golf simulation should outperform is the ball behavior: there are many factors that influence ball direction & movement: wind, terrain configuration, club design, force of your shot, etc. Links 2001 manages all these parameters and more offering the most (too?) realistic swing you can dream about with a ball that can now flight and enter in collision with objects.
Now you're wondering how you can swing with a computer, right? This is a good question! Links offers a new redesigned swing gauge (you can even move across your screen) with three swing types called Easy, Classic & Powerstroke: a power gauge gets fulfilled while you push your mouse button. You can change clubs, change your feet position, adjust the angle of your club face, etc. but the key to best swing put lies in the power of your shot which you'll have to adjust. A new ultra-realistic swing input mode is offered by Links 2001 where the movement of the club exactly follow your mouse cursor: however this play mode is very hard so most of you will stay faithful to the old swing gauge, I bet. Putting has also been improved with a new colored grid and slope indicator that shows the contour and distance above/below the cup. During your play sessions, Microsoft didn't forget to include sounds in order to plunge you in a realistic atmosphere so you'll hear bird sounds, wind, etc. At the end of each swing or puts, you'll hear comments of Golf professionals: if this can be fun it also becomes quickly boring. Links 2001 comes with a long awaited enhancement called APCD for Arnold Palmer Course Designer. This powerful architectural tool lets you create photorealistic courses for Links: following simple steps you'll create courses in a few minutes. This tool is in fact so powerful it is the one Microsoft developers use to design the courses included in Links 2001: so designing wonderful course is a long painful process that requires hours of planning & attention to detail! Note that Microsoft has just published its course converter so you can convert old Links courses into the new Links 2001 format to enjoy & rediscover them. Another neat and exceptional feature (at least for a game) is a recovery system: if you computer crashes hangs while you play Links 2001, the next time you'll launch the game you'll be prompted to resume the previous game!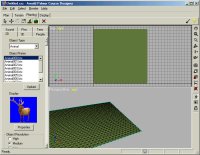 Arnold Palmer Course Designer
Finally you can obviously play online with Links 2001 due to the support of the Gaming Zone: online gaming has been fastened! Simultaneous play speeds up online golfing as players watch their competitors' ball flight in an overhead view. Microsoft apparently wants to form an online community of golf players since they even include the VGA tour: this virtual golf association tour lets golfers compete for cash in the largest golfing event on the 'Net. The VGA tour challenges the world's professional tours with the competition, courses, sponsors, and prizes that used to be exclusive to touring pros. PC golf gamers compete in a series of monthly multiplayer golf tournaments that map to the real-world's best golf events for a chance to win big money!