DirectX
ActiveMac
Downloads
Forums
Interviews
News
MS Games & Hardware
Reviews
Support Center
Windows 2000
Windows Me
Windows Server 2003
Windows Vista
Windows XP



News Centers
Windows/Microsoft
DVD
Apple/Mac
Xbox
News Search



ActiveXBox
Xbox News
Box Shots
Inside The Xbox
Released Titles
Announced Titles
Screenshots/Videos
History Of The Xbox
Links
Forum
FAQ



Windows XP
Introduction
System Requirements
Home Features
Pro Features
Upgrade Checklists
History
FAQ
Links
TopTechTips



FAQ's
Windows Vista
Windows 98/98 SE
Windows 2000
Windows Me
Windows Server 2002
Windows "Whistler" XP
Windows CE
Internet Explorer 6
Internet Explorer 5
Xbox
Xbox 360
DirectX
DVD's



TopTechTips
Registry Tips
Windows 95/98
Windows 2000
Internet Explorer 5
Program Tips
Easter Eggs
Hardware
DVD



ActiveDVD
DVD News
DVD Forum
Glossary
Tips
Articles
Reviews
News Archive
Links
Drivers



Latest Reviews
Xbox/Games
Fallout 3

Applications
Windows Server 2008 R2
Windows 7

Hardware
iPod Touch 32GB



Latest Interviews
Steve Ballmer
Jim Allchin



Site News/Info
About This Site
Affiliates
Contact Us
Default Home Page
Link To Us
Links

News Archive
Site Search
Awards



Credits
©1997-2012, Active Network, Inc. All Rights Reserved.
Please click here for full terms of use and restrictions or read our Light Tower Privacy Statement.



Product: Adobe LiveMotion 1.0
Company: Adobe
Website: http://www.adobe.com
Estimated Street Price: $299
Review By: Julien JAY
First Start
When you first start LiveMotion one thing will shock you! Indeed LiveMotion is the first Adobe software to use a basic toolbar (with only open/save/copy/paste/cut commands) and to display icons in front of the menu's commands. Indeed LiveMotion uses a more 'Windows compliant' interface than the usual Adobe ones. It's a nice enhancement! However all the tools, shortcuts, and palettes are almost the same than in other Adobe software! When you launch LiveMotion for the first time you'll have to register the software and then to use it. The second thing you'll notice is that LiveMotion uses the same GUI than the old Adobe ImageStyler software. It's in old good pots that we make good new recipes! One thing is a bit disappointing since no wizard explain you how to use correctly this new software in order to make high impact Flash animations. Indeed most users will manage to create graphics easily but it's really not the same to animate this graphics! There are just a few PDF example files that will explain you how to create some animations. However LiveMotion hopefully integers a complete HTML based help file that opens itself in an MSIE window and a complete and understandable user's printed guidebook.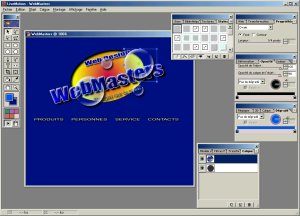 Drawing & Creativity Features
Like all other recent Adobe software, LiveMotion is focused on creativity and bring dedicated tools to let everyone express its artistic fibre. Adobe LiveMotion let you create documents of the size you want. So it'll be easy to create an animation that isn't much bigger than 300*250 pixels. Then you have to draw your graphic by using the LiveMotion exclusive vector-based drawing toolbar that include 4 shapes drawing tools such as circle, ellipse, rectangle & square. This basic shapes will enable you to draw the basic layout of your animation. After you can further modify the drawing shapes by playing with the advanced alteration tools like the opacity, size or distortion one. Using this advanced features is great because it'll help you create amazing shapes but sometimes it's a bit painful particularly when you want to draw a star (and you don't want to use the single predefined star offered by the forms' library). While drawing shapes you can choose if you want these shapes to be fulfilled or only outlined. Sure you can choose the colour you want to apply on each drawn object. As usual you can change the object position in your project (background, foreground, etc…) Adobe LiveMotion includes the standard Adobe RVB colour palette that will allow you to fine choose the colour you want to use. You can also apply homemade gradients to fulfil every shape and choose the gradient's direction. Adobe is known to include in its products special effects tools. LiveMotion doesn't depart from the rule as it offers a 3d palette that will allow you to switch each drawn object into 3d forms the way you want by changing the 3d settings such as the depth, lighting, softening. But that's not all as you can also choose the 3d effect appearance that'll be applied such as ripple, emboss, cutout, print and bevel along with the rotation degree for the light effect (that is to say you can choose where should be the dark and the light part of the 3d figure). You can also use the advanced distortion effects to be applied to the object of your choice such Twirl, Lens, Spherize, Quantize. Sure you can use the preferred graphic designers' tool, the Bézier pen tool that will deliver the precision you need. As LiveMotion is a part of the Adobe software range it natively supports layered Photoshop and Illustrator (*.EPS & *.AI) files that you can import easily & directly into any project along with other file formats including: Bmp, jpeg, emf, wmf, psd, es, ai, tiff, iff, pxr, tga, vda, dib, icb, vst. More you can modify the Photoshop or Illustrator (6 to 8) documents in their original creation software using the edit original command. Once you have changed the pictures in Illustrator or Photoshop the LiveMotion document will be automatically updated! It's a great integration feature that we really like to use. As all other existing Adobe software, you can import pictures from a TWAIN 32 source in LiveMotion using your scanner or digital cameras. Creating surprising effects is just a mouse click away in Livemotion as it fully supports the Photoshop filters. More you can change the brightness/tint/saturation/posterize contrast settings for every picture you insert into your project. LiveMotion supports advanced menu as well as animated and remote rollovers. Notice that LiveMotion perfectly manages tracing papers to easily track changes and undo them. You can copy, delete, and even erase attributes of a tracing. Finally the complete library of LiveMotion will allow you to choose predefined styles for your shapes (layout, Photoshop filters, motions, textures, sounds). Hopefully you can choose to display these different styles/behaviours in a comprehensive list where each behavior is explained in a textbox. It's great because the thumbnail of the library contents isn't very explicit.


The Adobe LiveMotion main toolbar provides advanced tools to design great looking animations