DirectX
ActiveMac
Downloads
Forums
Interviews
News
MS Games & Hardware
Reviews
Support Center
Windows 2000
Windows Me
Windows Server 2003
Windows Vista
Windows XP



News Centers
Windows/Microsoft
DVD
Apple/Mac
Xbox
News Search



ActiveXBox
Xbox News
Box Shots
Inside The Xbox
Released Titles
Announced Titles
Screenshots/Videos
History Of The Xbox
Links
Forum
FAQ



Windows XP
Introduction
System Requirements
Home Features
Pro Features
Upgrade Checklists
History
FAQ
Links
TopTechTips



FAQ's
Windows Vista
Windows 98/98 SE
Windows 2000
Windows Me
Windows Server 2002
Windows "Whistler" XP
Windows CE
Internet Explorer 6
Internet Explorer 5
Xbox
Xbox 360
DirectX
DVD's



TopTechTips
Registry Tips
Windows 95/98
Windows 2000
Internet Explorer 5
Program Tips
Easter Eggs
Hardware
DVD



ActiveDVD
DVD News
DVD Forum
Glossary
Tips
Articles
Reviews
News Archive
Links
Drivers



Latest Reviews
Xbox/Games
Fallout 3

Applications
Windows Server 2008 R2
Windows 7

Hardware
iPod Touch 32GB



Latest Interviews
Steve Ballmer
Jim Allchin



Site News/Info
About This Site
Affiliates
Contact Us
Default Home Page
Link To Us
Links

News Archive
Site Search
Awards



Credits
©1997-2012, Active Network, Inc. All Rights Reserved.
Please click here for full terms of use and restrictions or read our Light Tower Privacy Statement.



Product: Adobe LiveMotion 1.0
Company: Adobe
Website: http://www.adobe.com
Estimated Street Price: $299
Review By: Julien JAY
Motion
Animating your drawing under LiveMotion is easy. Once you drawn something push the CTRL+T keys and the TimeLine Editor will appear. One of the major features of LiveMotion is that it uses exactly the same Adobe AfterEffects styled timeline. So every amateur cineaste won't be disrupted. For each object of your composition you have to click on a button in the timeline editor to make the different animation properties to appear and to eventually create a key frame. You can animate object using the following properties: position, opacity, rotate, incline/ladder, special effects, text. Then select an attribute and move the timeline cursor and change the attribute settings in the palettes related to the object or directly on the object by rotating it or resizing it. Each attribute can be assigned independently! Then you can watch your animation by else clicking the main toolbar animation button or by rewinding the animation in the timeline editor and push the play button. Sure you can easily change the duration of your animation and when it starts by sliding the correspondent arrows. When your animation is playing the Adobe LiveMotion logo of the main toolbox will be also animated, fun. The timeline editor is great and generates good-looking animations. However it can be sometimes painful to use when you've got a lot of object to animate in a different manner for each one. Indeed to display the good attribute you should click on several little rollover arrows that are very small! Another feature retained or attention: you can import into a new project an existing project of LiveMotion: it's great to reuse easily existing animation effects. Notice that you can create an animation group to animate several objects in the same way. You can also paste the animation effects from one object to another. Every animation you create can be previewed in the browser of your choice using the appropriate LiveMotion command. Every object can be assigned a specific behaviour when the user click on it such as go to an URL, go to a specific time, go to label. LiveMotion also includes support to launch Java script applets, wait for download and more… Finally all the animation effects you add to your project are non-destructive ones. That is to say you can apply/remove/change them without recreating the objects! It's really cool!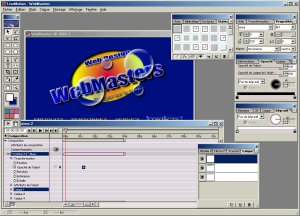 Here are two flash animations i made using LiveMotion, simply click the links below to watch them:
Animation 1
Animation 2
Sound
You can add to every animations sound including MP3 file formats! But the most interesting thing is that every animation sounds will be converted & exported directly in MP3. It's great to reduce the size of any animation. You can also import a wide variety of sound files including the following file formats: *.wav, *.au, *.aiff, *.mp3. 1For sound objects you can change their volume settings during the animation, apply a loop, trim, or a panoramic effect. That's all… We regret that the software doesn't include a small sound editor to add special effects, cuts parts of it, etc. like in Adobe Premiere.
Export
Every animation project can be exported in the well known Flash format SWF. LiveMotion automatically generates for each Flash animation two HTML pages: one containing the animation and another containing a report of it that gives you advanced information on your animation. When you export your animation you can change the color palette and decide which picture quality you wish to have (high/medium/poor). But you can also export your projects in the following web standard formats: GIF,JPEG,PNG,PSD 5.5,animated GIF. Webdesigners know that making a small animation is very important in order most of web surfers can view it: the Export preview feature of LiveMotion will tell everyone the size of each selected object and whether if it'll be exported as a vector one or a bitmap.