DirectX
ActiveMac
Downloads
Forums
Interviews
News
MS Games & Hardware
Reviews
Support Center
Windows 2000
Windows Me
Windows Server 2003
Windows Vista
Windows XP



News Centers
Windows/Microsoft
DVD
Apple/Mac
Xbox
News Search



ActiveXBox
Xbox News
Box Shots
Inside The Xbox
Released Titles
Announced Titles
Screenshots/Videos
History Of The Xbox
Links
Forum
FAQ



Windows XP
Introduction
System Requirements
Home Features
Pro Features
Upgrade Checklists
History
FAQ
Links
TopTechTips



FAQ's
Windows Vista
Windows 98/98 SE
Windows 2000
Windows Me
Windows Server 2002
Windows "Whistler" XP
Windows CE
Internet Explorer 6
Internet Explorer 5
Xbox
Xbox 360
DirectX
DVD's



TopTechTips
Registry Tips
Windows 95/98
Windows 2000
Internet Explorer 5
Program Tips
Easter Eggs
Hardware
DVD



ActiveDVD
DVD News
DVD Forum
Glossary
Tips
Articles
Reviews
News Archive
Links
Drivers



Latest Reviews
Xbox/Games
Fallout 3

Applications
Windows Server 2008 R2
Windows 7

Hardware
iPod Touch 32GB



Latest Interviews
Steve Ballmer
Jim Allchin



Site News/Info
About This Site
Affiliates
Contact Us
Default Home Page
Link To Us
Links

News Archive
Site Search
Awards



Credits
©1997-2012, Active Network, Inc. All Rights Reserved.
Please click here for full terms of use and restrictions or read our Light Tower Privacy Statement.



Product: Photo Deluxe 4.0 Home Edition
Company: Adobe
Website: http://www.adobe.com
Estimated Street Price: $49,00
Review By: Julien JAY
First Start
As the setup creates a shortcut to the program on your Windows desktop it's easy to launch the software by simply double-clicking its icon. This is an important detail as most of novice users don't really know where to find and launch newly installed programs. After launching the software users will discover a marvellous new revamped interface that gathers advanced options and features through three different activities names displayed in buttons. The advanced menus button located at the bottom of the PhotoDeluxe main window allows to display more menus in the menu bar. The small left-bottom located flower button shows a toolbar containing several icons that are Internet shortcuts to access the Adobe ActiveShare Website or the PhotoParade site for example. The streamlined interface is what we've seen better yet for this kind of tool and is a marvel of simplicity! Beginners will really be able to use the software in a few minutes.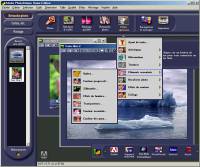 Working on photos
When you open or acquire a picture it's displayed in a window that contains several buttons in the toolbar: zooming tools, text tool, and cancel button. We were deceived by the fact that the undo feature isn't a multiple level one. Every time the file sizes as well as the dimensions of the photo are shown by the status bar of the window. You can open several photos at the same time that are each displayed in separate windows. The left bar of the software allows to navigate easily between them by simply selecting their thumbnails representation to access them. Three activities buttons regroup several features: the 'Get & fix photo' one show all the appropriate commands to work on photos, the 'Cards & more' button displays the commands to create various paper based projects like calendars, diplomas, wishing cards, etc. and finally the 'Share' button unveils the command that allows to share your photos on the net or to send them directly via email. Within each section, Guided Activities give users easily-followed, step-by-step instructions. As they progress, users can bypass the Guided Activities to work in the Advanced Mode, a menu bar that accesses all PhotoDeluxe editing tools.
Get organized and share your photos online
Organization becomes a master word for more & more software programs and PhotoDeluxe 4 doesn't derogate from the rule. You can import photos from a wide variety of source is really simple and novice users can be guided through step-by-steps activities to do so. Creating a photo album is just a mouse click away when using the My Pictures feature. You can create as many albums as you want and add or remove photos: each album contains thumbnail representations of your photos for quick search. You can define a specific legend to be displayed in your album for each photo. Now you may want to distribute your photos albums and wondering how to do so? Here again: don't worry! Adobe has included ActiveShare an online extension that allows you to publish your personal photos on a private web community with passwords and ID in order to make it accessible by family and friends: it's really a great way to share the latest pictures of mom's birthday, by example! ActiveShare is also available as a free downloadable program and is in perpetual evolution (the latest release is 1.5). ActiveShare uses the same photo-organizing tool as PhotoDeluxe so it offers a real seamless integration between both software programs. There's also an other way to share photos using the surprising photoparade feature that automatically creates a slideshow that uses a predefined theme you choose (you can download more of them for free on the web) and that presents your photos in a funny manner.