DirectX
ActiveMac
Downloads
Forums
Interviews
News
MS Games & Hardware
Reviews
Support Center
Windows 2000
Windows Me
Windows Server 2003
Windows Vista
Windows XP



News Centers
Windows/Microsoft
DVD
Apple/Mac
Xbox
News Search



ActiveXBox
Xbox News
Box Shots
Inside The Xbox
Released Titles
Announced Titles
Screenshots/Videos
History Of The Xbox
Links
Forum
FAQ



Windows XP
Introduction
System Requirements
Home Features
Pro Features
Upgrade Checklists
History
FAQ
Links
TopTechTips



FAQ's
Windows Vista
Windows 98/98 SE
Windows 2000
Windows Me
Windows Server 2002
Windows "Whistler" XP
Windows CE
Internet Explorer 6
Internet Explorer 5
Xbox
Xbox 360
DirectX
DVD's



TopTechTips
Registry Tips
Windows 95/98
Windows 2000
Internet Explorer 5
Program Tips
Easter Eggs
Hardware
DVD



ActiveDVD
DVD News
DVD Forum
Glossary
Tips
Articles
Reviews
News Archive
Links
Drivers



Latest Reviews
Xbox/Games
Fallout 3

Applications
Windows Server 2008 R2
Windows 7

Hardware
iPod Touch 32GB



Latest Interviews
Steve Ballmer
Jim Allchin



Site News/Info
About This Site
Affiliates
Contact Us
Default Home Page
Link To Us
Links

News Archive
Site Search
Awards



Credits
©1997-2012, Active Network, Inc. All Rights Reserved.
Please click here for full terms of use and restrictions or read our Light Tower Privacy Statement.



Product: Print Office 2000
Company: Corel, Inc.
Website: http://www.corel.com
Estimated Street Price: $49.99
Review By: Julien JAY
Corel Print Office 5
Corel Print Office 5 is an essential brick of this complete software suite. This software allows users to create business related stationery, such as brochures, newspapers, invoices, letterheads, labels, and much more. When you first start Corel Print Office 5 a new document wizard is displayed to help you choosing which kind of document you want to create ; several types of documents are available like: envelope, letter, visit card, CD-Rom model, Corel.com models or even a web page. If users choose to create a project using the provided samples they'll have a huge and vast choice composed by hundred of project files that are in general all beautiful. Each document users can create is called a 'project'. Once you have selected a project, the interface of Corel Print Office 5 will show in the left margin the notebook's guide, a Corel originality, that will guide users through the project creation steps. Plus this notebook shows commands buttons like 'modify objects', 'add objects', and more: each command is clearly explained as the software shows useful tips & hints. When you create a new document several tools are offered by Print Office to make your document the most beautiful one. This tools are obviously more scant than in Corel Draw! 10. However they are sufficient enough to satisfied most users. The main toolbar of Print Office 5 shows traditional commands like 'new', 'open', 'save', 'print', etc. However we regret that the toolbars aren't customisable. In terms of drawing tools, Corel Print Office 2000 offers 9 basic tools. Like in every Print Office like software users can draw on their page text areas to put texts where they want on their page. Sure the text fonts, color, size can be entirely changed and users can even use the predefined text styles to impress readers by printing great titles. Print Office 5 also supports bullets lists as well as tabulations & withdrawals so you can position your text as easily as in every word processor. More advanced text features are also available so you can create fusion enabled documents: that is to say you can link your mailing address list to Corel Print Office 5 in order to print copies of your documents personalized to the name of the recipient: this feature is just like every other one in Print Office: easy to use. If you're a lazy guy and if you have already typed in Microsoft Word or Corel WordPerfect the content you want to use there's as you can import text file in Print Office 5. Best of all Corel Print Office 5 includes a spell checker to ensure documents are errors free. But Corel Print Office 5 also comes with a more original feature that allows you to add a citation you'll have to choose between a wide number. Finally novice users can be guided by a wizard to customize their text settings easily like the space between lines, etc. Just like other actual Corel software, Corel Print Office 5.0 comes with a built in internet browser that is aimed to display internet related information about corel Print Office. That is to say you can't use the built in browser to read ActiveWin.Com by example… What a pity!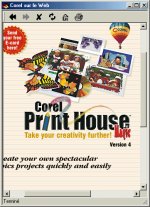 Corel Print Office 5 built in web browser (click to enlarge)
Sure you can create multi page projects in Corel Print Office 5 that also comes with a chart feature to help users create charts easily. Strangely when you have drawn a chart on your document the chart feature doesn't work the same than in Microsoft like software. Indeed you can't define the number of rows and cells easily: you have to go in the properties/text or chart properties to finally find the appropriate option to make customized the chart columns number. Then if you want to fulfil the contents of each cell you have to double click on a cell to be able to edit it. It's a bit unusual but users will get into the habit of doing so. The drawing tools offered by Print Office 5 are few. You can draw lines freely by moving your mouse, draw rectangle, circle, polygon, or symbols. Drawing can be further modified by adding shades, brightening or darkening. You can even modify a drawing form by moving a nodal point of it so a circle can be changes into a star or something else very easily. When drawing lines you've got several settings (line style like …. Or ------ or _____, etc.) and you can create arrows and choose their styles using the notebook. The last drawing and funny feature offered by Print Office is the spray that creates along the path you draw with your mouse different form of different colors. In your document when moving your mouse cursor over different objects this objects instantly get pre-selected and if you click on the pre-selected frame the object will be finally selected. This feature is really helpful as it helps you select background objects that may be hidden by others that are in the foreground. Each object you select can be resized using the anchor points or moved. If you move an object this last one will appear in transparency when moving it so you can see what's behind it! Double clicking an object will show rotate and deform commands so you'll be able to rotate or deform the objects freely by moving your mouse. Sure you can zoom in or zoom out your page to accurately change the layout of your page and a small feature allows you to transfer your current document into Corel Photo House 5. Corel Print Office 5 comes with tons of Cliparts that users can easily view as thumbnails in the notebook and choose which one they would like to include in their project. New to this release is the ability to search the cliparts library for a specific pic. Sure you can add pictures of your own that comes from your hard disk with no problem.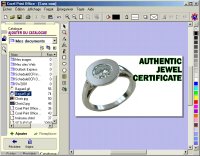 Corel Print Office 5 when adding picture (click to enlarge)
Corel Print Office 5 fully supports Corel Draw 9 and can import documents at this format. The color palette displayed in Print Office is a bit fair as you can't accurately choose or create the color you want to use however it's sufficient enough to create high quality documents. Corel Print Office now lets users specify where a label will be printed on a page or print a single label or pages at the same time. Finally this new release comes with the IXLA Integration that enables users import photos from their digital camera easily: once the feature is configured you can drag photos of your digi cam to your project directly using the notebook.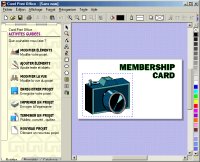 Corel Print Office 5 showing one of the predefined template (click to enlarge)