DirectX
ActiveMac
Downloads
Forums
Interviews
News
MS Games & Hardware
Reviews
Support Center
Windows 2000
Windows Me
Windows Server 2003
Windows Vista
Windows XP



News Centers
Windows/Microsoft
DVD
Apple/Mac
Xbox
News Search



ActiveXBox
Xbox News
Box Shots
Inside The Xbox
Released Titles
Announced Titles
Screenshots/Videos
History Of The Xbox
Links
Forum
FAQ



Windows XP
Introduction
System Requirements
Home Features
Pro Features
Upgrade Checklists
History
FAQ
Links
TopTechTips



FAQ's
Windows Vista
Windows 98/98 SE
Windows 2000
Windows Me
Windows Server 2002
Windows "Whistler" XP
Windows CE
Internet Explorer 6
Internet Explorer 5
Xbox
Xbox 360
DirectX
DVD's



TopTechTips
Registry Tips
Windows 95/98
Windows 2000
Internet Explorer 5
Program Tips
Easter Eggs
Hardware
DVD



ActiveDVD
DVD News
DVD Forum
Glossary
Tips
Articles
Reviews
News Archive
Links
Drivers



Latest Reviews
Xbox/Games
Fallout 3

Applications
Windows Server 2008 R2
Windows 7

Hardware
iPod Touch 32GB



Latest Interviews
Steve Ballmer
Jim Allchin



Site News/Info
About This Site
Affiliates
Contact Us
Default Home Page
Link To Us
Links

News Archive
Site Search
Awards



Credits
©1997-2012, Active Network, Inc. All Rights Reserved.
Please click here for full terms of use and restrictions or read our Light Tower Privacy Statement.


Product: Macromedia Flash 4
Company: Macromedia
Website: http://www.macromedia.com
Estimated Street Price: Full Version $299.00 (Reviewed) - Upgrade $129.00
Review By: William Sossamon
PreAnimation
To get you acquainted with Flash 4, we designed our own little Animation Tutorial that should help getting you on your way to designing some sleek websites! Good Luck!
Before you begin working on your first animation in Flash, go to Modify -> Movie... or press Ctrl+M. This will bring up the Movie Properties window as shown below: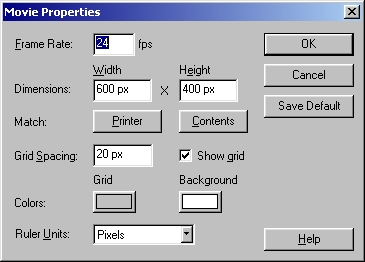 First, select a frame rate that will be appropriate for your animation. The default is 12, although this will not look as smooth flowing as you may want. The higher the frame rate, the smoother it will look, but the more demanding it will be on the computer playing the animation. At 24 frames per second, the animation flows well.
The dimensions are how far apart the sides are from each other. The same as in any 2D graphics program. Flash 4 comes with a very handy little feature. After you make your animation you can hit the Contents button in Movie Properties and it will shrink or enlarge the dimensions so that the entire animation fits within the boundaries with no extra unused space. In other words it automatically picks the best fit for the animation.
The grid and background colors are just that. You can set both of those properties here. You also have the option to hide the grid if you don't want to use it. You can choose the ruler units here too. You have the option to use inches, inches (decimal), points, centimeters, millimeters, and of course pixels.
Now you're ready to start work on your first animation!