DirectX
ActiveMac
Downloads
Forums
Interviews
News
MS Games & Hardware
Reviews
Support Center
Windows 2000
Windows Me
Windows Server 2003
Windows Vista
Windows XP



News Centers
Windows/Microsoft
DVD
Apple/Mac
Xbox
News Search



ActiveXBox
Xbox News
Box Shots
Inside The Xbox
Released Titles
Announced Titles
Screenshots/Videos
History Of The Xbox
Links
Forum
FAQ



Windows XP
Introduction
System Requirements
Home Features
Pro Features
Upgrade Checklists
History
FAQ
Links
TopTechTips



FAQ's
Windows Vista
Windows 98/98 SE
Windows 2000
Windows Me
Windows Server 2002
Windows "Whistler" XP
Windows CE
Internet Explorer 6
Internet Explorer 5
Xbox
Xbox 360
DirectX
DVD's



TopTechTips
Registry Tips
Windows 95/98
Windows 2000
Internet Explorer 5
Program Tips
Easter Eggs
Hardware
DVD



ActiveDVD
DVD News
DVD Forum
Glossary
Tips
Articles
Reviews
News Archive
Links
Drivers



Latest Reviews
Xbox/Games
Fallout 3

Applications
Windows Server 2008 R2
Windows 7

Hardware
iPod Touch 32GB



Latest Interviews
Steve Ballmer
Jim Allchin



Site News/Info
About This Site
Affiliates
Contact Us
Default Home Page
Link To Us
Links

News Archive
Site Search
Awards



Credits
©1997-2012, Active Network, Inc. All Rights Reserved.
Please click here for full terms of use and restrictions or read our Light Tower Privacy Statement.


Product: Macromedia Flash 4
Company: Macromedia
Website: http://www.macromedia.com
Estimated Street Price: Full Version $299.00 (Reviewed) - Upgrade $129.00
Review By: William Sossamon
Animation Part I
Now that you have set the size, background color, etc, it is time to start animating! For this example, we're going to start out with putting in some text. First, click the Text Tool button, then click inside the animation to insert some text. Type your text, select the font, color, size, underline, etc.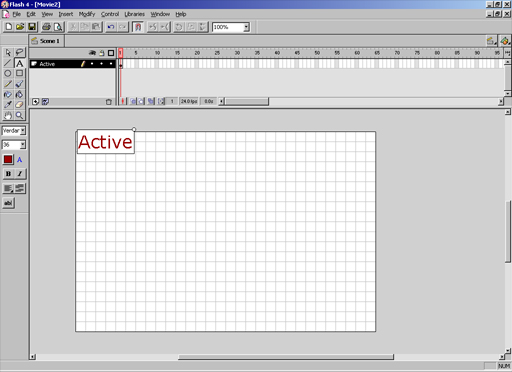 The next thing we're going to do is insert a few frames. I picked 24 frames since this will be running at 24 frames/second, so from start to stop it will last one second. To do this, select the frame, then right click and select "Insert Keyframe". This will add a keyframe to frame 24. A keyframe is a frame that is a starting or stopping point for an animation sequence. In this case, we're going to make our two words move to the center and rotate a few times on the way.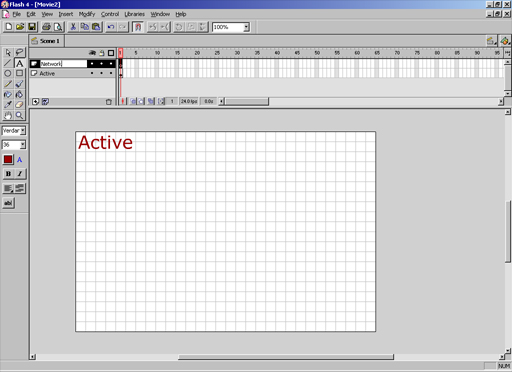 Now move both texts, "Active" and "Network" to the center where they are lined up in the 24th frame. This will be where they end up. Then right click one of the frames between the first and the last, and select Properties. When the window comes up, click the Tweening tab. In the Tweening field, select "Motion", since the position of the text will be changing, not the shape. For this example, I decided to rotate each one 3 times (in opposite directions) and set the easing all the way in. Easing will make the text accelerate or decelerate as it moves.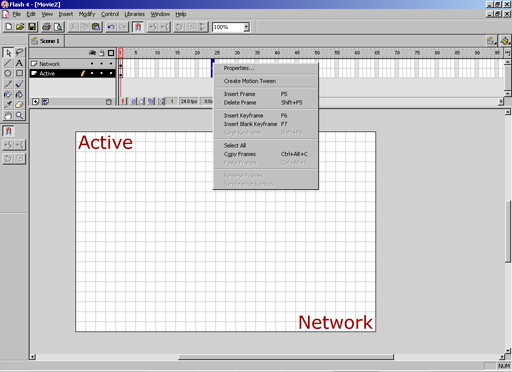 The next thing we're going to do is spice it up a little with some shape animation now that we have the text in motion.