DirectX
ActiveMac
Downloads
Forums
Interviews
News
MS Games & Hardware
Reviews
Support Center
Windows 2000
Windows Me
Windows Server 2003
Windows Vista
Windows XP



News Centers
Windows/Microsoft
DVD
Apple/Mac
Xbox
News Search



ActiveXBox
Xbox News
Box Shots
Inside The Xbox
Released Titles
Announced Titles
Screenshots/Videos
History Of The Xbox
Links
Forum
FAQ



Windows XP
Introduction
System Requirements
Home Features
Pro Features
Upgrade Checklists
History
FAQ
Links
TopTechTips



FAQ's
Windows Vista
Windows 98/98 SE
Windows 2000
Windows Me
Windows Server 2002
Windows "Whistler" XP
Windows CE
Internet Explorer 6
Internet Explorer 5
Xbox
Xbox 360
DirectX
DVD's



TopTechTips
Registry Tips
Windows 95/98
Windows 2000
Internet Explorer 5
Program Tips
Easter Eggs
Hardware
DVD



ActiveDVD
DVD News
DVD Forum
Glossary
Tips
Articles
Reviews
News Archive
Links
Drivers



Latest Reviews
Xbox/Games
Fallout 3

Applications
Windows Server 2008 R2
Windows 7

Hardware
iPod Touch 32GB



Latest Interviews
Steve Ballmer
Jim Allchin



Site News/Info
About This Site
Affiliates
Contact Us
Default Home Page
Link To Us
Links

News Archive
Site Search
Awards



Credits
©1997-2012, Active Network, Inc. All Rights Reserved.
Please click here for full terms of use and restrictions or read our Light Tower Privacy Statement.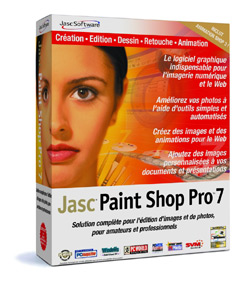 Web Features
Webmasters weren't forgotten by this seventh release! Paint Shop Pro 7.0 now comes with a picture optimization wizard. If the optimization feature isn't very easily accessible to my point of view it works the same as in Corel Draw or PhotoShop. The opened dialog box shows the original and previews what it'll look like when you apply different GIF or JPEG compression settings, so you can choose the best compromise between image's quality & size.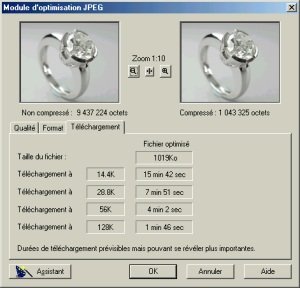 PaintShop Pro 7.0 Optimization Wizard (click to enlarge)
If users feel confused by adjusting all this dark settings they can take the two steps wizard to optimise their picture the way they want to. PSP (as called in the intimacy) now let users slice images: you can take a single image and divide it into several smaller images to create a web page menu, or compress one segment of an image more than another. Paint Shop Pro 7 now comes with a "preview in web browser" feature so users can see what their image looks like in the browser (Internet Explorer or Netscape Navigator/Communicator) and format of their choice using the feature's dialog-box. Once the browser is launched several information are shown under the picture like its size, the approximate download time and the color palette that was used. You can preview several images into the same browser using different files formats so you can easily point out which image and format matches your needs.
If Windows Me was aimed to unify the way digital cameras communicate together, it's sad to see this dream hasn't become reality yet. As a matter of fact, Paint Shop Pro 7 comes with built-in support for direct communication with more than 140 digital cameras. It can be useful to bypass usual TWAIN drivers and enjoy all your camera features.
Paint Shop Pro 7.0 comes with Animation Shop 3 which is a program intended to create GIF animated graphics.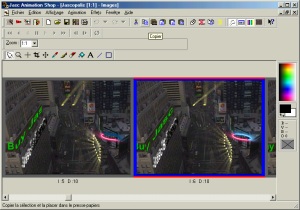 AnimationShop 3.0 (click to enlarge)
Using Animation Shop and several of its wizards users can easily add special effects (like blurs, cuts & fades) to animate logo. You can obviously create rollovers to produce images that change when users highlight them for professional looking effects. Always in the area of web feature, where Paint Shop Pro 7 is definitely not outdone, you can create images maps for web site navigation using the easy to use Image Mapper Tool.

Advanced Features
If Paint Shop Pro 7.0 is clearly web focused it doesn't mean that standard touching up tools were forgotten, far from that! Just introduced in the previous release vectors drawing tools have been enhanced further making easier to create shapes, lines, texts, etc. It is now possible to create your own set of gradients, patterns & textures to add great looking effects to your drawing. If you can create your owns you can also use the ones that come in the software library! Then Paint Shop Pro 7 comes with dozen of build-in shapes like hexagon, pentagon, stars, logos, arrows, balloons, dotted lines' styles, and more you can't even imagine.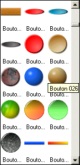 Shapes (click to enlarge)
Each build-in shape can be totally customized so it can wear the color you want, the border line thickness you choose, etc. If shapes are provided with the software they aren't locked! An interesting feature of the preset shapes library is the fact you can define import into the library your own shape so you can reuse them later. Paint Shop Pro has always been awesome to add texts to your graphics: this new release pursues the outstanding text support as you can add vector texts to every picture. When adding a text the very complete text editing dialog box will provide an area to type your text with real time preview so you can choose the right color, the right font, the right size, etc. A regret I have is that the font list still doesn't display like in Microsoft Office 2000 preview of each fonts.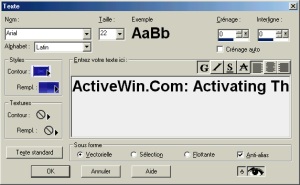 PaintShop Pro 7.0 Text Editor (click to enlarge)
To accurately position objects into your graphics you can now use the new snap-to grids and guides features. Vector objects can now be grouped, aligned, distributes, arranged or resized using the objects menu. Like in Microsoft Word or the recent Corel Draw 10, Paint Shop Pro 10 now features an auto saving feature that backups your work regularly in the background so you're sure to not loose it in case of those often computer crashes occur (however during our tests this feature didn't always work: if the computer crashes before the first autosave is done you're dead). As usual Paint Shop Pro is compatible with almost every graphic file format of the inception so you can open: GIFs (with transparency and interlacing options), JPEGs (with a progressive JPEG option), Portable Network Graphics (with a PNG transparency option), Windows Bitmap (BMP), Kodak Photo-CD (PCD), Corel Draw (CDR), Microsoft Paint (MSP), and Photoshop (PSD), Electronic Arts (IFF), GEM Paint (IMG), Truevision (TGA), Portable Bitmap (PPM) images, and a whole lot more. In fact, Paint Shop Pro can handle more than twice the original Adobe Photoshop's graphics files' support. Layers are supported by Paint Shop Pro so you can work on different objects/aspects of your composition without the risk of altering the other: managing layers is very easy and you can fusion layers between them, dispatch them, reorganize the objects they contain using the objects browser, etc.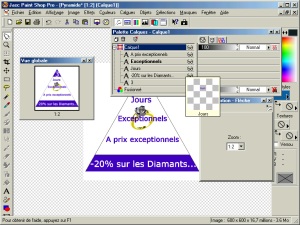 PaintShop Pro 7.0 Layers (click to enlarge)
To edit and touch up pictures, the traditional magic wand, lasso, polygonal lasso tools are included. They are very accurate and you can customize many of their settings for the optimal result. Paint Shop Pro is definitely a flexible, versatile program. Whether you use it to make screen captures or touch up pictures, you'll be amazed by this state of the art software that works just the way it is supposed to.