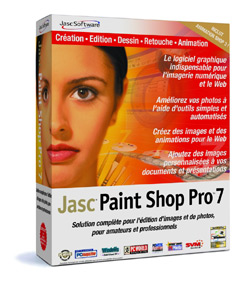 Features

As I said before the first thing you'll notice when starting Paint Shop Pro is the speed at which the software is launched on the system. While with PhotoShop even on Pentium 4 or Athlon systems you have to wait several seconds/minutes (depending on the amount of plugins loaded), Paint Shop Pro is fully available in less than three seconds. Then you'll discover the Paint Shop Pro interface. The release 7 of the software still features a sober but efficient interface with easy access to the most used features. Paint Shop Pro 7.0 is fully compatible to the Microsoft GUI standards: you can obviously customize toolbars, add or remove buttons, change toolbars' positions by undocking them and more. Several icons on the toolbars' buttons look like the ones of Microsoft Office so you aren't disrupted and you don't have to learn how to use the interface.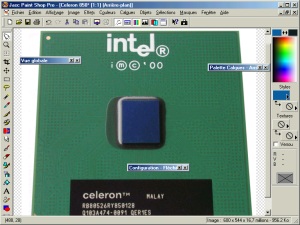 PaintShop Pro 7.0 Interface (click to enlarge)
You'll also remark that Paint Shop Pro menus contain in front of most commands the icon attached to it. Productivity is the master word of Paint Shop Pro: everything can be done simply & quickly. The second obvious change added to Paint Shop Pro 7.0 is the new extended colour palette. This new palette now shows like in PhotoShop two frames corresponding to the current background and foreground colors. Picking up a color isn't very easy in the standard color palette view but you can hopefully display a secondary more complete color picking up dialog box and even type the code of the color you want to use. At the level of features the version 7.0 expands again the long, long list of the actions an user can perform with Paint Shop Pro. For those of you who scan lot of magazines, covers you'll be delighted with the new moiré removal tool that'll remove every circles that usually appears when you scan printed materials (due to the print matrix).
One thing has always distinguished Paint Shop Pro from its competitors for a long, long time: the software perfectly support effects filters designed for Adobe PhotoShop. So you can basically add the same effect you can apply with PhotoShop. New to this release is the fade-correction filter aimed to restore old damaged photos to their original look out. Paint Shop Pro 7 assert its all public orientation by adding the long eye desired anti red eye filter: now you can remove the red eye effect that appear on most photos when the flash is used (due to pupil's dilation). This tool is very powerful and will instantly remove, in a few mouse clicks, those ugly red-eye effects that make your girlfriend look like an alien. Other new filters are included to this release like an interesting one. Many people now also use their computer to edit and mount family or professional videos. A problem they're often confronted is when they capture a still image from the TV or a video tape: horizontal lines appear on the captured picture. Thanks to the deinterlace filter of Paint Shop Pro this problems are now just an old souvenir. When a home user purchases a scanner, the first thing he uses to do is generally to scan the whole family photos' collection. If some photos are old, he can face some problems with the image that appears on screen: this one can feature scratches, holes, dots. Paint Shop Pro 7 now helps users fixing their photos by removing scratches in a very efficient way I must say. In the series of wizard for starters, I want the Automatic Color Balance one: this new filter instantly adjust hues to enhance photos. To proceed Paint Shop Pro 7.0 analyzes colors levels on your image and make the adjustment that seems to be fine: but before these changes are applied the dialog box doing so display a preview of what the new enhanced picture will look like so you can discard changes and even adjust them manually thanks to the unprecedented flexibility of this software. Then comes the Automatic Contrast Enhancement and Automatic Saturation Enhancement filters that help you brighten or darken an image to make it more alive.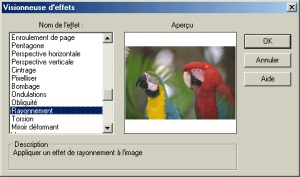 Effects' Viewer (click to enlarge)
With so many filters, it's hard to find the right one. So PaintShop Pro 7.0 offers an effects' viewer that lets you preview in a dialog box what the various effects will look like once applied to the current opened picture.
If few users know it, Paint Shop Pro 7 comes with a very interesting built-in browser feature that let you browse your hard disk (or any other medias) and display thumbnails of pictures found in each folder. This feature is neat to find back an old file you've lost in this enormous 80 GB hard disk you have.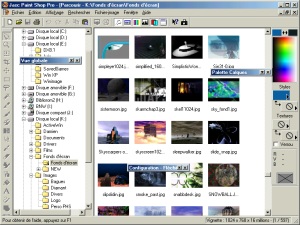 PaintShop Pro 7.0 Pictures Browser (click to enlarge)
But best of all, Paint Shop Pro 7 lets you select the images you want and arrange them as you want (or automatically) on pages so you can print an images' catalogue more than easily. This feature reveals all its interest for those of you that intensively use pictures as a kind of database (for stocks purpose by example). Comparing to Paint Shop Pro 6, the build-in thumbnails printing feature has been slightly enhanced with new features and is less buggy than before: when you go to print a catalogue, the left border of Paint Shop Pro shows the picture you have selected so you can drag & drop them at your convenience to the page shown in the centre of the program.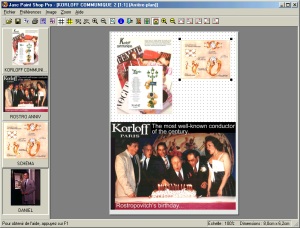 Thumbnails Printing Feature (click to enlarge)
Paint Shop Pro 7.0 comes with some welcome productivity enhancements. To save your precious time the repeat last action command will help you performing those painful redundant tasks. Another fine enhancement is the workspace saving ability: you surely use different workspaces when you work on different kind of projects. If before you would have to rebuild your workspace the way you want it for each job, you can now save those workspaces and switch between them very easily directly from the file menu.