DirectX
ActiveMac
Downloads
Forums
Interviews
News
MS Games & Hardware
Reviews
Support Center
Windows 2000
Windows Me
Windows Server 2003
Windows Vista
Windows XP



News Centers
Windows/Microsoft
DVD
Apple/Mac
Xbox
News Search



ActiveXBox
Xbox News
Box Shots
Inside The Xbox
Released Titles
Announced Titles
Screenshots/Videos
History Of The Xbox
Links
Forum
FAQ



Windows XP
Introduction
System Requirements
Home Features
Pro Features
Upgrade Checklists
History
FAQ
Links
TopTechTips



FAQ's
Windows Vista
Windows 98/98 SE
Windows 2000
Windows Me
Windows Server 2002
Windows "Whistler" XP
Windows CE
Internet Explorer 6
Internet Explorer 5
Xbox
Xbox 360
DirectX
DVD's



TopTechTips
Registry Tips
Windows 95/98
Windows 2000
Internet Explorer 5
Program Tips
Easter Eggs
Hardware
DVD



ActiveDVD
DVD News
DVD Forum
Glossary
Tips
Articles
Reviews
News Archive
Links
Drivers



Latest Reviews
Xbox/Games
Fallout 3

Applications
Windows Server 2008 R2
Windows 7

Hardware
iPod Touch 32GB



Latest Interviews
Steve Ballmer
Jim Allchin



Site News/Info
About This Site
Affiliates
Contact Us
Default Home Page
Link To Us
Links

News Archive
Site Search
Awards



Credits
©1997-2012, Active Network, Inc. All Rights Reserved.
Please click here for full terms of use and restrictions or read our Light Tower Privacy Statement.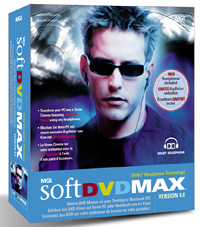 Product: Soft DVD Max 4.0
Company: MGI Software Inc.
Website: http://www.mgisoft.com/
Estimated Street Price: $39.99
Review By: Julien Jay
DVD Technology Reminder
For those of you who forget, the advantages of the DVD (Digital Versatile Disc) format are numerous: first on a small 12 centimeter width plastic circle you have a high digital quality film available in up to 8 different languages (eventually with subtitles) with bonuses and high quality Dolby Digital 5.1 sound (or DTS). Films are stored on DVDs using the well-known MPEG 2 compression process ensuring an incredibly high image quality. Compared to a standard VHS tape the quality of the image is highly better: a VHS tape features a 240 lines resolution (around 300 for SVHS) while a DVD features a resolution that can climb up to 500 lines. Another observation is the fact that films arenít yet originally digitally mastered so some DVDs may still present dust points like on VHS tapes since the master is still an analogical one but quality lost is practically non-existent. The other advantage, in terms of imaging quality, of the DVD over the VHS tape is that the quality of the image doesnít decrease while you play it and doesnít fear dusts, fingerprints, wear, magnetically damages, etc. If VHS tapes due to their analogical format feature a random image quality that depends on many factors (is the playing head of the VCR clean, how many playing heads the VCR have, is the tape not too old, etc?) with a DVD youíre sure to always have a clear & bright image on every player of the world even 10 years after you originally purchased the disc. This is partly why the image is so good on DVDs and thatís also why more & more people turn to DVDs even if they arenít as flexible as VHS tapes since you canít record films on them (another thing to consider is that industry have divided the world in 8 regions so you canít read a region 1 DVD if you live in region 5Ö). Anyway the quality of the image will definitely stick you in your couch while the sound will propel you in the heart of the action. At the sound level, to enjoy a cinema like one, youíll have to purchase a set of (very expensive) 5.1 speakers with their Dolby digital decoder: if it provides an incredible detailed & spatial sound it requires you to put cables in your whole house to position speakers correctly to have front & background effects meaning youíll often take your feet into the cables that go through your living room expect if you can afford the inclusion of cables into the walls. Digital Video Discs are also interactive since they often come with bonuses like producer comments, free pictures, soundtracks, movies announcements, etc. some of them even let you choose the cameraís angle.
Features
The first advantage of SoftDVD Max 4 is clearly its new Dolby headphone feature originally created by Dolby Laboratories & Lake Technology. And here I must say I was really impressed. Unfortunately, the provided headphone isnít comfortable and kinda weak (weíd prefer MGI not to provide a headphone at all if they deliver such a low quality one), Iíve simply replaced it by a Sony set of traditional walkman headphones so I was ready to live a new sound experience. And this killing feature amazed me: the Dolby headphone sound isnít a marketing trick or something like that! It really works, increasing the relief & spatiality of the sound, providing surround sound through a classic pair of headphones making you feel like if you were in a black theatre. So frankly this feature itself justifies the acquisition of SoftDVD Max 4. But as with every good thing thereís a drawback: indeed the Dolby Headphone feature consumes a lot of system resources (enabling it increases the CPU load of work by 30%) so to enjoy it you should have, at least, a Pentium II 400 computer. Letís review now the other features: the main interface of SoftDVD Max isnít as cool & well designed as the one of its main competitor PowerDVD but is efficient enough and provides direct access to the most used features. The software is in fact divided in two moving parts: a blue window where the film will be played and the SoftDVD Max silvered commands panel that looks like a real DVD playerís front panel.

If with powerDVD youíre often lost by the incredible number of buttons displayed on the main interface (I still donít know what the use of each one is), with SoftDVD Max 4 only the necessary buttons are shown for the maximal conviviality. A good point though in terms of ergonomy. Sure if youíre lost the included HTML help may help you. SoftDVD Max doesnít only play DVDs as it lets you open & play various files formats like MPEG2, DAT, MP3, AVI, VOB and more! The exclusive AutoSense feature of SoftDVD Max 4, automatically recognizes your sound card, graphic card & CPU in order to adjust the playing quality settings. When you start SoftDVD Max itíll inform you if your screen saver or other windows settings may interfere with the good play of the DVD (great to be not interrupted during a movie projection by a stupid screen saver for example). You can play DVDs in a window (you can resize at your convenience) or view them in full screen mode: a nice feature is the mouse cursor auto hide which hides your mouse cursor after 2 or 3 seconds so you donít view Cameron Diaz with a mouse cursor on her nose for example which would be a real shame. The settings of the software let you change the brightness and luminosity if needed. As Soft DVD Max integers itself with Windows when you'll insert a DVD disc in your drive it'll be automatically played through Soft DVD Max 4 and the Windows Explorer will show a soft DVD icon for the DVD you've just inserted. If you want to learn French you can enable the subtitles with a right click in the player or bluntly switch to French language and enable the English subtitles. Obviously as with every DVD player you can quickly access chapters using the forward or rewind buttons while the fast forward and rewind buttons let you accelerate the speed of play to quickly access a specific part of a chapter. The DVD decoding quality was really good even on a laptop (well a PIII 700MHz one, all the same) and we noticed only a few glitches (in fact 2) during the whole film we watched (what a hard job!). These glitches were probably due to Windows swaps. MGI SoftDVD Max provides only essential functions, there are no high-tech options included. So donít expect to skin the software, to have an Internet integrated portal, even if a link to the softwareís website is integrated in Soft DVD Max 4 to ensure you have the latest release.