DirectX
ActiveMac
Downloads
Forums
Interviews
News
MS Games & Hardware
Reviews
Support Center
Windows 2000
Windows Me
Windows Server 2003
Windows Vista
Windows XP



News Centers
Windows/Microsoft
DVD
Apple/Mac
Xbox
News Search



ActiveXBox
Xbox News
Box Shots
Inside The Xbox
Released Titles
Announced Titles
Screenshots/Videos
History Of The Xbox
Links
Forum
FAQ



Windows XP
Introduction
System Requirements
Home Features
Pro Features
Upgrade Checklists
History
FAQ
Links
TopTechTips



FAQ's
Windows Vista
Windows 98/98 SE
Windows 2000
Windows Me
Windows Server 2002
Windows "Whistler" XP
Windows CE
Internet Explorer 6
Internet Explorer 5
Xbox
Xbox 360
DirectX
DVD's



TopTechTips
Registry Tips
Windows 95/98
Windows 2000
Internet Explorer 5
Program Tips
Easter Eggs
Hardware
DVD



ActiveDVD
DVD News
DVD Forum
Glossary
Tips
Articles
Reviews
News Archive
Links
Drivers



Latest Reviews
Xbox/Games
Fallout 3

Applications
Windows Server 2008 R2
Windows 7

Hardware
iPod Touch 32GB



Latest Interviews
Steve Ballmer
Jim Allchin



Site News/Info
About This Site
Affiliates
Contact Us
Default Home Page
Link To Us
Links

News Archive
Site Search
Awards



Credits
©1997-2012, Active Network, Inc. All Rights Reserved.
Please click here for full terms of use and restrictions or read our Light Tower Privacy Statement.



Product: Nero 5
Company: Ahead
Website: http://www.ahead.de ; http://www.wska.com
Estimated Street Price: $69.00
Review By: Julien JAY
Audio Features
Nero 5 is more multimedia than ever and now supports CD Audio database and CD-Text technology. So when you are about to copy a CD-Audio, Nero 5 can automatically connect to the internet, identify the CD-Audio and retrieves the title of it, the artist name as well as the tracks names so they'll be burnt on CD-Text format. Actually, only recent burners support the CD-Text format and only a few CD players can enjoy its benefits. However if you've got a burner and a CD player that are CD text compliant you will be able to create great CD audio and your CD player will display the names of the tracks when you read them! Nero 5 goes further as it can also add the track names information to MP3, VQF or WMA files. Nero 5 supports MP3 files and can convert them directly into CD-Audio when you want to burn them. So you can turn your MP3 files into a CD-Audio that can be read almost anywhere very easily using Nero 5. Sure you can burn your MP3 files to CD-Audio using the CD-Text technology. Nero 5 also manage VQF files that contain compressed audio data just like, MP3 files. Compared with MP3 files, it's possible to create files with a lower bit-rate, but at a comparable sound quality which take up about 20-30% less space on your HD. Nero features unlimited Encoding and Decoding. Twin VQ files can be dragged into audio compilations along with MP3 and wave files, and burned on-the-fly.
Advanced Audio Features
In fact Nero 5 is what we can call the swiss knife of burning tools as it also comes with audio filters. The audio filters included in previous releases were enhanced: you can now test them in realtime and apply mutli filters simultaneously. Nero 5 comes with new filters such as the Karaoke filter, which cancels the voice track of music so you can sing on it. A new Cross Fading filter, which allows the blending of songs into each other is also included. Also new is a Split function, which allows for the easy (multiple) splitting of a sound file. The user interface has been improved to make playing with sounds extremely easy and funny: when you have dragged an audio file to the CD recipient window you can listen to it by clicking the play button. But if you want to apply audio filters simply right click on the audio file, select properties and click the filters tab: there you'll be able to use all the audio filters offered by Nero. Nero 5 now supports the so-called M3U playlists. These files contain lists of audio files in ascii text format. This means they can be edited using text editors such as Windows "Notepad". The playlists are read by most MP3 playback programs and can now also be read by Nero. If a M3U playlist file is dragged into a Nero audio compilation window, then Nero will add all audio files of the M3U playlist to its audio compilation automatically. A nice side effect of this strategy is that title and artist information can also be stored for those audio file formats, which would normally not support storing title and artist information. As Nero also stores this data in the M3U playlist, even title and artist of wave files remain intact if you store all tracks and then drag the generated M3U playlist file back into an audio compilation. Furthermore, M3U playlist files can be read and written by most popular MP3 playback programs, including the Nero Media Player.
Multimedia
Super Video CD (SVCD) is an extension of the VCD standard which uses MPEG-2 compression with variable bit rate encoding, and also allows a bitrate that is twice that of VCD. Therefore, SVCD also offers better image quality, although it means fewer total playing time if the full bandwidth is used. At DVD quality, a SVCD can store up to 35 minutes of video, compared to 70 minutes for VCD MPEG-1 quality. Nero itself does not support encoding to MPEG. It requires MPEG files that are already prepared for VCD or SVCD. This can be done with third-party programs such as Ulead VideoStudio MPEG Encoder or Cyberlink PowerVCR (only MPEG-1/VCD at the moment) or bbMPEG (both MPEG-1 and MPEG-2). Both PAL and NTSC standards are supported. Still images can be added to a (Super) Video CD compilation. JPEG files can be dragged into the MPEG section of a (S)VCD compilation and simple slide-shows created. The (S)VCDs can be played back in all (S)VCD and DVD players which can read CD-R/CD-RW media.
Backup
Nero 5 can create 'itself' a backup of your system on CD-R or CD-RW. This is useful to quickly create a backup of vital files stored on a partition. However it can't create accurate backup of your C: drive since system files will be in used and so won't be saved. This restriction is due to the fact that Nero doesn't create an image file but simply backups the contents of the hard disk. Note that also you can't restore one files contained in a backup set: you have to restore everything by erasing the destination unit: too bad.
Covers
Nero 5 comes with a cover editor so you can create your own custom jewel case covers for your burnt CDs. You can also design the round labels you want to stick on burnt CDs. Traditional tools are included to create in a few mouse clicks nice covers very easily: you can add pictures, change fonts or colors and more. Note that unfortunately unlike in Adaptec Easy CD Creator no label or cover theme is included to cheer up the layout of the labels. A nice feature is the auto-complete one that will automatically write on the labels the name of the audio tracks you burnt with their length. The printing feature is complete and the print preview mode will help you see if everything is OK.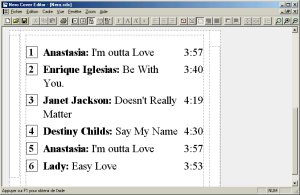 Nero 5 Cover Editor
Nero Media Player
Nero 5 introduces a new applet named Media Player that looks like QuickTime 4.xx and is aimed to read and encode files into CD-DA, WAV, MP3, VQF formats. It can also directly record CD Audio to the hard disk and burn them later. It also allows you to add variable pauses, and ISRC to your audio CDs. This media player is a good addition to the software in order to encode CD Audio or other files into MP3 even if we regret that it's presented as a separate applet and not directly integrated to Nero. The interface of the Nero Media Player shows traditional buttons like play, pause, stop, eject, next, previous, etc. as well as volume setting command but is a bit confused. During our test when trying to show the help file we received an error message saying the help file doesn't exist. When you install the Nero Media Player it'll automatically associated with audio files like MP3 which is really irritating since it replaces the Microsoft Windows Media Player file associations for example. The Nero player also includes a build in equalizer so you can fine tweak the sound output. Adding files to the Nero Media Player playlist can be done by directly dragging them from the Windows explorer. Once your playlist is built you'll have to select the encoder, the entry to use (file in to convert or line-in to record from a mic or a minidisk by example) set its properties and the file will be encoded to an other format.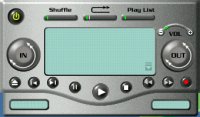 Nero Media Player!
Burning tests
During our extensive tests we tried to burn several kind of CDs such as Data ones on CD-R & CD-RW as well as Audio ones (converting MP3 directly to CD-DA) using Nero 5 and all of them were successfully burned with no errors at all. We also tried different burning speeds from 2x to 8x and we didn't encounter any problems. If it can reflects something this would certainly be the high stability of Nero 5: we really notice a great reliability in this new release.