DirectX
ActiveMac
Downloads
Forums
Interviews
News
MS Games & Hardware
Reviews
Support Center
Windows 2000
Windows Me
Windows Server 2003
Windows Vista
Windows XP



News Centers
Windows/Microsoft
DVD
Apple/Mac
Xbox
News Search



ActiveXBox
Xbox News
Box Shots
Inside The Xbox
Released Titles
Announced Titles
Screenshots/Videos
History Of The Xbox
Links
Forum
FAQ



Windows XP
Introduction
System Requirements
Home Features
Pro Features
Upgrade Checklists
History
FAQ
Links
TopTechTips



FAQ's
Windows Vista
Windows 98/98 SE
Windows 2000
Windows Me
Windows Server 2002
Windows "Whistler" XP
Windows CE
Internet Explorer 6
Internet Explorer 5
Xbox
Xbox 360
DirectX
DVD's



TopTechTips
Registry Tips
Windows 95/98
Windows 2000
Internet Explorer 5
Program Tips
Easter Eggs
Hardware
DVD



ActiveDVD
DVD News
DVD Forum
Glossary
Tips
Articles
Reviews
News Archive
Links
Drivers



Latest Reviews
Xbox/Games
Fallout 3

Applications
Windows Server 2008 R2
Windows 7

Hardware
iPod Touch 32GB



Latest Interviews
Steve Ballmer
Jim Allchin



Site News/Info
About This Site
Affiliates
Contact Us
Default Home Page
Link To Us
Links

News Archive
Site Search
Awards



Credits
©1997-2012, Active Network, Inc. All Rights Reserved.
Please click here for full terms of use and restrictions or read our Light Tower Privacy Statement.



Product: Nero 5
Company: Ahead
Website: http://www.ahead.de ; http://www.wska.com
Estimated Street Price: $69.00
Review By: Julien JAY
Nero 5 – First Start
As powerful as your CD burner is you'll always need an advanced burning software like Nero to manage it and to record your CDs. Nero 5 takes in charge almost every burner out on the market from the most well known brands like Acer, Goldster, HP, Iomega, JVC, Mistumi, Panasonic, Philips, Pioneer, Plextor, Ricoh, Samsung, Sanyo, Sony, Teac, TraxData, Yamaha, etc. It perfectly detected our various burners: Yamaha 4416s, Iomega ZIPCD 650 USB, Yamaha 8824S and adapted itself to their various specificities. Each time you start Nero, a system security check will be done in order to ensure that nothing can damage your upcoming CD burning session: if Nero detects that the Autoplay or something like that is enabled it'll prompt you to disable it and restart the computer. The interface of Nero 5 is clear even if it isn't as beautiful as the one of Adaptec Easy CD Creator Deluxe 4.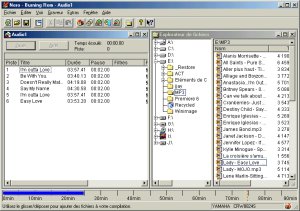 Nero 5 User Interface
Burn, baby burn!
Nero 5 now comes with an user-friendly wizard that'll help you achieve great burnings almost all the time: indeed when you start the software a 'New CD' window appears asking you what kind of CD you want to create. This window is dedicated to advanced users but if you're a novice one a simple click on the 'Wizard' button and you'll be guided to burn CDs efficiently from A to Z! You've got the choice between ISO CD-ROM, Audio CD, CD copy, mixed mode CD, Video CD, Super Video CD, Boot CD-Rom, CD-Rom (hybrid), CD-Rom (UDF), CD-ROM (UDF/ISO) formats. As you can read, every kind of CD format that exists is managed by Nero even bootable CDs. When you have chose a CD format, the wizard will guide you. Note that in advanced mode you can define advanced settings for each CD format like 'finalizing the session', selecting the burning speed or changing the audio extraction speed. You can choose to create CDs yourself without the wizard and adding files to a CD is very easy since you just have to drag and drop files from the built in explorer to the CD window. The occupied space is shown on the status bar with a small bar that indicates how many MB will be used on your CD. Then burning your CD is only a mouse click away: just click the burn CD button and the wizard will guide you by offering you to test, test & burn or directly burn you CD. When you're burning a CD, a status window indicates accurately the status of the burning process so you can know second per second what's happening. At the end of the burning process you can choose to save the log file of the session in order to troubleshoot possible problems. Finally Nero 5 obviously manages CD-RW media, include a CD-RW eraser.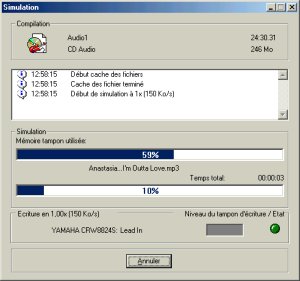 Burning Status Window
Advanced Burning Features
Nero 5 extends the scope of the previous releases by including many new features. Nero 5 is still the best way to burn easily ISO images to CD-R and the copying wizard will do its best to make smart copies that include sector defects. The copy wizard at least copy correctly multisession CDs and extra ones and can manage or even repair CRC reading errors. Nero 5 now supports the BurnProof technology included with some burners and their new revolutionary burning engines can simultaneous burn a CD on two recorders. The record engine is now also faster and reliable than ever. On the fly burning is also available and allows to copy directly a CD from your CD-Rom drive to the burner without copying it first on the hard drive: great to make fast burnings but not always safe as buffer problems may occur especially if you use an IDE burner. Power users will be glad to know that Nero 5 supports the following burning methods: 'Track-at-once', 'Disc-at-once', and multisession. Like its previous releases one of the feature that made the worldwide success of Nero is still included as you can burn CDs bypassing the capacity of it: with it you can burn up to 79 minutes of data on a 74 minutes CDR. During the recording process Nero 5 now make use of 'MutliMounter' which is in charge of the multiple sessions managements and that'll link them. Another new software technique is included with Nero 5 that can be named a software cache in order to prevent buffer underrun errors. I wrote that hybrid CDs are supported, it simply means that you can create a CD that contain a MAC dedicated part under the HFS file format and a PC area in ISO9660 format. Nero 5 helps you create ISO images of the CD you want to burn: simply select the image encoder burner in the burner selector and click the burn button, all the data will be stored in an ISO image file you'll be able to reuse later. Finally we simply love the 'bootable CD' feature included that allows everyone to make a bootable CD very easily and simply. For example, inserting the Windows Me boot disk into the floppy disk into the A: drive and Nero will copy the files to the boot root of the CD: so you can really create bootable CD worries free.
Packet Writing CD-RW software
As a complete burning software suite Nero 5 includes a Packet Writing software to use CD-RW just like if they were a floppy. It's a kind of Adaptec Direct-CD like applet. So you can add files to a CD on the fly directly from the Windows Explorer and Nero 5 will burn them without the need to launch the full software and create burning projects: it's a good thing as you'll lose less time to do basic tasks. Note that even novice users can burn data on CD using the packet software. Sure the interest of this is that you can also remove files that are on the CD or rename them just like you'd do on a floppy. This is an interesting feature that worked great during our tests even if it's slow down the computer and the burning speed. Indeed if you've got a CD-RW burner that burns CD-RW at 8x you have to use CD-RW mediums compliant with the 8x speed and for the moment this are hard to find so most of the times you'll burn CD-RW at 4x.