DirectX
ActiveMac
Downloads
Forums
Interviews
News
MS Games & Hardware
Reviews
Support Center
Windows 2000
Windows Me
Windows Server 2003
Windows Vista
Windows XP



News Centers
Windows/Microsoft
DVD
Apple/Mac
Xbox
News Search



ActiveXBox
Xbox News
Box Shots
Inside The Xbox
Released Titles
Announced Titles
Screenshots/Videos
History Of The Xbox
Links
Forum
FAQ



Windows XP
Introduction
System Requirements
Home Features
Pro Features
Upgrade Checklists
History
FAQ
Links
TopTechTips



FAQ's
Windows Vista
Windows 98/98 SE
Windows 2000
Windows Me
Windows Server 2002
Windows "Whistler" XP
Windows CE
Internet Explorer 6
Internet Explorer 5
Xbox
Xbox 360
DirectX
DVD's



TopTechTips
Registry Tips
Windows 95/98
Windows 2000
Internet Explorer 5
Program Tips
Easter Eggs
Hardware
DVD



ActiveDVD
DVD News
DVD Forum
Glossary
Tips
Articles
Reviews
News Archive
Links
Drivers



Latest Reviews
Xbox/Games
Fallout 3

Applications
Windows Server 2008 R2
Windows 7

Hardware
iPod Touch 32GB



Latest Interviews
Steve Ballmer
Jim Allchin



Site News/Info
About This Site
Affiliates
Contact Us
Default Home Page
Link To Us
Links

News Archive
Site Search
Awards



Credits
©1997-2012, Active Network, Inc. All Rights Reserved.
Please click here for full terms of use and restrictions or read our Light Tower Privacy Statement.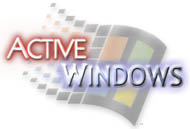 [ Search | Mail Us News | News Archive | Contact | Poll Archive ]
News Date: Wednesday 30th June 1999
Today's Top Headlines: SP1 - MSN - Java - MP3 - XML
---
News Date: Tuesday 29th June 1999
Today's Top Headlines: Handhelds - MS Search - Corporate Win 98 SP1 Info
---
News Date: Monday 28th June 1999
Today's Top Headlines: Merced - Win98 Bug
---
News Date: Sunday 27th June 1999
Today's Top Headlines: Site News
Mailing List
Time: 14:11 Source: ActiveWindows Posted By: Byron

Our mailing list is yet again have a few teething problems, it doesn't always send out to everyone on the list due to the program we use timing out, we are working on a better way of sending out the daily HTML mailing but would still like you all to keep signing up for it.

Site News
Time: 14:10 Source: ActiveWindows Posted By: Byron

Just a note to thank everyone for all the visits you have been putting in over the last few weeks, you have helped to make the last two days our best ever in terms of unique visitors.

On the reviews front we still have a load more stuff on the way including:

DVD's: Pi, Grandmothers House, Dark City and Elizabeth
Games: Aliens Vs Predator, F/A 18E Hornet Attack (DVD Edition) and Shaodan (DVD Edition)
---
News Date: Saturday 26th June 1999
Today's Top Headlines: MS To Block Violent Games - MS OS/2
---
News Date: Friday 25th June 1999
Today's Top Headlines: Outcast Review - - Dungeon Keeper 2 Review - AOL - Netscape
---
News Date: Thursday 24th June 1999
Today's Top Headlines: K7 - Modems
---
News Date: Wednesday 23rd June 1999
Today's Top Headlines: 1 GHz - Sony - FAQ's
---
News Date: Tuesday 22nd June 1999
Today's Top Headlines: Rio - Gate's $90B - Drivers
---
News Date: Monday 21st June 1999
Today's Top Headlines: Linux
The Faculty - Review
Time: 19:07 GMT Source: ActiveDVD Posted By: Byron

I have posted my review of the Robert Rodriguez and Kevin Williamson Sci-Fi movie The Faculty. Here is a snippet:

The quality of the DVD picture is very good with vivid colors and very little grain. The sound is also excellent, there does have to be a bad point on the DVD though after all of this, and unfortunately it is a big one...There are no extras, ok we have a trailer, but can you really call that an extra these days? No you can't. The lack of extras is a major disappointment for such a good movie and it lets down the rest of the DVD's high quality.

Does Coppermine Have A Bad Core?
Time: 18:10 GMT Source: The Register Posted By: Byron

Problems which Intel admitted with its Coppermine core last week point to the platform giving little performance boost. But sources close at Intel suggest that Willamette, as reported here earlier, is the chip giant's secret weapon. The sources told us earlier today that there cannot be a problem with the .18 micron process itself, so it must be the Coppermine design.

Site News
Time: 11:46 GMT Source: PC World Posted By: Alex R.

Sometimes, it's just too cool to be recognized :) PCWorld has a mention of ActiveWindows in their newest issue:

ActiveWindows This well-designed site houses a galaxy of useful technical information about--but not limited to--Windows. You'll find articles, tips, FAQs, bug alerts, downloads, and reviews collected from around the Web. ActiveWindows contributors generate much of the content, but many items are reproduced from--or simply link to--other computing sites. The interface is a marvel of organization. For quick reference help and troubleshooting, check out the FAQs section, with categories for DirectX, Internet Explorer, Windows 98, and more.

'Net Population Tops 92 Million
Time: 11:24 GMT Source: MSNBC Posted By: Alex R.

Census time: The number of people over 16 years old in the United States and Canada using the Internet has climbed to 92 million, and the number of women making purchases online has risen dramatically, a new survey says.

Of course, that number doesn't count the number of users in other countries!

Site News
Time: 11:15 GMT Source: ActiveWindows Posted By: Byron

You may have noticed that I have changed around some of our CSS and fonts that we use across the site. We have decided that our main font will now be Verdana in place of the Tahoma we used to use. We feel it is a better for reading and far more compatible in other browsers.

IE5 installation kills-off NT remote update service
Time: 10:07 GMT Source: The Register Posted By: Byron

A network administrator for a major US bank has drawn our attention to a serious (for him, at least) breakage of NT caused by Internet Explorer 5.0. In summary it would appear that Microsoft integration/proprietorisation via IE 5 disables a highly useful open systems(ish) routine, the Schedule service.

This ships with NT, and in the equivalent of the Unix cron service. "We use it extensively at our company to deploy updates and perform functions. We run it under special user account so that it can access network resources."

G4 and other spex make Web appearance
Time: 10:01 GMT Source: The Register Posted By: Alex H

A kindly reader has sent us two URLs possibly worth reading if you like the G4 PowerPC 450MHz microprocessor. The addresses are this and that. But go back a bit further just to here and you'll find some stuff about Sony's Emotion, AMD's K7, Intel Coppermine, PA-RISC 8500, Dirk Meyer's RM presentation and gawd knows what else.

Key Linux leader to address Microsoft
Time: 09:58 GMT Source: News.com Posted By: Alex H

A key leader of the Linux movement will address Microsoft tomorrow as Windows faces increasing pressure from the rapidly growing rebel operating system.

Eric Raymond, a founder of the Open Source Initiative, will speak to Microsoft researchers at the company's headquarters here. The address comes as Microsoft searches for a manager to analyze the competitive threat from Linux and after creation of a team to counter the competition, analysts said.
---
News Date: Sunday 20th June 1999
Today's Top Headlines: Jump - Site News - Mouse Mats
---
News Date: Saturday 19th June 1999
Today's Top Headlines: PIII 600
Slot B pix arrive as API confirms AMD collaboration
Time: 19:12 GMT Source: The Register Posted By: Alex H

Alpha Processors Inc (API), mostly owned by Samsung but with Compaq holding a minority share, has now confirmed details of its 750MHz and 1GHz Alpha processors.

It will formally introduce the 750MHz flavour at PC Expo this coming Tuesday, and Miles Chesney, enterprise business development manager at API, confirmed that by this time next year the 1GHz processor will appear in volume.

Ousted: Microsoft Switches Ad Agency
Time: 14:14 GMT Source: ZDNet Posted By: Byron

Software titan Microsoft Corp. shifted a $100 million advertising account to McCann-Erickson Worldwide Advertising, ending a five-year relationship with Wieden & Kennedy, a Microsoft spokeswoman said Friday.

McCann-Erickson already had secured the U.S. campaign to introduce Microsoft's Windows 2000 operating system, and Microsoft decided it did not need two agencies.

600MHz Pentium launch sped up
Time: 14:12 GMT Source: ZDNet Posted By: Byron

Intel Corp., aiming to wring greater performance from Pentium III chips based on its 0.18-micron manufacturing technology, has rejiggered its fall PIII launch schedule.

The Santa Clara, Calif., chip maker this week told PC makers it will push back the introduction of a Pentium III for desktop PCs, based on the 0.18-micron process, until November while it tweaks the design to gain greater performance. The chip was expected to debut at 600MHz in September.
---
News Date: Friday 18th June 1999
Today's Top Headlines: Coppermine Delay - Netmeeting 3.01 Released
---
News Date: Thursday 17th June 1999
Today's Top Headlines: Win Update - Netmeeting 3.01 News
---
News Date: Wednesday 16th June 1999
Today's Top Headlines: New ICQ - Win 2000
---
News Date: Tuesday 15th June 1999
Today's Top Headlines: Win 2000
---
News Date: Monday 14th June 1999
Today's Top Headlines: MS & Java - New Java VM - Interactive TV - MSN Mobile
---
News Date: Sunday 13th June 1999
Today's Top Headlines: Win98 SE Full
MS Finally Puts Win98 SE Full Version On Sale At $209
Time: 15:18 GMT Source: The Register Posted By: Various

Microsoft has finally got its act together and started selling the full version of Windows 98 SE from its Web site - at the somewhat less than bargain estimated price of $209. As we've been pointing out for the past couple of days, (MS dozy Webbies story) the company seems to have been trouble figuring out the Ts and Cs of this particular permutation, but now it has.
---
News Date: Saturday 12th June 1999
Today's Top Headlines: Site News - Intel - 3Dfx - Members
Member Homepages
Time: 11:59 GMT Source: ActiveWindows Posted By: Various

We have added a Member Homepages area so you can keep up to date on each member and their very own website. Most of these are updated regularly, so check them out.

Intel Acknowledges Delay in Profusion Chipset
Time: 20:15 GMT Source: ZDNet Posted By: Alex R.

Intel has acknowledged a delay in production of the Profusion chipset. The new chipset will provide support for 8-processor servers.

3dfx Sues Creative Labs for Copyright Infringement and Breach of Contract
Time: 20:09 GMT Source: Yahoo Posted By: Alex R.

From the "It's-a-given-they-had-it-coming-department," 3dfx has filed suit against Creative Labs for the release of the "glide wrapper" for their TNT cards (named the Unison driver). The driver allows owners of Creative Labs TNT and TNT2 cards to play "Glide only" titles without 3dfx's drivers.

Off Topic: DeForest Kelley Passes On
Time: 20:05 GMT Source: Mr. Showbiz Posted By: Alex R.

Sad news in the entertainment world. DeForest Kelley, the fabulous "Dr. Bones" from Star Trek has died. Anytime a star that I grew up watching passes away, I feel this ominous sense of loss. DeForest Kelley is one of those stars.

FBI Tracking Down Author of Worm.Explore.Zip
Time: 20:02 GMT Source: CNN Posted By: Alex R.

The FBI is (trying to be) hot on the trail of the Worm.Explore.Zip virus author. The part worm-part virus struck a huge amount of corporations this week. Here locally, I know of at least five major technology companies that were hit all in the same day.

Creative Ultra TNT2 - Sharky Review
Time: 18:51 GMT Source: Sharky Extreme Posted By: Byron

Sharky Extreme has posted up a review of the Creative Ultra TNT2. Here's a snippet:

We currently play the Quake III: Arena test on UltraTNT2's and the Creative 3D Blaster UltraTNT2 performed as well as all other Ultra's set at the 'default' speeds (when it didn't crash). The UltraTNT2's TwiN Texel engine (supporting single pass multi-texturing) wasn't really being used efficiently on the original TNT due to the lower clock speeds and other architecture pipeline rendering limitations (original TNTs were clocked at 95-105MHz). The Ultra TNT2's clock speed is not only higher but the architecture has had some improvements made to its rendering pipelines (NVIDIA claims some 20% improvement over a TNT at the same speed). Thus Quake 3 performs extremely well at around 60 frames per second.

Should You Wait For The K7?
Time: 18:47 GMT Source: PC World Posted By: Byron

Should I stay or go? Should I fish or cut bait? Should I buy six of one or half-dozen of another? Applying these axioms to today's high-performance computing market, the suitable platitude might be, Should I buy the PIII or wait for the Merced?

We know they're coming--revved-up Pentium III chips, Intel's 64-bit Merced CPU, and AMD's supercharged K7 microprocessor. We just don't know whether we should wait to buy them. Will the flavor of the week really be the fastest chip available--and for how long?

Site News
Time: 18:35 GMT Source: ActiveWindows Posted By: Byron

Sorry about the lack of updates - I had some important other stuff to do, and it has taken up most of my Saturday. - We are still looking for someone who would be interested in updating our Desktop Themes section - The section would have to be updated on a weekly basis - FrontPage 2000 knowledge is a bonus. If you are interested - please e-mail me at byron@activeie.com.
---
News Date: Friday 11th June 1999
Today's Top Headlines: Virus - MSN
---
News Date: Thursday 10th June 1999
Today's Top Headlines: Windows 98 SE - DirectX 7 - SP1 - DirectX & EAX
Microsoft Makes Windows 2000 Dev Team Available
Time: 20:07 GMT Source: TechWeb Posted By: Byron

Microsoft is making the development team behind Windows 2000 readily available to the general public through a series of weekly question-and-answer sessions, as well as an online chat event next week during which users can watch demonstrations of Win 2000 deployment.

The event, scheduled for June 16 and sponsored by Microsoft's Technet group, is a half-day affair that will be broadcast over the Internet on the Windows 2000 Beta Users' website. It will feature live discussions, product demonstrations, and how-to videos. The goal is to provide step-by-step information on deploying Win 2000 in a midsized organization, according to Karan Khanna, lead product manager for Win NT.

Microsoft DirectX 7.0 Technology Ignites Enthusiasm at Meltdown 99
Time: 14:46 GMT Source: Press Release Posted By: Byron

Microsoft® DirectX® 7.0, the new version of the powerful multimedia technology behind the Windows® operating system, was showcased this week before an audience of the game industry's most discriminating users of DirectX: hardware and software developers.

Is Windows 98 SE Upgrade Worth It?
Time: 14:39 GMT Source: News.com Posted By: Byron

Today's launch of Microsoft's Windows 98 SE operating system will be a decidedly low-key affair, at least compared to the introduction of its predecessor.

Some of the improvements to the operating system also lack punch, analysts say. The average Windows user may not need the update, they say. "It's an incremental upgrade," said Dwight Davis, an analyst with Summit Strategies. "It's hard to get really excited, because there's really nothing new. Even Microsoft is treating this as a yawn."

Windows 98 Service Pack 1 Update
Time: 14:33 GMT Source: Various Posted By: Byron

Just a note for all those of you e-mailing us about the Service Pack 1 mentioned on the Microsoft Windows website - It isn't due for release for 2-3 weeks.

Windows 98 SE Available To Buy Online
Time: 10:09 GMT Source: ActiveWindows Posted By: Byron

Yes you can finally buy Windows 98 Second Edition online via the Microsoft Windows website. You can choose the version that is best for you (This includes the $19.95 upgrade for Windows 98 users to update to the second edition, it includes all the new features, bug fixes and drivers all on the CD)

For those of you who haven't decided whether to upgrade or not, check out our review of Windows 98 Second Edition.

It's easy to buy Windows 98 Second Edition, and get all the new advantages built into the latest release. Whether you're shopping for a new computer or want to upgrade an out-of-date system, you can choose the option that works best for you.

MSN's New Beta Site
Time: 10:07 GMT Source: e-mail Posted By: Byron

The Microsoft Network has posted a sneak preview of their new upcoming homepage - due at the end of next month. Check it out at http://www.beta.msn.com

Microsoft To License Creative's EAX
Time: 10:07 GMT Source: GA-Source Posted By: Byron

Microsoft today announced a licensing agreement with Creative Technology Ltd. for a number of recording-studio-quality audio effects found in Creative's Environmental Audio Extensions (EAX), an application programming interface (API) used to add environmental sound effects to 3-D games. The licensed effects include flange, chorus, EQ and environmental reverberation.

Microsoft plans to incorporate these EAX effects into its next version of the Microsoft DirectX API, the multimedia technology behind the Windows operating system. Creative's EAX API is a popular environmental audio standard among developers and is supported in more than 50 PC games currently shipping. Combining EAX technology from Creative with applications written to the Microsoft DirectSound and Microsoft DirectMusic APIs will allow developers to take audio to a new level of realism in multimedia applications, encouraging the proliferation of high-quality PC audio

Office 2000 ID Controversy
Time: 10:07 GMT Source: Newsbytes Posted By: Byron

Despite the outcry that greeted the original plan to establish PC IDs in Office 2000 registrations, Microsoft Corp. does not seem to have modified its earlier restrictions. The "easy-to-use" registration wizard is included in versions of Office 2000 offered in Australia, Brazil and New Zealand, as well as in academic packages distributed in the US and Canada.

Office 2000 was officially unveiled worldwide this week. The ID requirement does not apply to customers with volume license agreements. For the first time, Office 2000 also places a hologram on the CD to identify the authenticity of the product and thief-deterrent packaging to block the ungodly from stealing the CD out of the box in retail stores.

To register, you name your country so it automatically generates an installation ID number. However you don't have to provide personal information and can register anonymously. Customers can install a copy of Office on a single computer, plus a second copy for a portable. Installations on additional computers that allegedly violate the license agreement will not qualify for registration. Microsoft Australia reports some big organizations, such as the Australian Tax Office, are being attracted to Office 2000 for its workgroup possibilities.
---
News Date: Wednesday 9th June 1999
Today's Top Headlines: ActiveDVD - QuickTime 4 - MS & Inprise
---
News Date: Tuesday 8th June 1999
Today's Top Headlines: ActiveDVD - DirectX 7 - Office 2000 - DX8
Microsoft Demonstrates SQL Server for Windows CE To Developers of Mobile and Embedded Solutions
Time: 20:34 GMT Source: Press Release Posted By: Byron

Today at the Windows® CE Developers Conference, Microsoft Corp. demonstrated Microsoft® SQL Server™ for the Windows CE operating system. This event marks the fulfillment of Microsoft's strategic goal to provide a scalable, reliable and easy-to-use SQL Server solution that extends from productivity appliances such as handheld, palm-size and embedded Windows CE-based devices up to the enterprise.

Microsoft Announces Global Data Access Architecture for Windows CE
Time: 20:32 GMT Source: Press Release Posted By: Byron

During his keynote address today at the forth annual Windows® CE Developers Conference, Bob Muglia, senior vice president of the Business Productivity Group at Microsoft Corp., laid out a new data architecture for the Microsoft® Windows CE operating system that will enable data access for a new range of productivity appliances. This Global Data Access architecture, based on ActiveX® Data Objects (ADO) and OLE DB, provides a flexible and efficient database architecture that offers applications, compilers and other database components access to Microsoft and third-party data stores through a consistent set of open interfaces. The Microsoft SQL Server™ team, Sybase Inc. and Simba Technologies Inc. also announced today that they will build products based on this open architecture. The data access components for this new architecture, including OLE DB, are scheduled to be available in beta release later this year and to be distributed via the Microsoft Platform Builder for Windows CE.

Microsoft Promises Unified Messaging Services
Time: 20:30 GMT Source: ZDNet Posted By: Byron

Microsoft Corp is preparing a new version of its Exchange Server software specifically optimized for adoption by telecommunications services providers as a platform for unified messaging services, said Microsoft President Steve Ballmer on Tuesday. Ballmer, delivering a keynote address here at Supercomm '99, said the new version, code-named Platinum, will include broadened support for multiple data types.

MS, Voice & DirectX 8
Time: 20:21 GMT Source: Voodoo Extreme Posted By: Byron

Microsoft has made an announcement yesterday, that they have picked up Shadow Factor Software, Inc., the lads behind Battlefield Communicator, which was also known as BattleCon. Here's a bit from the press release:

``BattleCom's real-time voice-over technology is amazing, and we're excited to make it a part of the Windows gaming platform,'' said Kevin Bachus, group product manager for DirectX at Microsoft. ``The ability to talk to other players over the Internet without the hassle of typing dialogue in midplay adds a new dimension to online gaming.''

Once integrated into the DirectX application programming interface, BattleCom technology is expected to be applied to a full spectrum of multiplayer online game titles. The ability to communicate verbally while interacting online, from casually chatting during a game of Bridge to taunting opponents while immersed in the latest 3-D action game, will enhance players' enjoyment.

Midtown Madness Review
Time: 14:15 GMT Source: ActiveWindows Posted By: Byron

I have just finished posting my review of Microsoft's latest racing game - Midtown Madness. Here is a snippet from the review:

Racing in Midtown Madness is easy to get the hang of thanks to the first couple of courses really being training runs before the action really heats up later on. While racing around the city you come up against a number of city environments that try to slow you down, they include traffic: the cars actual follow the road laws by stopping at traffic lights and driving down the correct lanes. Police who chase after you at every opportunity you give them, once they catch up with you they will do everything they can to smash you off of the road and then arrest you. In the event that you smash into any of the oncoming traffic then damage starts to show up on your vehicle, if you crash into enough cars then your vehicle will turn into a steaming wreak and your game will end.

Network Solutions Competitor Goes Online
Time: 12:49 GMT Source: Newsbytes Posted By: Alex R.

Network Solutions, Inc.'s government-sanctioned monopoly over Internet domain registration came to an abrupt end today when the firm's first official competitor, register.com went live.

Office 2000 Hits Desks
Time: 10:53 GMT Source: MSNBC Posted By: Byron

Microsoft's big summer release, its Office 2000 software suite, came out Monday. The package includes spreadsheet, word-processing and e-mail programs for business users. One new feature lets businesses set up Web-like pages to share documents inside a company. "Office lets people really participate with others in brainstorming ideas," Microsoft president Steve Ballmer told CNBC Monday, "but the Web is at the heart of the software."

Other Microsoft Office 2000 Articles:

Microsoft Buys Internet Gamer
Time: 10:44 GMT Source: Reuters Posted By: Byron

Microsoft Corp on Monday purchased privately-held Canadian company ShadowFactor Software Inc., the maker of a technology called BattleCom that allows players to talk while playing games on the Internet. Microsoft did not disclose the amount of the transaction.

3Dlabs Demonstrates Geometry Acceleration In DirectX 7
Time: 10:41 GMT Source: GA Source Posted By: Byron

3Dlabs today provided the first public demonstration of accelerated geometry and lighting using Microsoft's newly-enhanced DirectX 7 application programming interface (API). The demonstration used the 3Dlabs Oxygen GVX1 board that provides high-speed geometry and rasterization acceleration on a single AGP card and included a demonstration of a highly-detailed flight simulator written by Simis, the well-known game developer. The demonstration showed that applications with complex geometry run up to three times faster due to the increased polygon throughput made possible by hardware geometry acceleration.

Geometry acceleration offloads the floating point intensive transformation and lighting calculations in the 3D graphics pipeline from the host CPU and processes them in high-speed hardware on the graphics board. Geometry acceleration hardware provides significantly higher geometry throughput than even the fastest CPU -- while liberating the host CPU for faster application performance. 3Dlabs has been shipping OpenGL geometry acceleration in its range of Oxygen workstation boards for over a year. DirectX 7 is the first version of Microsoft's 3D API that enables geometry acceleration and will allow games and consumer applications to deliver significantly enhanced visual complexity and realism.

ActiveDVD Info
Time: 10:12 GMT Source: ActiveDVD Posted By: Byron

We are to begin with our daily DVD news starting from tomorrow. We will also be starting regular site updates as the DVD section here on ActiveWindows has become pretty popular over the past month or so. Reviews on the way include:

Star Trek: Insurrection, Alien Legacy, A Bug's Life, Elizabeth and What Dreams May Come.
---
News Date: Monday 7th June 1999
Today's Top Headlines: Office 2000 - Outlook 2000
Office 2000 Released In The UK Tomorrow
Time: 20:07 GMT Source: ActiveWindows Posted By: Byron

Just a note that Microsoft's Office 2000 is released in the UK tomorrow. It should be available in most large stores across the UK. I've been using the final version for just over a month and it is well worth it.

Microsoft Office 2000's HTML is a Little Peculiar
Time: 19:27 GMT Source: CNN/IDGNet Posted By: Alex R.

CNN/IDGNet is reporting that Office 2000's "save as HTML" feature has a few problems... most notably, large files containing macros or other Office-related functions may cause your resulting HTML file to be incompatible with browsers other than MSIE 5.0.

Microsoft ActiveStore Reaches Key Milestones
Time: 15:15 GMT Source: Press Release Posted By: Byron

At the Retail Systems 1999 Conference and Exposition, Microsoft Corp. today announced that its ActiveStore™ initiative, which is aimed at developing an integration framework to reduce the cost and risk of deploying retail solutions, has reached two key milestones. The company released ActiveStore System Framework Services (SFS) 1.0, a fully tested and supported technology for the retail industry, and also announced significant progress with the second phase of the ActiveStore initiative, highlighting the formation of six Retail Business Interface (RBI) teams to develop common retail interapplication messages and interfaces. Albertson's Inc., Brinker International Inc., Gadzooks Inc., London Drugs Ltd., Publix Supermarkets Inc., Recreational Equipment Inc. (REI), Starbucks Corp., SUPERVALU Inc., Tricon Restaurants International and Wendy's International Inc. are among the retail enterprises that support ActiveStore.

Windows CE Developers Conference Showcases Innovation, Momentum For World of Connected Productivity Appliances
Time: 15:13 GMT Source: Press Release Posted By: Byron

With the theme of "Computing Everywhere, Connecting Everything," the latest in hardware and software innovations relating to the Microsoft® Windows® CE operating system are being highlighted June 7-9 at the fourth Windows CE Developers Conference. With more than 2,000 software developers and systems integrators in attendance, the conference will offer more than 90 technical sessions on all aspects of Windows CE. In addition, more than 135 vendors will display the latest in software, hardware and peripherals for productivity appliances and embedded systems powered by Windows CE at the on-site trade show.

Infoworld Outlook 2000 Review
Time: 14:34 GMT Source: Infoworld Posted By: Alex R.

InfoWorld has posted their Outlook 2000 Review. While it's not as extensive as I'd like it to be, it does offer some insight into Microsoft's newest Outlook update.

Microsoft Set To Launch Office 2000
Time: 14:29 GMT Source: ZDNet Posted By: Byron

Microsoft Corp. (Nasdaq:MSFT) is set to unveil Monday its Office 2000 software that will shift the focus of the work desktop from paper to the Internet, in an upgrade of Microsoft's widely used suite of applications already installed on 60 million computers.
---
News Date: Sunday 6th June 1999
Today's Top Headlines: Mailing List
The Birth of TechnoConnect
Time: 15:43 GMT Source: BluesNews Posted By: Alex R.

TechnoConnect is a free personal IP listing service. The service will list your dynamic IP when you connect, so others can find you.

<editor>While this is useful for folks trying to find you for gaming purposes or whatnot, this can also present a wee bit of security danger. I think part of a good personal security model is not letting the world see your IP address... then how would they be able to nuke you? </editor>

Mailing List Update
Time: 13:27 GMT Source: ActiveWindows Posted By: Byron

Just a final reminder that our new HTML mailing list will begin today (Although little has changed since the last one) so if you haven't signed up yet - make sure you do.
---
News Date: Saturday 5th June 1999
Today's Top Headlines: Win 98 SE - Star Wars Review
Windows 98 & Windows 98 SE FAQ Updated
Time: 23:57 GMT Source: ActiveWindows Posted By: Byron

Updated the Windows 98 and Windows 98 SE FAQ to a new revision, both adding, removing and updating various questions and answers.

Outlook 2000 Tips
Time: 23:37 GMT Source: ActiveWindows Posted By: Byron

We have started to post some of our Office 2000 tips and trick, we begin with a few Outlook 2000 tips to help you get started. Over the next week or so we will add tips and tricks for all components of the Office 2000 pack such as Excel, Word and Access. On another note - not only has the Office Update site been revamped with new info and downloads, but the Office site has now had a make over with the usual blurb about Office 2000 cropping up.

Microsoft To Announce Wireless Phone Alliances?
Time: 23:22 GMT Source: Newsbytes Posted By: Byron

Microsoft Corp has been talking with makers of wireless telephones and operators of wireless phone services, and may shortly announce alliances with several companies, the Bloomberg news service reports. Bloomberg quoted industry analysts as saying Microsoft may announce alliances with Nokia Oyj, Motorola Inc., Ericsson AB, Sprint Corp., and AirTouch Communications Inc. at its Windows CE Developers Conference in Denver next week.

Windows CE is a version of the Windows operating system designed for handheld computers and other portable devices, including wireless telephones. Analysts said Microsoft wants to catch up with Psion plc and 3Com Corp., whose handheld devices already have wireless data capabilities. The report suggested Microsoft might use some of its $17 billion in cash reserves to invest in one or more wireless carriers and possibly makers of portable phones.

Last year, Microsoft and Qualcomm Inc. set up a wireless joint venture called Wireless Knowledge, which provides services to major carriers, including BellSouth Corp. and GTE Corp., that let users connect to the Internet and their own corporate networks from digital wireless phones and mobile computers.

Office Update Site - Updated
Time: 19:35 GMT Source: Microsoft Posted By: Byron

Microsoft has revamped bits and pieces of their Office Update site, it now includes downloads and information for all you new Office 2000 users. They include Web Archiving, Visual Keyboard and Digital Certificate Add-ons, new Stationery and Sounds. There are also some excellent tools which allow you to remove Office 2000 specific tags out of pages you created and turned into HTML.

Star Wars: Episode 1 - The Phantom Menace - Game Review
Time: 19:35 GMT Source: ActiveWindows Posted By: Byron

I have posted my review of LucasArts new Star Wars: Episode 1 - The Phantom Menace game. Here is a short snippet from the review:

The game begins in the same place as it does in the movie, on a Trade Federation battleship. You take the part of Obi-Wan Kenobi in the first level as you work alongside Qui-Gon to escape from the clutches of the battle droids. The game gets off to a good start as you walk into a corridor full of Battle Droids and then you fight them off with you extremely cool lightsaber, the John Williams soundtrack booms into action. Your lightsaber cannot only cut your enemy to shreds but it can also deflect off laser shots and fire them back at the enemy. You can also use your Force Push to "Push" the battle droids onto the ground and then finish them off with a few lightsaber swings. The rest of the opening level has you opening a series of doors and switches before you can complete it by flying off to Naboo.

New NeoPlanet Build Release
Time: 17:14 GMT Source: Netigen Posted By: Byron

Netigen Web have sent us a note about the latest build of NeoPlanet. Build 613 of 2.1 has been released and offers some new bits and pieces. Give NeoPlanet a try. - Download Now!

New TNT/TNT 2 Drivers
Time: 13:22 GMT Source: AGN3D Posted By: Byron

NVIDIA has released new TNT/TNT2 detonator drivers for the AGP and PCI versions of the cards based upon their chips. Here is the info and download links to the drivers:

Detonator Build #1.88 for Win9x PCI

Download from ftp site 1
Download from ftp site 2

Detonator Build #1.88 for Win9x AGP

Windows 98 SE In Stores
Time: 13:19 GMT Source: E-mail Posted By: Byron

We have received a number of e-mails stating that Windows 98 Second Edition is now available in various stores, remember to phone before you head down though.
---
News Date: Friday 4th June 1999
Today's Top Headlines: Mailing List - DirectX
---
News Date: Thursday 3rd June 1999
Today's Top Headlines: P3 Glitch - Liveware 2
Yes, Game Addiction Can Get You a Job
Time: 21:52 GMT Source: EQ Stratics Posted By: Alex R.

Now it's official. Yes, Brian Hook joined Verant Interactive to work on Massively Multiplayer Role-Playing Games. Check out the press release on EQ Stratics for the full copy.

SoundBlaster Liveware 2.0 Review
Time: 13:11 GMT Source: 3D Sound Surge Posted By: Byron

3D Sound Surge has posted a Sound Blaster Liveware 2.0 review. Here is a snippet:

On May 13th with great fanfare Creative Labs launched Live!Ware 2.0. According to Creative, the Live!Ware Upgrade Program is designed to offer new features, enhancements and software to Sound Blaster Live! and Sound Blaster Live! Value owners and is possible in part due to the re-programmable nature of the EMU10K1 audio processing chip used in the Sound Blaster Live! family of cards. Before I unwillingly restart an old battle, let me clarify that the 10K1 is not a general purpose DSP. It is a highly specialized audio DSP that is very good at what it does and that's process sound. As we mentioned in a past edition of the Week in Review, the release did not go off very well. This was nothing to do with the quality of the new drivers. It was a result of the Creative Labs severs being swamped with downloads directly as a result of Creative not setting up official mirrors in a similar manner to other software companies such as id for the Quake3Test and other big releases. This led to many frustrated users. We set up a download links page on 3DsoundSurge and in just a couple of days over 6,000 people tried to access the files in that manner

Game Addiction Can Win You a Job?
Time: 13:11 GMT Source: GameSpot Posted By: Alex R.

I'm glad I didn't make a real wager about my guess on where Brian Hook was going. According to a GameSpot rumor ("from a reliable source!"), Brian Hook is expected to show up at Verant Interactive as a developer on the successor to Everquest. A press release stating his official relocation should be out by tomorrow, so this is just speculation. Brian Hook is a self-proclaimed Everquest addict. He has written many essays with his thoughts on the game in his .plans and editorials on Voodoo Extreme, so this move wouldn't surprise many people.

DirectX for the 'Net
Time: 13:05 GMT Source: Voodoo Extreme Posted By: Alex R.

Here's an interesting little tidbit of technology. A company by the name of Wild Tangent has released beta 2 of the "WildTangent web driver." This software allows web developers to make API calls to DirectX... making use of it to produce hardware-accelerated graphics and synchronized audio in web pages.

Microsoft Considers Renting Software
Time: 09:33 GMT Source: ZDNet Posted By: Byron

Whether software rental is a fad or the future, Microsoft Corp. doesn't want to be left behind.

Consequently, the company is in the midst of several different pilot programs aimed at testing the financial and technological feasibility of hosting Microsoft (Nasdaq:MSFT) operating system and server applications.

Pentium III Glitch Hangs 810 Chip
Time: 09:32 GMT Source: ZDNet Posted By: Byron

PC makers with plans to offer low-cost desktops using Intel Corp.'s Pentium III chip will need to go back to the drawing board lest their machines hang.

An erratum that affects the Pentium III's SSE or Streaming SIMD multimedia instruction set is keeping Intel's new 810 chip set from working with the chip.

The erratum, called MaskMovQ, is a Pentium III glitch. And while Intel has created a workaround for it, the 810 doesn't support it, making it incompatible with the Pentium III. Intel isn't supporting the workaround in the chip set because the 810 was not designed or validated to work with the Pentium III, said Intel spokesman Dan Fancisco.
---
News Date: Wednesday 2nd June 1999
Today's Top Headlines: WebTV - FrontPage 2000
FrontPage 2000 -- Review
Time: 15:42 GMT Source: ActiveWindows Posted By: Byron

I have posted my review of Microsoft's FrontPage 2000 that is due for public release later this month. Here is a short piece from the review:

The layout of the FrontPage 2000 has had quite an overhaul, not in terms of the way it looks, but because both the FrontPage Editor and the FrontPage Explorer have been combined into one. This is a far better way of doing things as it means you no longer get multiple windows opening up all over the place like previous versions.

Proposed Software Licensing Law Legalizes "Repossession."
Time: 13:06 GMT Source: InfoWorld Posted By: Alex R.

Not a whole lot going on this morning (well, where I am it's morning anyway). Stumbled across this article on InfoWorld that discusses a proposed law that will allow companies to "repossess," or disable your software remotely, if they detect that you are violating a license agreement. The law is being hotly contested right now, with few companies ready to comment on it. Not surprisingly, Adobe and Microsoft are listed as being in support of the new law. The UCITA also contains other provisions dealing with software licenses that are quite radical; one of them being a requirement that you contact the software vendor to acquire permission before you can transfer your software to another party.

Brian Hook Leaves id Software
Time: 13:00 GMT Source: BluesNews Posted By: Alex R.

Why is it that most of the gaming news happens overnight? Brian Hook announced last night in his .plan that he is leaving id Software for an offer that he couldn't refuse. That's a rather large shocker, as Hook was one of the more celebrated and vocal members of id Software. No word on where he's headed just yet, but if I had to make an educated guess... I'd say that based on his enthusiasm, he may return to 3dfx to write their OpenGL drivers. That's just a guess, not a fact. We're supposed to hear more later this week on where he's really going

New WebTV Boxes Dropping Hard Drives
Time: 10:10 GMT Source: News.com Posted By: Byron

The next generation WebTV set-top boxes mark a significant departure from some of the traditional features of the original devices, sources say.

Television set-top box maker WebTV is expected to relaunch its WebTV Classic and Plus products tomorrow. The new boxes will be the first from the Microsoft subsidiary based on the software giant's Windows CE operating system, and they will run on faster processors than previous editions. Despite the spate of new features, the new class of WebTV devices may be significant more for what they lack: namely, a hard drive.
---
News Date: Tuesday 1st June 1999
Today's Top Headlines: FP 2000 - Dreamcast - Hackers
AOL Buys Spinner.com & NullSoft for $400 Million
Time: 23:58 GMT Source: C|Net Posted By: Alex R.

AOL has apparently purchased spinner.com and NullSoft (creators of the popular MP3 player, WinAmp) for $400 million in stock-for-stock transactions. Spinner.com had planned an IPO by September of this year. Not much is said of what is to become of WinAmp and the ShoutCast technology that was developed by NullSoft.

BT Officially Announce Free Weekend 0800 Calls (UK Only)
Time: 21:23 GMT Source: BT Posted By: Byron

As expected, BT have now officially announced that they will be running free 0800 internet calls at weekends starting from this weekend June 5th. You can check out their site for more info.

Internet PCs Grew By 50% In 1998
Time: 20:04 GMT Source: ZDNN Posted By: Byron

The number of PCs connected to the Internet jumped 50 percent to 67.5 million between January 1998 and January 1999, according to a study from InfoBeads, the market research subsidiary of Ziff-Davis Inc. (Ziff-Davis operates ZDNet.) That means that most users online today are relative newcomers, according to InfoBeads researchers. The study shows that 56 percent of all PCs installed in the U.S. now connect to the Internet, and most of them (31 million) are home/family PCs. The work place contributed the largest growth in Net computers, increasing 76 percent to 28 million

Sega Slashes Dreamcast Price
Time: 14:18 GMT Source: ZDNN Posted By: Byron

Sega Enterprises Ltd. said on Tuesday it would slash the price of its Dreamcast video game machine by one-third in June in an effort to grab a larger share of the ultra-competitive domestic game market.

The Japanese game maker said it would reduce the price of its Internet-capable, 128-bit Dreamcast game console to 19,900 yen ($164) from 29,800 yen on June 24.

Hackers Target U.S. Government and FBI Sites in Protest
Time: 13:22 GMT Source: MSNBC Posted By: Alex R.

A new round of hacker attacks on FBI and U.S. Government Internet sites began yesterday. The attacks are in apparent protest of the FBI's proclamation of a crackdown on hacking. The latest series of attacks have been concentrated on web pages maintained by the Interior Department and the Idaho National Engineering and Environmental Laboratory.

ABIT Announces New Technology at Computex 1999
Time: 13:13 GMT Source: ABIT Press Release Posted By: Alex R.

ABIT has announced new motherboard technology in their newest BX motherboards. One new feature is the addition of UDMA/66 support, and there's word they have a dual Socket 370 motherboard (the BP6) in the works as well.

Microsoft Releases Vizact 2000 Preview
Time: 13:01 GMT Source: Microsoft Posted By: Alex R.

Microsoft has released a preview version of its upcoming dynamic document creation application, Vizact 2000. Vizact is advertised as being part of the Office 2000 family. To download the preview, you'll have to create a login to Microsoft's registration wizard (if you haven't already). The preview version requires an installation of MSIE 5.0. If you already have MSIE 5.0 installed, the download is 8.8mb. If you don't have MSIE 5.0 already, it'll rack you up to 24.4mb. Another item of note: Microsoft does not recommend installing the preview version on Windows 2000 beta.

MS Unique IDs To Reappear In Windows 2000
Time: 12:07 GMT Source: The Register Posted By: Byron

The addendum to the Intel-Microsoft PC99 specification, PC99a, finally shipped a few days ago. It was originally due in April, in time for Microsoft's WinHEC, but shenanigans over operating system roadmapping seems to have torpedoed that.

PC99a is now therefore out in time to furrow brows at Computex Taipei instead. The specification is intended, as with all PC9x specs, to provide manufacturers with design guidelines for the next generation of machines. On a preliminary reading there doesn't seem to be that much to furrow brows, but a "clarification" on unique system ID numbers is intriguing. "The initial use of the unique system ID will be for creating a Machine Account Object for the Windows 2000 Remote Installation Services." (our italics)

Introductions
Time: 10:37 GMT Source: Myself Posted By: Alex R.

As Byron said, they're adding some newshounds to ActiveWindows, so here I am - a newshound. :) I figured it would be nice to introduce myself instead of just adding a bunch of posts in with a different name... so...

My name is Alexander Rayborn. I live in the States, in a little off-road town in southern Virginia. I'm currently the editor of a 'zine by the name of the weslovian gazette. I've edited that zine for years, even when it was a BBS and a print magazine. I've been a member of the Internet community since its inception, and a reader of ActiveWindows for quite some time. I crave news, and every morning my computer spends about half an hour downloading a bunch of news while I sleep. So, hopefully I'll have much to add to this already fabulous site. I'm also a very hardcore avid gamer and a lover of gadgets, so if Byron lets me get away with posting some news on those fronts I will.

I look forward to spreading the good word to you all. My ActiveWindows email address is alexray@activeie.com should you need to contact me.

WebTV Adding Windows CE
Time: 10:10 GMT Source: News.com Posted By: Byron

WebTV Networks next week will unveil its next-generation WebTV Classic and Plus television set-top boxes, sources close to the company say.

The new boxes are significant because they are the first new hardware offerings from the company in almost a year and the first based on Microsoft's Windows CE platform, a goal the two companies have been working toward since WebTV's acquisition by Microsoft in 1997.

FrontPage 2000 Review
Time: 10:06 GMT Source: Net Unlimited Posted By: Byron

Net Unlimited has posted a review of FrontPage 2000, the long awaited follow up to FrontPage 98. Here is a snippet:

If you are a previous user, you will also know that the biggest let down of previous versions is the way FrontPage replaced already created HTML code from other programs, sometimes causing incorrect results in your page. This is one of the reasons the great divide occurred between the two groups of people (WYSIWYG and purist HTML coders) and at long last, Microsoft claim they have fixed it. As far as I can tell, i think they have.
---
Read more of the past months news in our News Archive for April and Previous May News.
Do you have any Windows based news? Just Remember To Get In Touch!