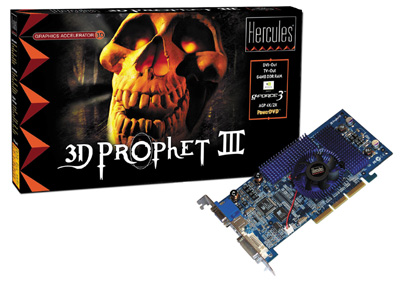 2D Features
Hercules and nVidia didnít forget that a 3D board should be as excellent in 3D as in 2D. So the 2D features of the 3D Prophet III are as good and even exceed the one of a Matrox G450 (the reference card for 2D graphics): it brings optimal visual comfort for imaging, Internet, and business applications. This is a real strong point of the board since most users will also use it to touch up pictures under PhotoShop, create websites, etc. An important thing for todayís graphics cards is the ability to support high display resolution with a correct refresh rate (a minimum of 75Hz is required to comfortably watch your screen). The build in 350 MHz RAMDAC supports a wide variety of screen resolutions as listed below:
| | | | | | | | | |
| --- | --- | --- | --- | --- | --- | --- | --- | --- |
| Resolution | 640*480 | 800*600 | 1024*768 | 1152*864 | 1280*1024 | 1600*1200 | 1920*1440 | 2048*1536 |
| Refresh Rate in 32 bit | Up to 240 Hz | Up to 240 Hz | Up to 200 Hz | Up to 170 Hz | Up to 150 Hz | Up to 120 Hz | 75 Hz | 60 Hz |
As you can read the refresh rates are more than good except in the highest resolution (2048*1536) where the refresh rate is too weak to enable users watch their monitor comfortably during hours and hours of intensive gaming. However who uses resolutions higher than 1600*1200??? Maybe the lucky guys that have got a 29-inch screen!
Installation
Installing the 3D card was very easy and I didnít encounter any problems: I simply unplugged (before I have removed its specific drivers) the 3D Prophet II Ultra and replaced it by the Hercules 3D Prophet III. Then I plugged on it my Sony Trinitron 19Ē monitor. Then after Windows Me started, I was prompted to insert the CD containing the drivers for the card. The latest drivers were installed and one reboot later I was able to discover the new possibilities offered by the 3D Prophet III.
Support
One good point goes to Hercules for its top-notch technical support. The card is warranted for 3 years and you can reach the technical support by phone or email. But another good point goes to Hercules, unlike Creative, Hercules provides their customers with latest Bios updates. Best of all the bios updates are really easy to install since a setup wizard under Windows will guide users. Concerning drivers, Hercules use to diffuse latest drivers based on the NVIDIA reference one frequently so youíre not forced to use the leaked NVIDIA beta drivers to fix a problem you have.
3D Tweaker
Hercules provides a small applet named 3D Tweaker 2.0 with the 3D Prophet III card. This utility is intended to be used only by power users and let them define the advanced settings of the card. They can change the Hardware core clock speed up to 215MHz as well as the RAM clock up to 575Mhz. Sure by overclocking the board in such an intensive way you can expect freezing, and other problems when you use your computer. The best rule of overclocking is to overclock frequencies in a reasonable way that doesnít exceed 15% of the initial frequency. When you launch the 3D Tweaker its icon appears in the tray area of Windows so you can access it easily. The tool also lets you change the different FSAA settings (like the anti-aliasing method from 2 to 9). A nice feature of the 3D Tweaker is the test button that will test the new frequencies you have set by applying instantly: if your system becomes unreliable youíll simply have to reboot it and the previous settings will be restored.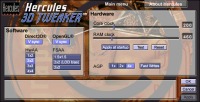 Hercules 3D Tweaker (click to enlarge)
OverClocking
We were able to push our card up to 220 MHz core, and 475 MHz memory with complete stability due to the memory heatsinks that are really efficient. Notice we would certainly be able to push the core clock higher if we would have more powerful cooling systems inside the computerís box (the testing computer has already 5 fans: a big one for the CPU, one for the power adapter, two cooling the inside part of the box, and a special one intended to cool the extension cards plugged on PCI & AGP slots). Note that overclocking isnít really advised by any 3D card manufacturer as it may cause damages to the card if you overclock incorrectly.