Manual
The Marvel G400 TV includes a large manual inside the box (Large because it includes other languages). A big installation sheet is also provided to guide you installing your new Marvel board easily. Although it offers a very good walkthrough for new users on how to setup their new card it doesn't go into as much detail on other settings such as Dual Head and the special options on the Desktop Properties menu as I would have liked. The features of the Avid software aren't detailed by this manual, too bad! Adequate but it is not as good as it should have been.
Thankfully though Matrox has provided some pretty good information for you to check through via the installation CD. It includes hardware info, support and troubleshooting guides.
TV
Matrox provides some good TV reception software named Matrox PC-VCR Remote. When you launch it a nice 'virtual' remote will be displayed on your screen and you'll simply have to click the settings button and tell the software in which country you live in to launch a new TV channels' recognition process. It's fast and efficient. All scanned and detected channels will be listed and if supported by the TV transmitter with their real names. If not you'll simply have to type the name of the channels. The TV reception is really good and you can change the size of your virtual TV screen (more you'll augment it worst the quality will be). The remote also allows you to change the audio volume, switch in mute mode and finally the favourites feature will grant you quick access to what channel you prefer. As with any other TV software you can record the TV program you're watching on a file. The remote offers nice and big buttons to switch between different channels. You can also by pushing the Video button watch any external video incoming signal from Camcorder, for example. You may also open in this software any video files that lie on your hard disk. There are two things we can regret: the virtual remote takes a lot of screen space and no real external remote support is offered by the board.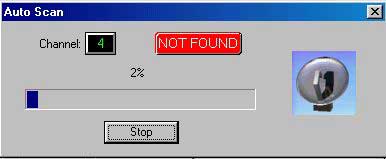 Video capturing
All the video capturing features of the Marvel G400 TV can be used only with the Avid Cinema software 1.01 you'll have to install. When we installed it we received an error message saying that we have to remove our latest QuickTime 4.1 runtime as it isn't supported by the software: too bad! So once the software is installed (it takes a long time) along with QuickTime 3 you'll be able to launch it in order to enjoy the advanced video-editing features of your Marvel board. When we first ran the software it told us that it cannot detect if your drives used DMA, but they used it. Avid Cinema used the Agent technology and will displayed an animated director at the start-up that'll help you using the software. Novice video users will be invited to take the multimedia product tours. Starting a new video project is easy and capturing videos using the Marvel G400 TV is simple as you just have to click the capture tab and push the record button to start capturing videos (sure you camcorder should be switch on and plug to the Video In connector you'll choose (S-Video or not). However you can't capture videos in any TWAIN compliant software as Matrox doesn't include Twain support, it's a really a pity for such a great board. Hopefully NetMeeting 3.01 SP1 supports the Marvel G400 TV so you can use your camcorder to video-chat with friends. The mounting software provides current editing features such as titles, soundtracks, special transition effects and more that are really easy to include in your video. The GUI of the software is a little bit gloomy but it's efficient. When you've finished editing videos, click the finish film tab and choose if you want to save it as a file or to export it on a VCR. During our test the software did its job great and the quality of the produced videos is good even for exported ones on VCR.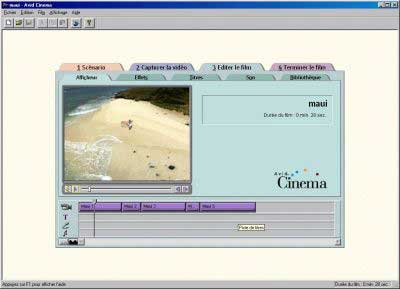 Matrox also provides the Ulead PhotoExpress 2.0 software that will enable you to touch up your favourite photos easily by capturing them from digital cameras, scanners, etc… Then you'll be able to include touched up pictures to your videos to add for example a special "souvenir" scene to your scenario. The software is user-friendly and will offer basic but easy to use features to everyone. We gave the software pack to real novice users and they were able to touch-up photos in a minutes and produce great looking and funny videos!