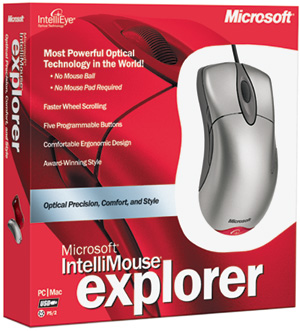 Design
For this new version of the IntelliMouse Explorer Microsoft designers have been sent back to work. The IntelliMouse Explorer 3.0 features a much more aggressive look than its predecessor which may surprise you at first. Still wearing a titanium outfit Microsoft IntelliMouse Explorer Version 3.0 definitely keeps a modern look. Its shape has been miniaturized so the part where you rest your palm is smaller than before which is not good at all for those of you who have big or long hands. On the bottom of the mouse is the usual rounded IntelliEye logo that is lit in red while the mouse is in use. The underside of the mouse is red and transparent and features four rubber area in order to slide perfectly on your desktop. In terms of ergonomics the left side of the mouse features an indentation so your thumb can firmly and comfortably hold the device while there's a small stylish dent on the right side for your little finger. The right side of the mouse features a very cool dark grey inclusion that looks like a "flash".
On the left side of the mouse there are two buttons that are used, by default, as previous & next buttons: to push them you'll have to use your thumb. These buttons aren't positioned correctly: they are too close to the area where your thumb will hold the mouse and since they are quite shaky and offer little resistance you'll most likely push them by mistake. And I still don't understand why Microsoft engineers have made those buttons so small!
The top of the mouse features two buttons with a firm and pleasant click effect. In the middle of the left & right buttons is the wheel that lets you scroll vertical or horizontal bars in your applications. The wheel is also clickable making it the fifth button: you'll most likely use the wheel to perform a double click with a single push. For the first time on a Microsoft mouse the wheel is quite rough so you don't have the bad feeling of spinning the wheel in emptiness.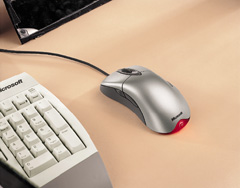 Microsoft IntelliMouse Explorer 3.0 In Action
Surfaces Compatibility
The new IntelliEye technology makes the sensor more compatible with more surfaces. Below is a table of the surfaces compatible with the IntelliMouse Explorer 3.0:
| | |
| --- | --- |
| Surface | Result |
| CD | Pass |
| Mirror | Fail |
| Glass Table | Fail |
| Aluminum Can | Pass |
| Monitor | Fail |
| Rock | Pass |
| Wood | Pass |
| Skin | Pass |
| Jeans | Pass |
| Legos | Pass |
| Plastic surfaces | Pass |
| CD Audio Jewel Cases | Pass |
| Socks | Pass |
Due to the technology used, the IntelliEye sensor performs best on surfaces with details to track. Surfaces that don't offer visible detail (like glass) or surfaces offering reflection (mirrors) won't support the Microsoft IntelliMouse Explorer 3.0 nor any other optical mouse. Finally highly repetitive patterns (like printed glossy photos) may put the mouse into difficulty.