DirectX
ActiveMac
Downloads
Forums
Interviews
News
MS Games & Hardware
Reviews
Support Center
Windows 2000
Windows Me
Windows Server 2003
Windows Vista
Windows XP



News Centers
Windows/Microsoft
DVD
Apple/Mac
Xbox
News Search



ActiveXBox
Xbox News
Box Shots
Inside The Xbox
Released Titles
Announced Titles
Screenshots/Videos
History Of The Xbox
Links
Forum
FAQ



Windows XP
Introduction
System Requirements
Home Features
Pro Features
Upgrade Checklists
History
FAQ
Links
TopTechTips



FAQ's
Windows Vista
Windows 98/98 SE
Windows 2000
Windows Me
Windows Server 2002
Windows "Whistler" XP
Windows CE
Internet Explorer 6
Internet Explorer 5
Xbox
Xbox 360
DirectX
DVD's



TopTechTips
Registry Tips
Windows 95/98
Windows 2000
Internet Explorer 5
Program Tips
Easter Eggs
Hardware
DVD



ActiveDVD
DVD News
DVD Forum
Glossary
Tips
Articles
Reviews
News Archive
Links
Drivers



Latest Reviews
Xbox/Games
Fallout 3

Applications
Windows Server 2008 R2
Windows 7

Hardware
iPod Touch 32GB



Latest Interviews
Steve Ballmer
Jim Allchin



Site News/Info
About This Site
Affiliates
Contact Us
Default Home Page
Link To Us
Links

News Archive
Site Search
Awards



Credits
©1997-2012, Active Network, Inc. All Rights Reserved.
Please click here for full terms of use and restrictions or read our Light Tower Privacy Statement.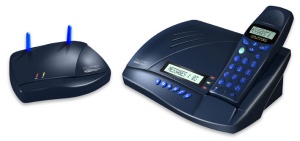 More Features
The provided cordless phone comes with several useful features. First there's a build in directory feature so you can memorize up to 50 phone numbers of 20 characters each and attach to each directory's entry a name. We regret you can only put 8 characters to name directory entries but navigating in the directory is easy using the directional pad. Like every Olitec product the cordless phone is smart so when a person you've saved in the directory calls you, her name appears on the LCD screen instead of her phone number (so you can better identify who is calling and decide whether or not you want to answer). During a phone call you can activate the secret mode so your correspondent doesn't hear you anymore: it's useful when you receive business calls and you have to put on hold somebody.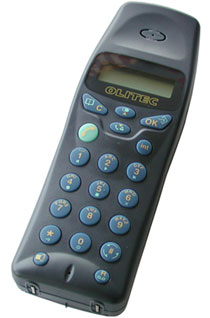 Olitec "Ohé" Cordless Phone (click to enlarge)
If you're away and if ever the answering machine is off, the phone lets you view the list of the last ten unanswered calls: thus you can call back the person that tried to contact you. The 'encore' touch lets you call back one of the 10 latest composed phone numbers: you choose the number you want to dial from the list and here it goes. Like on the base, when the modem is in use the LCD screen will display a 'modem' indication letting you know you can't phone and if ever you try to take the line you can't since the touch is blocked. The LCD screen also displays a line of icons aimed to let you know if you've received new faxes, emails, messages, if the line is in used, etc. If you often take your phone in your pockets or if you want to be sure kids don't touch it you can lock the pad and even restrict outgoing phone calls. As a clip is bundled with the phone you can attach it to your belt. The receiver offers 5 different ringing melodies you can choose: they are pretty casual. Through the cordless phone you can record notes and even record a new announce to be put on the answering machine. The most important thing of a cordless phone is obviously its autonomy. Here is the Achilles' heel of the apparatus, if Olitec claims the phone has 150 hours autonomy in standby mode and 12 hours during conversations, during our tests the real autonomy was underneath those numbers.
The phone's autonomy doesn't last more than 48-72 hours in standby mode but in converse it managed to reach approximately 10 hours. This is due to the fact Olitec provides the cordless phone with vulgar Nickel Cadmium 1.2 volts 600ma only batteries (the only advantage I can see is that when the rechargeable batteries are knocked out you can replace them with standard 1.5 volts batteries and get the cordless phone working before you buy new rechargeable batteries). You can always replace both batteries by more advanced ones to improve autonomy but we'd prefer Olitec to supply Lithium-Ion batteries with the kit. Adding a second Olitec cordless phone to the "Ohé" unleashes new features! With 2 or more units you can use them in surveillance mode in order to make sure baby sounds asleep for example. It's also possible to perform three persons' talking where both cordless phones can speak simultaneously with the incoming phone call. At any time you can choose which cordless unit is priority over the other. If you're busy and don't want to speak while holding the cordless phone, you can put it on the table and enable the hand free mode: that way you can freely speak to your buddy while your two hands remain free to type emails for example.
When testing the Ohé cordless phone we've spotted a sound quality problem: if your correspondent will always hear you perfectly, sometimes when you listen to him you can hear some nasty echo effects that dramatically alter the quality of the talking. The echo effect occurs regularly but I can't figure what generates it. To know if your cordless mobile has sufficient power to perform a phone call, the LCD screen displays a three state battery level indicator. Another great feature of the cordless phone is that it shows on its screen the number of messages you've received. And best of all if you push the appropriate button, you can hear the voice messages you've received (they're played through the intercom/hand free speaker so everyone can hear it) and you can obviously delete them. Finally you'll be glad to know the phone's LCD screen indicates the length of each phone call (it's great to know how much time you waste to chat on the phone!).