DirectX
ActiveMac
Downloads
Forums
Interviews
News
MS Games & Hardware
Reviews
Support Center
Windows 2000
Windows Me
Windows Server 2003
Windows Vista
Windows XP



News Centers
Windows/Microsoft
DVD
Apple/Mac
Xbox
News Search



ActiveXBox
Xbox News
Box Shots
Inside The Xbox
Released Titles
Announced Titles
Screenshots/Videos
History Of The Xbox
Links
Forum
FAQ



Windows XP
Introduction
System Requirements
Home Features
Pro Features
Upgrade Checklists
History
FAQ
Links
TopTechTips



FAQ's
Windows Vista
Windows 98/98 SE
Windows 2000
Windows Me
Windows Server 2002
Windows "Whistler" XP
Windows CE
Internet Explorer 6
Internet Explorer 5
Xbox
Xbox 360
DirectX
DVD's



TopTechTips
Registry Tips
Windows 95/98
Windows 2000
Internet Explorer 5
Program Tips
Easter Eggs
Hardware
DVD



ActiveDVD
DVD News
DVD Forum
Glossary
Tips
Articles
Reviews
News Archive
Links
Drivers



Latest Reviews
Xbox/Games
Fallout 3

Applications
Windows Server 2008 R2
Windows 7

Hardware
iPod Touch 32GB



Latest Interviews
Steve Ballmer
Jim Allchin



Site News/Info
About This Site
Affiliates
Contact Us
Default Home Page
Link To Us
Links

News Archive
Site Search
Awards



Credits
©1997-2012, Active Network, Inc. All Rights Reserved.
Please click here for full terms of use and restrictions or read our Light Tower Privacy Statement.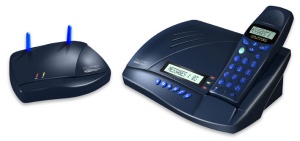 Software
Here we touch the weak point of the Olitec Ohé. Indeed if this communication centre is probably the best all in one device you can get for an affordable price, the provided software is somewhat obsolete. Olitec provides the unit with its own home made software named 'Olifax/Voice'. The software surely works correctly and accomplishes every task it has to do. However it's still 16-bit software and even if though it works under Windows 95, Windows 98, Windows Me, Windows 2000 it doesn't use the TAPI 32 interface. This is clearly a major drawback since you can expect several conflicts with TAPI 32 compliant applications and 'Olifax/Voice'. Installing the software on the computer is easy and takes a few minutes, the time for the files to be copied then a wizard will help you configure your new communication centre.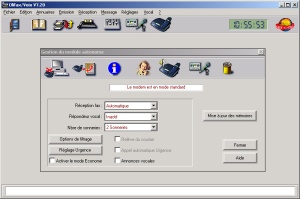 Olitec Software (click to enlarge)
You'll have to provide your fax number, name, and other information Olifax/Voice needs to properly work. I'm still wondering why Olitec keep providing such prehistoric software while they can bundle with the Ohé software worthy of this name like Classic Phone Tools from BVRP. Anyway the software works correctly (I've experienced some minor bugs when trying to convert WAV files to the Olitec proprietary sound format in order to upload them on the modem). Olifax/Voice is full of features. The software can be used to set the modem in offline mode and you can specify what kind of faxes you want to store (normal or high resolution ones) in order to make the memory isn't flood too fast. You can obviously send faxes with the build in fax editor and receive voice messages and faxes while the modem is on without storing those faxes in the Ohé memory. The fax engine lets you send faxes from every Windows application as long as this application features a printing command. Olifax/Voice can be used to configure the smart mode of the Ohé: it lets you customize the announcement that'll be played, each time a correspondent tries to reach you. You can choose one of the build in announce or record your own one: since you can convert WAV files to the Olitec format, it's possible to create elaborated vocal messages with music in the background for example.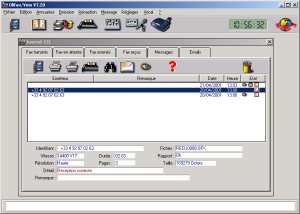 Olitec Inbox Manager (click to enlarge)
Once you've personalized the annoucement you can choose the languages you want the modem to speak: indeed you have to download some files so it can tell you in your language how many messages you've received while you were out, etc. But you can also define after how many rings the modem should answer, choose the answering machine mode (disable, simple & recorder), and more. Like casual answer phones you can consult the messages you get while you're away from home by calling your house: Ohé will answer and after you've typed the secret code voice messages (if any) will be played. The secret code to access voice messages while you're away can be set through Olifax/Voice. From the software you can choose to activate the 'economy' mode of the Ohé: that way the modem will answer phone calls when no new messages have been received after 4 rings so you know you don't receive anything without the need to pay the phone call you've just passed. Olifax/Voice is obviously able to retrieve every faxes & messages you get while you were out: when you start it automatically detects if new messages are stored on the modem's memory and if it's the case it'll ask you if you want to retrieve them, you can also configure the software to retrieve new messages at each Windows startup. A few seconds later (the length of the retrieving process depends on how many messages you get) new faxes or voice calls appeared in the application and you can listen or view them. For voice messages the Caller ID is shown in the software as well as the time & date when the message was received. The build in fax viewer lets you rotate faxes, zoom in/out, and print them. As you can see, even if the software is repulsive, especially due to its poor interface, it remains very complete. Olifax/Voice offers an exclusive feature to Olitec Ohé owners! Dubbed 'Internet Mailer' this feature will regularly checks your compliant ISP email server to retrieve mail and store them in the base's memory. Then you can listen to your modem, computer shut down! To do so the Ohé will use a speech synthesis engine: that's pretty cool but your ISP has to offer a system compliant with the technology, Olitec uses. Through Olifax/Voice you can enable the emergency mode that'll immediately send a small message on your pager letting you know you have received a fax, a message or an email: it's great to be sure you don't miss any important communication. But you can also retrieve your faxes remotely! Indeed you can set the software to program the modem to send, upon your request, the received faxes to a fax number of your choice! That's a neat feature to retrieve faxes you get at your office while you're at the hotel or so.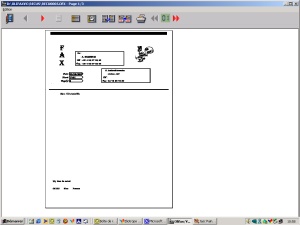 Olitec Fax Viewer (click to enlarge)