DirectX
ActiveMac
Downloads
Forums
Interviews
News
MS Games & Hardware
Reviews
Support Center
Windows 2000
Windows Me
Windows Server 2003
Windows Vista
Windows XP



News Centers
Windows/Microsoft
DVD
Apple/Mac
Xbox
News Search



ActiveXBox
Xbox News
Box Shots
Inside The Xbox
Released Titles
Announced Titles
Screenshots/Videos
History Of The Xbox
Links
Forum
FAQ



Windows XP
Introduction
System Requirements
Home Features
Pro Features
Upgrade Checklists
History
FAQ
Links
TopTechTips



FAQ's
Windows Vista
Windows 98/98 SE
Windows 2000
Windows Me
Windows Server 2002
Windows "Whistler" XP
Windows CE
Internet Explorer 6
Internet Explorer 5
Xbox
Xbox 360
DirectX
DVD's



TopTechTips
Registry Tips
Windows 95/98
Windows 2000
Internet Explorer 5
Program Tips
Easter Eggs
Hardware
DVD



ActiveDVD
DVD News
DVD Forum
Glossary
Tips
Articles
Reviews
News Archive
Links
Drivers



Latest Reviews
Xbox/Games
Fallout 3

Applications
Windows Server 2008 R2
Windows 7

Hardware
iPod Touch 32GB



Latest Interviews
Steve Ballmer
Jim Allchin



Site News/Info
About This Site
Affiliates
Contact Us
Default Home Page
Link To Us
Links

News Archive
Site Search
Awards



Credits
©1997-2012, Active Network, Inc. All Rights Reserved.
Please click here for full terms of use and restrictions or read our Light Tower Privacy Statement.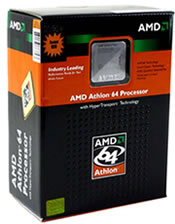 Product: AMD Athlon 64 3800
Company: AMD
Website: http://www.amd.com
Estimated Street Price: $500
Review By: Byron Hinson
Introduction
It has been a good year for AMD so far, with the introduction of even faster 64bit processors with excellent performance and still Intel hasn't managed to get out a 32/64bit compatible processor. I have been using AMD based machines for the past 3 years thanks to the improvements and strides AMD have been making in the market and finally showing Intel that there can be competitors in the market - and very good ones at that.
Leading-edge performance for today's software, with complete readiness for the coming wave of 64-bit computing
With AMD Enhanced Virus Protection for Microsoft Windows XP SP2, prevent the spread of certain malicious viruses, which are transported via e-mail and instant messaging applications
Outpace the technology curve with a technically superior PC processor, packed with innovations such as HyperTransport™ technology and an integrated DDR memory controller
Capitalize on innovative AMD64 technology to protect your IT investment and lower your overall IT costs
AMD Athlon™ 64 Processor Overview
The AMD Athlon 64 processor is the first and only Windows®-compatible 64-bit PC processor. The AMD Athlon 64 processor runs on AMD64, a revolutionary technology that allows the processor to run 32-bit applications at full speed while enabling a new generation of powerful 64-bit software applications. Advanced 64-bit operating systems for the AMD64 platform from Microsoft®, Red Hat, SuSE, and TurboLinux have already been announced, and they only run on processors with AMD64 technology.

With the introduction of the AMD Athlon 64 processor, AMD provides customers a solution that can address their current and future computing needs. As the first desktop PC processor to run on the AMD64 platform, the AMD Athlon 64 processor helps ensure superior performance on today's software with complete readiness for the coming wave of 64-bit computing. With AMD64 technology, customers can embrace the new capabilities of 64-bit computing on their own terms and achieve compatibility with existing software and operating systems.

Enhanced Virus Protection with Windows XP Service Pack 2
Enhanced virus protection is a feature of AMD64 technology. Security improvements in Windows XP SP2 operating system take advantage of the enhanced virus protection feature in AMD64 processors. Enhanced virus protection and Windows XP SP2 are designed to prevent the spread of certain viruses, like MSBlaster and Slammer.

Industry-leading performance for today's software
The revolutionary architecture of the AMD Athlon 64 processor enables industry-leading performance to help maximize productivity and deliver a true-to-life digital entertainment experience. HyperTransport™ technology can increase overall system performance by removing I/O bottlenecks, increasing system bandwidth, and reducing system latency. A fully integrated DDR memory controller helps speed access to memory by offering the processor a direct connection to the main memory. As a result, end users can enjoy quicker application loading, better multi-tasking, and extraordinary application performance.

With 3DNow!™ Professional technology and support for SSE2, the AMD Athlon 64 processor has more ways to accelerate multimedia applications, enabling stellar performance when working with audio, video, and photography software. For a superior experience with high-speed Internet, the AMD Athlon 64 processor combines high-speed memory access and I/O connectivity to help ensure that end users can fully take advantage of a broadband connection to streaming video and audio, and a riveting online gaming experience.

Ready for the 64-bit future
The AMD Athlon 64 processor is designed for people who want to stay at the forefront of technology and for those who depend on their PCs to keep them connected, informed, and entertained. Systems based on AMD Athlon 64 processors are able to deliver leading-edge performance for demanding productivity and entertainment software today and in the future.

With AMD64 technology, the AMD Athlon 64 processor is fully compatible with existing software, while enabling a seamless transition to upcoming 64-bit applications. Both 32- and 64-bit applications can run simultaneously and transparently on the same platform. AMD64 technology enables new, cinematic computing experiences and capabilities, in addition to increased performance. AMD64 technology allows end users to take advantage of new innovations such as real-time encryption, more life-like games, accurate speech interfaces, cinema-quality graphic effects, and easy-to-use video and audio editing.

Protect investments with a technically superior PC processor
The AMD Athlon 64 processor is the world's most technically advanced PC processor and the only Windows-compatible 64-bit PC processor. Advanced technologies in the AMD Athlon 64 processor include:
AMD64 technology which doubles the number of processor registers and dramatically increases the system memory addressability
Enhanced multimedia instructions support including 3DNow! Professional technology and SSE2
With up to a 2000 MHz system bus using HyperTransport™ technology with up to 14.4 GB/sec total processor-to-system bandwidth
An integrated memory controller with peak memory bandwidth of up to 6.4 GB/sec, supporting PC3200, PC2700, PC2100, or PC1600 DDR SDRAM
Native execution of 32-bit software, allowing today's PC software to provide leading-edge performance while enabling a seamless migration to 64-bit software
The combination of these innovations and features provides customers with performance they need along with tremendous flexibility. Customers can experience outstanding performance running today's applications and prepare for the next generation of software without having to upgrade or change hardware. For business customers, this extends system life cycles, simplifies technology transition and reduces total cost of ownership.

Purchase with confidence
The AMD Athlon 64 processor is the only industry standard x86 processor with the ability to move beyond the limits of 32-bit computing. The AMD Athlon 64 processor is compatible with Microsoft Windows XP and tens of thousands of PC applications that people around the world use every day. The award-winning AMD Athlon XP processor won over 100 industry accolades and was the first 1GHz PC processor. Now, the AMD Athlon 64 processor reaches a new milestone by building a path to 64-bit computing for millions of PC users.

Founded in 1969, AMD has shipped more than 240 million PC processors worldwide. Customers can depend on the AMD Athlon 64 Processor and AMD for compatibility and reliability. AMD processors undergo extensive testing to ensure compatibility with Microsoft Windows XP, Windows 98, Windows ME, Windows NT, Windows 2000, as well as Linux and other PC operating systems. AMD works collaboratively with Microsoft and other partners to achieve compatibility of AMD processors and to expand the capability of software and hardware products leveraging AMD64 technology. AMD conducts rigorous research, development, and validation to help ensure the continued integrity and performance of its products.

Whether you want to pass Braindumps or looking for Pass4sure 642-437 certification, our Testking 640-911 can provide guaranteed success in real exam of Actualtests 70-640 , RIVERBED training are also having unique sense.