DirectX
ActiveMac
Downloads
Forums
Interviews
News
MS Games & Hardware
Reviews
Support Center
Windows 2000
Windows Me
Windows Server 2003
Windows Vista
Windows XP



News Centers
Windows/Microsoft
DVD
Apple/Mac
Xbox
News Search



ActiveXBox
Xbox News
Box Shots
Inside The Xbox
Released Titles
Announced Titles
Screenshots/Videos
History Of The Xbox
Links
Forum
FAQ



Windows XP
Introduction
System Requirements
Home Features
Pro Features
Upgrade Checklists
History
FAQ
Links
TopTechTips



FAQ's
Windows Vista
Windows 98/98 SE
Windows 2000
Windows Me
Windows Server 2002
Windows "Whistler" XP
Windows CE
Internet Explorer 6
Internet Explorer 5
Xbox
Xbox 360
DirectX
DVD's



TopTechTips
Registry Tips
Windows 95/98
Windows 2000
Internet Explorer 5
Program Tips
Easter Eggs
Hardware
DVD



ActiveDVD
DVD News
DVD Forum
Glossary
Tips
Articles
Reviews
News Archive
Links
Drivers



Latest Reviews
Xbox/Games
Fallout 3

Applications
Windows Server 2008 R2
Windows 7

Hardware
iPod Touch 32GB



Latest Interviews
Steve Ballmer
Jim Allchin



Site News/Info
About This Site
Affiliates
Contact Us
Default Home Page
Link To Us
Links

News Archive
Site Search
Awards



Credits
©1997-2012, Active Network, Inc. All Rights Reserved.
Please click here for full terms of use and restrictions or read our Light Tower Privacy Statement.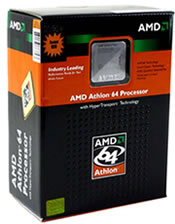 Product: AMD Athlon 64 3800
Company: AMD
Website: http://www.amd.com
Estimated Street Price: $500
Review By: Byron Hinson
Installation
As I mentioned in the previous page, the 3800+ processor came already placed on the board thanks to AMD. Installation of the operating system was as easy as it comes. The first thing was getting a Windows XP boot CD and getting the operating system up and running. Once this was out the way the first boot up of the new machine went fine with no problems at all with the detection process or with the first run of the motherboard bios.
If you want to run the AMD's Cool'n'Quiet technology, you will have to have a motherboard, drivers and cooler that also supports it, not only that, once you have Windows up and running you will need to install the Cool'n'Quiet software off of the AMD website.
AMD Cool'n'Quiet™ technology is an innovative solution available on AMD Athlon™ 64 processor-based systems that can effectively lower the power consumption and enable a quieter-running system while delivering performance on demand, for the ultimate computing experience.

AMD and its partners have worked together to implement Cool'n'Quiet Technology as a system feature that consists of: a processor with Cool'n'Quiet Technology enabled, motherboard, supporting BIOS, software driver and CPU cooler.
The good news though is that Cool'n'Quiet works really well. If you are wondering what the benefits are then check them out below. In the tests I ran in the house the first thing I noticed was obviously the reduction in noise, it was quite a major reduction on my review system too. Next we have the power consumption, when running in Cool'n'Quiet mode, the voltage would drop to 1.136v and the system would operate between 900 and 2400 mhz, depending on what programs were running, but it tended to sit at 1000mhz when not in a great deal of use.
The benefits of Cool 'N' Quiet are the following:
Reduced power consumption. (Lower Electric bills)
Reduced noise in house and business environments.
Lower operating temperatures.