DirectX
ActiveMac
Downloads
Forums
Interviews
News
MS Games & Hardware
Reviews
Support Center
Windows 2000
Windows Me
Windows Server 2003
Windows Vista
Windows XP



News Centers
Windows/Microsoft
DVD
Apple/Mac
Xbox
News Search



ActiveXBox
Xbox News
Box Shots
Inside The Xbox
Released Titles
Announced Titles
Screenshots/Videos
History Of The Xbox
Links
Forum
FAQ



Windows XP
Introduction
System Requirements
Home Features
Pro Features
Upgrade Checklists
History
FAQ
Links
TopTechTips



FAQ's
Windows Vista
Windows 98/98 SE
Windows 2000
Windows Me
Windows Server 2002
Windows "Whistler" XP
Windows CE
Internet Explorer 6
Internet Explorer 5
Xbox
Xbox 360
DirectX
DVD's



TopTechTips
Registry Tips
Windows 95/98
Windows 2000
Internet Explorer 5
Program Tips
Easter Eggs
Hardware
DVD



ActiveDVD
DVD News
DVD Forum
Glossary
Tips
Articles
Reviews
News Archive
Links
Drivers



Latest Reviews
Xbox/Games
Fallout 3

Applications
Windows Server 2008 R2
Windows 7

Hardware
iPod Touch 32GB



Latest Interviews
Steve Ballmer
Jim Allchin



Site News/Info
About This Site
Affiliates
Contact Us
Default Home Page
Link To Us
Links

News Archive
Site Search
Awards



Credits
©1997-2012, Active Network, Inc. All Rights Reserved.
Please click here for full terms of use and restrictions or read our Light Tower Privacy Statement.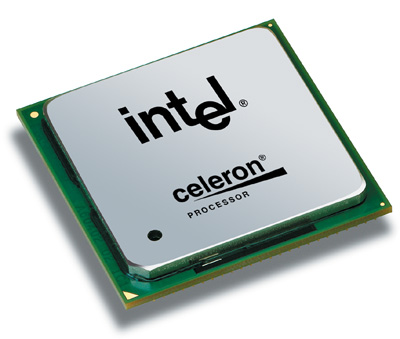 Intel D845GBV Motherboard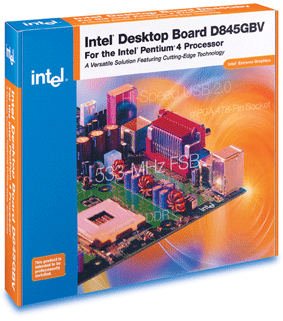 At the heart of Intelís latest motherboard, the D845GBV, beats the i845G chipset. The D845GBV is a rather impressive motherboard that uses the ATX form factor. With six PCI slots, 1 AGP slot and 1 CNR slot the motherboard offers an uncommon upgradability. It hosts a 478 pins processor socket that can welcome Intel Celeron 1.7Ghz (or higher) as well as Intel Pentium 4 processors (including P4B with a 533 MHz FSB). The D845GBV requires an ATX 2.03 compatible power supply.
When unpacking the motherboard, youíll instantly notice the huge heatsink that covers the i845G chipset. Curiously Intel has adopted a big massive iron heatsink instead of a more compact heatsink with a fan to dissipate the heat emmited by the i845G. I guess itís sufficient enough. Near the traditional two UDMA connectors are only two DDR-SDRAM slots. Having only two memory banks is regretable since it will force you to ditch old memory sticks if ever you have to upgrade your memory.
The back of the motherboard unveils PS/2 mouse & keyboard connectors, four USB connectors thatíll undifferently support USB 1.1 or USB 2.0 devices, one serial port, one parallel port, one VGA connector and a ramp of three mini jack audio connectors. As usual with Intel the motherboard is almost jumper free, thus the BIOS will automatically detect and configure the CPU and memory installed on the system.
The firmware of the motherboard is stored on the Intel 82802AB 4 MB Firmware Hub component ensuring it can be updated. One really good thing is that the BIOS is Multilanguage enabled so it can speak English as well as German! Updating the BIOS is a child game since Intel regularly provides Express Bios Update that runs directly under Windows. Just like every actual Intel motherboard, the D850GBV features a new unique technology named Intel Rapid Bios. This feature will surely interest every user: in order to reduce long booting time, user frustration and to increase the efficiency of today's computers, the latest generation of Intel Bios now improves boot time without sacrificing features, quality or reliability. The BIOS Power On Self Test (POST) was streamlined by parallelizing tasks, eliminating redundant code, reduction of legacy features, selective hardware usage and configuration. To reduce the boot time you can even choose to disable hard disk tests so your PC will be ready to work faster than before. Underneath is an Intel chart showing the benefits of this new technology. This technology exceeds the PC 2001 Design Specification Guide and is compliant with Microsoft Windows Me (Millennium Edition) as well as Microsoft Windows XP.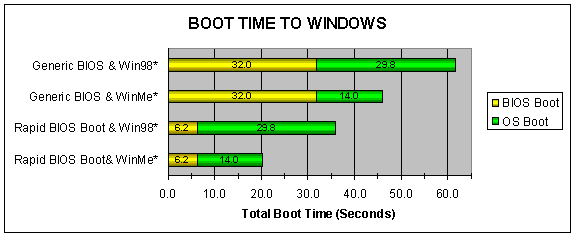 In order to unleash the full potential of the motherboard youíll have to install the latest Intel INF chipset drivers so Windows can identify the components used by the board. The second driver to install is Intel Application Accelerator package that consists of advanced UDMA ATA drivers that will deliver faster hard disk data transfers (increased by 15% in comparison when using Windows ones) thanks to the optimized support of the Pentium 4/Celeron data preftech. Then you need to install Intelís graphic drivers for the integrated 3D graphics accelerator in order to get the highest framerate in your favorite games. Finally the SoundMax 3.0 drivers have to be installed so you can listen to music on your computer. Each Intel driver has been thoroughly tested to operate flawlessly with other Intel drivers in order to ensure your system is always reliable.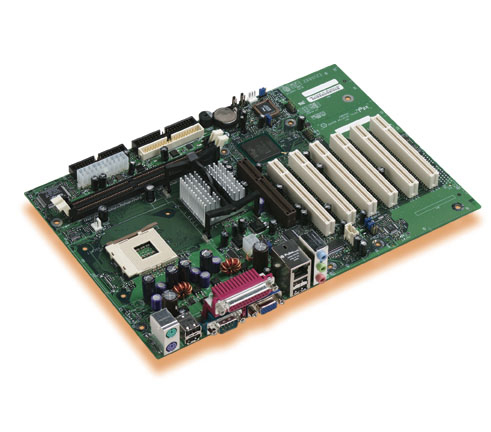 Intel D845GBV Motherboard