DirectX
ActiveMac
Downloads
Forums
Interviews
News
MS Games & Hardware
Reviews
Support Center
Windows 2000
Windows Me
Windows Server 2003
Windows Vista
Windows XP



News Centers
Windows/Microsoft
DVD
Apple/Mac
Xbox
News Search



ActiveXBox
Xbox News
Box Shots
Inside The Xbox
Released Titles
Announced Titles
Screenshots/Videos
History Of The Xbox
Links
Forum
FAQ



Windows XP
Introduction
System Requirements
Home Features
Pro Features
Upgrade Checklists
History
FAQ
Links
TopTechTips



FAQ's
Windows Vista
Windows 98/98 SE
Windows 2000
Windows Me
Windows Server 2002
Windows "Whistler" XP
Windows CE
Internet Explorer 6
Internet Explorer 5
Xbox
Xbox 360
DirectX
DVD's



TopTechTips
Registry Tips
Windows 95/98
Windows 2000
Internet Explorer 5
Program Tips
Easter Eggs
Hardware
DVD



ActiveDVD
DVD News
DVD Forum
Glossary
Tips
Articles
Reviews
News Archive
Links
Drivers



Latest Reviews
Xbox/Games
Fallout 3

Applications
Windows Server 2008 R2
Windows 7

Hardware
iPod Touch 32GB



Latest Interviews
Steve Ballmer
Jim Allchin



Site News/Info
About This Site
Affiliates
Contact Us
Default Home Page
Link To Us
Links

News Archive
Site Search
Awards



Credits
©1997-2012, Active Network, Inc. All Rights Reserved.
Please click here for full terms of use and restrictions or read our Light Tower Privacy Statement.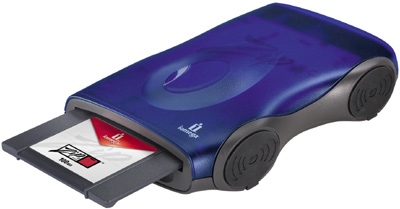 Introduction
For those of you who think the ZIP 100 is a dead product, Iomega replies it isn't at all. The best evidence is that Iomega recently unleashed a new ZIP 100MB USB drive. This new drive doesn't offer any major enhancements over the first ZIP 100MB drives except that it uses an USB interface and sports a brand new stylish look. Apart from that, there's nothing revolutionary introduced by this new model. Anyway it remains a good choice for those of you who are tired of the 1.44 MB floppies that are too small to even store MP3s, documents, videos and other stuff. The main advantage of this model is clearly its price. With a price generally under $85, there's no more excuse to continue using that old small floppies! Another interesting thing for corporate user is the versatility of the drive that can be used with a PC or a Mac. A 100 MB disk can contain up to 70 casual 1.44MB floppies and is readable by every ZIP drives in the world for an ultimate compatibility.
Installation

Installing the ZIP 100 USB on a Windows computer is really a child's game: under Windows Me or 2000 you simply have to plug the USB cable from the ZIP to the computer. Then Windows will instantly recognize this new device and you can start using it right away without the need to install drivers. Indeed the ZIP 100 USB drive is natively supported by Windows 98SE, Me, 2000 and XP. Under Windows 95b or Windows NT 4 you'll have to install specific Iomega drivers (provided with the drive) so the drive can be used under this old operating systems but don't dream! Those drivers won't support non-Iomega USB devices.
Features List
Easy to connect. Plug it in, connect the USB cable to the computer, and install the IomegaWare™ software. Done!
Hot swappable. Once the IomegaWare software has been loaded, remove and swap the Zip® drive with other USB devices without rebooting your computer. When you need to reconnect your Zip USB drive, just plug the USB cable back into the computer and it's ready to go. ·
Simple, lightweight cable. The Zip USB drive's translucent blue cable is thin, light weight and connects easily to your computer.
Connect Multiple USB devices. Using USB hubs, you can connect up to 127 devices, including the Zip USB drive, on a single USB port.
Fast, unlimited capacity. Add 100MB of storage with each Iomega Zip disk-the easiest way to extend the life and capabilities of your computer.
Familiarity and reliability. Using Zip is familiar and easy since it feels and handles like your hard drive. Enjoy the peace of mind brought by saving your files to rugged, reliable Zip disks. ·
Compatibility. Compatible with over 100 million Zip disks and millions and millions of Zip drives already sold.
First Look
First you have to know that the ZIP 100 USB drive is totally compatible with the first ZIP 100 disks released in 1995: however this drive isn't able to read ZIP 250 disks. The look of the new Iomega ZIP 100 USB model is original. The top of the drive is covered with a blue transparent shell reminding the Imac touch. Through this blue transparent shell you can see a nice ZIP logo while the bottom of the drive is grey. On top of the drive a small window, looking like a porthole, lets you read what is written on the sticker of every ZIP disks once they are inserted. The right side of the drive features two enormous oval pads in order to put the drive in a vertical position. The front façade of the drive features only one transparent button that lets you eject floppies disks. When the drive is in use the button blinks in green letting you know there's some activity with the ZIP. Everything isn't perfect with the ZIP 100MB USB drive! Indeed it's friendly all-in-roundness design is however imposing: it's big, heavy (454gm) and even requires a separate power adapter. The provided external power adapter is of course light with a weight of only 4 ounces but we would have preferred Iomega to make the ZIP 100MB USB drive an auto powered one through the USB bus.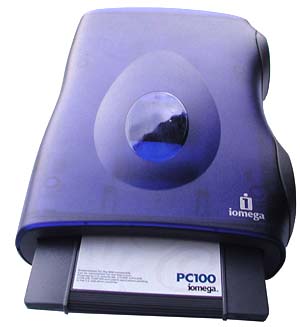 Iomega ZIP 100 USB 'New Look' (click to enlarge)