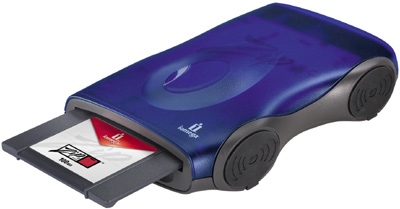 Bonus Software
Iomega has bundled with the ZIP 100MB USB some cool software that'll help you to get the best out of the box possible experience. First of all the free Adobe ActiveShare software will let you organize, share, enhance, and publish your favourite photos on the net via an user friendly interface. With ActiveShare you can import easily photos from digital cameras or scanners, or Kodak Picture CD. More, you can perform some basic pictures editing operations like removing red-eye effects and adjusting brigthness & contrast. Since ActiveShare features Iomega drive integration you can save your albums on your ZIP drive. Sure the software lets you print your photos, email them and you can even order 35mm quality prints online.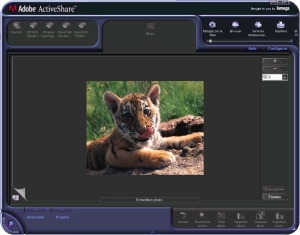 Adobe ActiveShare (click to enlarge)
Then Iomega got the very good idea to bundle its latest ZIP drive with MP3 software, for those of you who listen MP3 all day long. They chose what I consider to be one of the best MP3 oriented software named MusicMatch JukeBox Plus. With this full functionality software (provided with lifetime upgrades!) you'll be able to rip CD tracks into MP3 25% faster than before, play them, create play lists, customize the equalizer, edit hidden MP3 tags, change application skins and much more! You'll also be able to burn your favorites MP3 on CDs, and even create CD covers! The software obviously manages CD-Text and lets you retrieve on the 'Net the track titles of the current inserted CD.


MusicMatch JukeBox Plus 6.1 (click to enlarge)
Iomega also included a 30 days trial version of Iomega QuickSync 2, user-friendly backup software. This software is intended to help novice users backup their hard drives or important folders to the Iomega disk of their choice. With an easy to use wizard, users will define the folders they want to backup and the installed Iomega drive destination. Indeed you can't backup stuff on non-Iomega devices, which is regretful especially if you've got a non Iomega CD burner. Once you've defined your backup settings a small icon will appear in the tray area of Windows (near the system clock) and QuickSync2 will regularly and automatically backup your stuff in the background while you're working without interrupting your job. The backup will generally start each time you modify the content of a folder and 5 revisions of the same file will be kept. Obviously you can change these settings.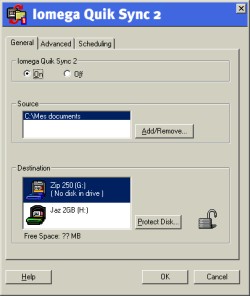 Iomega Quik Sync 2 (click to enlarge)
A scheduler is also provided so you can change the default scheduling that backups files each time you modify them to do a weekly backup at a defined hour or to backup folders every X minutes if a change occurred. Other advanced settings are provided like the ability to exclude file types from the backup set and the copy options to copy only changed files or to re-copy all files. Restoring your files is easy since they're stored without any changes on your Iomega disks: indeed one of the major drawbacks of QuickSync 2 is that it doesn't compress files to reduce their size turning this drawback into an advantage since you can restore files very easily. QuickSync 2 provides a quick and easy way to backup your stuff preventing you to worry about it. However QuickSync 2 isn't intended to backup your main hard drive since it can't copy files that are in use like the Registry or the windows swap file. This software is a great addition for novice users and small corporate environments but we regret that Iomega didn't include the latest full unlimited version 3.0 of the software with the ZIP 100 USB.
Finally, the latest software bundled with the ZIP 100MB USB is Iomega BackUp 4.1 that is a combination of Iomega 1-Step Backup and Backup 97 applications. This –old- PC only software lets you perform system backups on Iomega drives through a user friendly wizard. Since you can create a rescue boot floppy disk, you're sure to be able to restore your system backup even if Windows is totally out of order! However the rescue creator applet doesn't work under Windows Me. Anyway users won't go far trying to backup their whole system on a ZIP 100MB disk! Today systems use at least 2GB of hard disk space so unless users have a stock of ZIP 100MB disks', backing up the whole system on this media is impossible.. If Iomega BackUp 4.1 is redundant with QuickSync 2 the software is unlimited and definitely remains great old-school software for those who want freedom to create their own backup sets. During the backup processes a small icon indicates operation's progress in the tray notification area, so you can continue your work while stuff is being backed up in the background.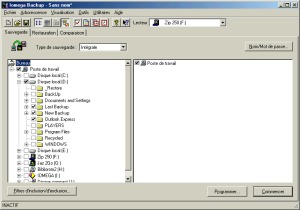 Iomega Backup (click to enlarge)