DirectX
ActiveMac
Downloads
Forums
Interviews
News
MS Games & Hardware
Reviews
Support Center
Windows 2000
Windows Me
Windows Server 2003
Windows Vista
Windows XP



News Centers
Windows/Microsoft
DVD
Apple/Mac
Xbox
News Search



ActiveXBox
Xbox News
Box Shots
Inside The Xbox
Released Titles
Announced Titles
Screenshots/Videos
History Of The Xbox
Links
Forum
FAQ



Windows XP
Introduction
System Requirements
Home Features
Pro Features
Upgrade Checklists
History
FAQ
Links
TopTechTips



FAQ's
Windows Vista
Windows 98/98 SE
Windows 2000
Windows Me
Windows Server 2002
Windows "Whistler" XP
Windows CE
Internet Explorer 6
Internet Explorer 5
Xbox
Xbox 360
DirectX
DVD's



TopTechTips
Registry Tips
Windows 95/98
Windows 2000
Internet Explorer 5
Program Tips
Easter Eggs
Hardware
DVD



ActiveDVD
DVD News
DVD Forum
Glossary
Tips
Articles
Reviews
News Archive
Links
Drivers



Latest Reviews
Xbox/Games
Fallout 3

Applications
Windows Server 2008 R2
Windows 7

Hardware
iPod Touch 32GB



Latest Interviews
Steve Ballmer
Jim Allchin



Site News/Info
About This Site
Affiliates
Contact Us
Default Home Page
Link To Us
Links

News Archive
Site Search
Awards



Credits
©1997-2012, Active Network, Inc. All Rights Reserved.
Please click here for full terms of use and restrictions or read our Light Tower Privacy Statement.


Product: WordPerfect Office 2000 Standard Edition
Company: Corel Corporation
Website: http://www.corel.com
Estimated Street Price: $299.95 Upgrade: $99.00
Review By: Julien Jay
More WordPerfect 9
WordPerfect also comes with more "traditional" features like the ability to add in every document hyperlinks, tables (you can rotate texts in tables' cells!), and much more! We regret that you can't draw tables like in Word however the table features are very complete and you can use 'auto-sum' or formulas in your tables. A dynamic print preview feature is also included, so if in your print preview some text parts are not at the good place you can change them directly from the print preview. Internet wasn't forgotten in this new release since WordPerfect 9 includes an 'Internet Publisher' expert to help users with HTML authoring without the need to have great HTML knowledge. So documents can be converted to HTML files and published directly on the WWW. The spell checker and grammar tools are great! Indeed you can use different languages to write your letters (you can write a German text on an English WordPerfect software): the immediate benefit is that you can use the proofing tools for each language (if installed). Each time a word is misspelled: it'll be underlined in red, and a correction suggestion will be displayed on a toolbar's list or in the right contextual menu. WordPerfect also comes with a synonymous dictionary. Also we found one cool feature: indeed if you type two times the same word, WordPerfect will underlined the second repeated word in red: great!
The quick formatting tool will help you to apply to selected sentences the look of the previously selected one: however this feature is a little bit hard to use. WordPerfect 9 can add into your texts 'text frame' so you can put texts everywhere on the document and the normal text that'll surround the frame will be automatically repositioned correctly.
WordPerfect also allows you to rotate selected texts! Used fonts can even be saved along with your document so everyone would correctly view it! As the WordPerfect Office 2000 suite is smart, the setup won't install all the features and when you'll want to use those specific features, you'll be prompted to insert the CD in the aim to quickly install them. WordPerfect is really smart software; the best evidence is that you can add commentaries to your texts. Simply type your commentary, select it and right click on it and choose the commentary feature. Then the commentary will be hidden but you'll be able to display it, in a small speech balloon, by clicking the dots icon that appears in the left margin.
Pictures and other drawing can be easily added to your WordPerfect documents:
Clipart, videos, sounds, and photos can be inserted quickly, directly from the Corel common scrapbook component. However the scrapbook GUI is really stripped and the few clipart installed by default are a bit horrible. Surely you can add pictures from existing files. WordPerfect supports the most common graphic file formats.


Thanks to the Corel graphic experience, the shared drawing tools are really complete and will provide you the essential tools to draw high impact illustrations on your documents

.


Finally the TextArt feature is correct and provides tools to create real customized great looking 3D and 2D text titles. You can choose the color, the 3d shadow direction, the 3d title motifs, the text title shape and much more. However the user interface of this applet is a little bit prehistoric!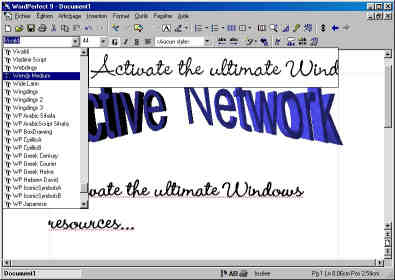 What's the most important feature that word processor software should support? It's obviously the printing feature. WordPerfect offers complete and various features to tweak your documents' printing: you can print the entire document, the current selection, some pages, but you can also zoom in/out your documents outputs and much more!



As you understood WordPerfect 9 is very complete and will fit all the users' needs, from beginners to 'guru'! Due to the integration of the "AnswerWorks 3.0" technology, the perfect expert help will find the right answer you need: simply type your question in a natural language and hit the enter key! All the help topics related to your question will be displayed. Just the WordPerfect component justifies the cost of this suite. We found it great even if it's a bit buggy (particularly when you import Word 97 files). A Service Pack 2 is already available for English users and a service pack 3 will follow. We're confident that Corel will solve all the remaining small problems. Please note that WordPerfect 9 uses the same file format as WordPerfect 6.1/7/8 so you've got a great backward compatibility.