DirectX
ActiveMac
Downloads
Forums
Interviews
News
MS Games & Hardware
Reviews
Support Center
Windows 2000
Windows Me
Windows Server 2003
Windows Vista
Windows XP



News Centers
Windows/Microsoft
DVD
Apple/Mac
Xbox
News Search



ActiveXBox
Xbox News
Box Shots
Inside The Xbox
Released Titles
Announced Titles
Screenshots/Videos
History Of The Xbox
Links
Forum
FAQ



Windows XP
Introduction
System Requirements
Home Features
Pro Features
Upgrade Checklists
History
FAQ
Links
TopTechTips



FAQ's
Windows Vista
Windows 98/98 SE
Windows 2000
Windows Me
Windows Server 2002
Windows "Whistler" XP
Windows CE
Internet Explorer 6
Internet Explorer 5
Xbox
Xbox 360
DirectX
DVD's



TopTechTips
Registry Tips
Windows 95/98
Windows 2000
Internet Explorer 5
Program Tips
Easter Eggs
Hardware
DVD



ActiveDVD
DVD News
DVD Forum
Glossary
Tips
Articles
Reviews
News Archive
Links
Drivers



Latest Reviews
Xbox/Games
Fallout 3

Applications
Windows Server 2008 R2
Windows 7

Hardware
iPod Touch 32GB



Latest Interviews
Steve Ballmer
Jim Allchin



Site News/Info
About This Site
Affiliates
Contact Us
Default Home Page
Link To Us
Links

News Archive
Site Search
Awards



Credits
©1997-2012, Active Network, Inc. All Rights Reserved.
Please click here for full terms of use and restrictions or read our Light Tower Privacy Statement.




Product: Acrobat 4.05
Company: Adobe
Website: http://www.adobe.com/
Estimated Street Price: $249
Review By: Julien JAY
Features
Adobe Acrobat 4.05 offers several features to simplify further the way to create PDF files. If you use Microsoft Word, Excel or PowerPoint 97/2000 you'll be able to take advantage of the Adobe integration with these software so with a simple button click on the 'Create Adobe PDF' command of the file menu or on the toolbar button your PDF file is automatically generated. But you can also drag & drop a document onto the Acrobat application to instantly convert it in PDF format. When you create a PDF file you've got three options to optimize your document for your output medium: local network printer for day to day use, professional printing press for sophisticated publications and Web Online to share your documents online. Adobe has also thought to those of you who'll simply scan and convert to PDF their documents: if that's your case the new paper capture tool will instantly scan & convert your document into a single PDF file. So you don't have to scan the document, save it as a BMP file, open it with a software and finally print it to PDF, thanks to the Paper Capture Tool. Sure you can select which Twain drivers you want to use to scan papers. Another good feature of Acrobat is the ability to create thumbnails of Acrobat pages so you can quickly view what page contains and you can reorganize the content of your document moving the thumbnails, great isn't it? You can also copy or remove pages at a glance. If you're looking for specific information in a PDF file you can use the Acrobat Search Tool to find it in indexes or in text contents. Adobe PDF files are now easy to navigate through due to the bookmark support links to PDF files or Websites, and dynamic controls that can handle movies, effects and sounds! Another good feature of Acrobat is the Compare applet that lets you compare pages, fonts, and terms between two opened documents: great to know what's different! This feature works in tiled windows mode for automatic side-by-side on-screen comparisons of different documents. When you're reading PDF files you can always select text areas using the text selector mouse cursor to copy text into the clipboard: useful to use back information contained in a document. However if the document is a multi-column one when you'll select a line of one column it'll always select the lines of the other in front columns. If you can zoom in or out PDF files you can also rotate them the way you want. A funny feature of Acrobat lets you mark up documents with stamps like 'Approved', 'Confidential', etc! Acrobat also includes a copy/paste feature that lets you copy & paste text or tables between PDF files. The PDF file format perfectly preserves the structure of tables of contents and tables from Microsoft Word and Excel. Like every Adobe software, Acrobat contains the Adobe Online add-in that displays tips, tricks, updates for your current installed software.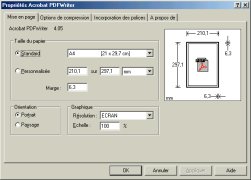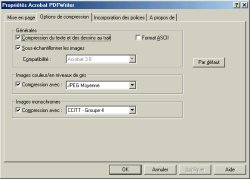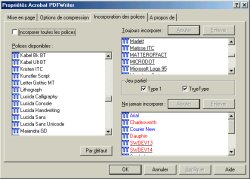 Adobe Acrobat 4.05 PDF Writer Printing Settings (click to enlarge)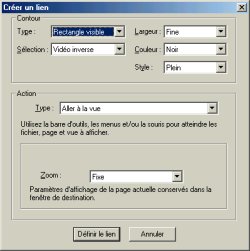 Adobe Acrobat 4.05 HyperLink Creating Box (click to enlarge)
If Adobe Acrobat is integrated with Microsoft Office it's also fully integrated to Microsoft Internet Explorer. Indeed when you click a PDF file link on a website, instead of downloading and storing it in a folder, the PDF file will be instantly displayed inside Internet Explorer thanks to the Acrobat Plugin that ease reading PDF files over the internet. Great isn't it?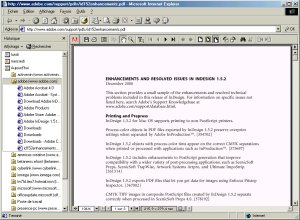 Reading a PDF file directly from Internet Explorer
First Use
When you want to create a PDF file using the PDF printer driver you'll be able to define advanced options like the size of the final document you want to create, its resolution (from 100 to 600dpi), its orientation. If your document contains pictures you'll be able to activate or not the compression and define the compression method by choosing the JPEG compression level (you can even use ZIP compression for colour pictures) or RLE and CCITT for black & white pictures. If you want your document to be compatible with previous versions of Acrobat you can choose the Acrobat 3 file format. If your document uses fonts all fonts used by it will be integrated to the PDF file and you can control this by selecting which fonts you want or not to include.