DirectX
ActiveMac
Downloads
Forums
Interviews
News
MS Games & Hardware
Reviews
Support Center
Windows 2000
Windows Me
Windows Server 2003
Windows Vista
Windows XP



News Centers
Windows/Microsoft
DVD
Apple/Mac
Xbox
News Search



ActiveXBox
Xbox News
Box Shots
Inside The Xbox
Released Titles
Announced Titles
Screenshots/Videos
History Of The Xbox
Links
Forum
FAQ



Windows XP
Introduction
System Requirements
Home Features
Pro Features
Upgrade Checklists
History
FAQ
Links
TopTechTips



FAQ's
Windows Vista
Windows 98/98 SE
Windows 2000
Windows Me
Windows Server 2002
Windows "Whistler" XP
Windows CE
Internet Explorer 6
Internet Explorer 5
Xbox
Xbox 360
DirectX
DVD's



TopTechTips
Registry Tips
Windows 95/98
Windows 2000
Internet Explorer 5
Program Tips
Easter Eggs
Hardware
DVD



ActiveDVD
DVD News
DVD Forum
Glossary
Tips
Articles
Reviews
News Archive
Links
Drivers



Latest Reviews
Xbox/Games
Fallout 3

Applications
Windows Server 2008 R2
Windows 7

Hardware
iPod Touch 32GB



Latest Interviews
Steve Ballmer
Jim Allchin



Site News/Info
About This Site
Affiliates
Contact Us
Default Home Page
Link To Us
Links

News Archive
Site Search
Awards



Credits
©1997-2012, Active Network, Inc. All Rights Reserved.
Please click here for full terms of use and restrictions or read our Light Tower Privacy Statement.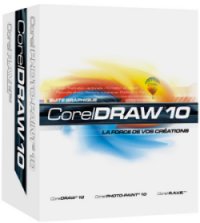 Product: Corel Draw! 10
Company: Corel
Website: http://www.corel.com/
Estimated Street Price: $549.99 (Upgrade: $239.99)
Review By: Julien Jay
Corel PhotoPaint 10
PhotoPaint is the second major cornerstone of this graphic suite. PhotoPaint is a program that helps users touching up bitmap pictures and photos letting them apply special effects and more. If it comes with tons of useful features itís too heavy to my taste and can be more complex to use than its eternal competitor Adobe PhotoShop. Anyway Corel PhotoPaint is a great program thatíll reveal itself as a good help for every graphic artists especially when it comes to apply special effects to pictures: with tons of amazing & incredible effects youíll definitely be able to change the way your pictures look. When you start PhotoPaint, youíll find a layer area, vertical and horizontal toolbars, tabs to customize brushes, etc.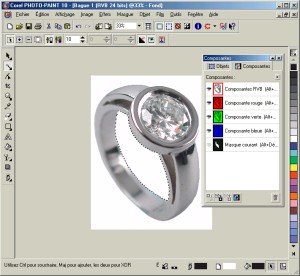 Corel PhotoPaint 10 (Click to enlarge)
The main window of Corel PhotoPaint is as you can read very complete and you obviously have the traditional color palette. Since the whole suite is homogeneous Corel PhotoPaint features the same interface than Corel Draw so you wonít be disrupted. For those of you who still have some Photo CDs, PhotoPaint 10 still supports this Kodak graphic format in the best manner we have ever seen: you can choose the size of the picture to be displayed in, the number of colors, etc. Photo-Paint contains all the usual graphic-editing features as well. Text editing, Paint, selection (magic wand, etc.), transparency, and filters (called Effects). Corel Photo Paint 10 now comes with more effective text tools with the addition of a text on a path tool (like in its great brother Draw): with this tool you can align a text on a curved (or whatever shape) path while still being able to edit the text. Another appreciable enhancement is that you can now edit text after it was scaled, skewed or rotated. Very good: since you donít have to delete objects just because you made a mistake and restart from the beginning. Itís always essential to provide high quality looking text so the anti-aliasing tools of PhotoPaint were streamlined in this release to produce good looking text especially at small point sizes. Just like the previous releases, PhotoPaint lets you open and create movies like AVI and QuickTime files. Sure itís not Adobe Premiere so you wonít be able to mount videos with it but it provides some interesting tools to help you create small video sequencies in AVI or GIF file formats. It lets you add frames, remove some and it works very well. It can also be used to add a frame between two scenes to retrieve a frame you like in an existing video file. I was speaking below of under the hood changes: Corel Photo-Paint is an illustration of the Corelís will to revamp its graphic suite. Indeed Corel PhotoPaint 10 now comes with a new display-caching feature that lets users pan and zoom in real time (even on large images) resulting in smoother & faster display. Just like in its great brother Corel Draw!, PhotoPaint comes with an undo palette where you can see and undo all the actions you performed very easily.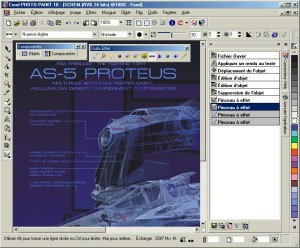 Undo Palette (click to enlarge)
Over the years one of the main advantage of Corel PhotoPaint 10 was its incredibly vast support of various graphic file formats. This tenth release pursue the excellence as Corel Photo-Paint supports GIF, JPG, BMP, CPT, PCX, PNG, Autocad 2000, FreeHand 8, TGA, TIF, IMG, PSD, and many more formats (listing them would be too long!).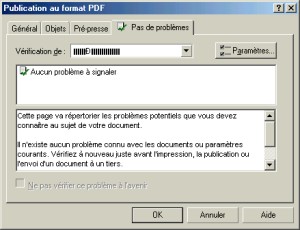 You can even export in PDF! (click to enlarge)
In terms of special effects, Corel Photo Paint 10 comes with a new monster of effect that most of its competitors already have that is to say the red eye remover. At last you can remove red eye effects caused by pupilís dilatation when the Flash blinks, which you can do very easily using this filter. Another new effect added to this release is the Smart Blur for artistical purposes only (who wants to blur a photo?): with this new effect users can blur images with precise controls to help users create images with sharp edges & blurred contents. PhotoPaint 10 now lets users hide objects and change within the image listed in the Object docker window so they can edit objects within an image, trace the history of their changes and more. PhotoPaint also include a build-in Web Browser so you can surf the web while working on your pictures!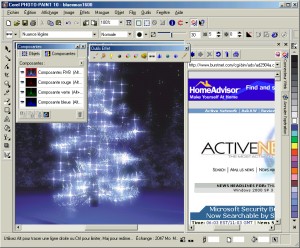 Web Browser (click to enlarge)
Like every good picture editing program, Corel PhotoPaint supports Mask so you can create touch-up mask so when you open the picture in an other program (that supports masks) only what your mask contains is shown so the background of the image is fully transparent. PhotoPaint 10 masks can now be moved more freely in a document and will no longer automatically clip when they are moved out of the space: masks can also be dragged and dropped between open documents for great efficiency and productivity! Like in Corel Draw the Web Image Optimizer is here to assist you in reducing the file size of an image while preserving the quality. Some UI changes have been made to Photo-Paint 10 since workspaces can now be customized and thus shared with other users. If you can create with Corel Draw & Corel RAVE rollover buttons, it's unfortunately impossible with PhotoPaint but it's logic. Indeed Draw is the program with which you create & design drawings, PhotoPaint isn't made for this. Finally experiment users can disable some warnings directly in the options so they donít get annoyed by notices they are already aware of.