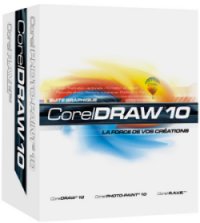 Product: Corel Draw! 10
Company: Corel
Website: http://www.corel.com/
Estimated Street Price: $549.99 (Upgrade: $239.99)
Review By: Julien Jay
Corel R. A. V. E. 10
Due to the spread of the Internet many graphic software manufacturers like Adobe, etc. now offer advanced software to create animated graphics for the web. Corel doesn't depart from the rule since they have included in Corel Draw 10 a brand new component to create vector animated graphics for the web that can be saved in flash format. In fact the strong advantage of this new program is that it looks exactly the same than Corel Draw. When you'll launch it you'll hardly notice the presence of a new film menu along with a timeline bar displays in the bottom of the application.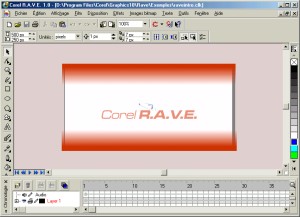 Corel R. A. V. E. GUI (click to enlarge)
Corel R. A. V. E. is entirely built around the Corel Draw graphic engine: so you'll create under R. A. V. E. extraordinary high impact vector graphics like if you were using Draw. That way you'll have some tools usually not included in this kind of software like artistic brushes, etc. If you don't like the workspace you can replace it by the Adobe LiveMotion or Macromedia Flash one. Like every good animation software, Corel R. A. V. E. comes with the unavoidable timeline, layers support, and an interesting 'onion view' that appeared recently in Flash so you can see in transparency stacked objects. Corel R. A. V. E. is really easy to use and I was surprised by it. If novice users usually have to train themselves a lot to apprehend the basis of Adobe LiveMotion or Macromedia Flash, with R. A. V. E. they can create high quality animations in a few mouse clicks thanks to the unbelievable intuitive look & feel of the software. Indeed once you have started the program, you can draw or import pictures onto the main scene displayed by Corel RAVE. Animating what you've just drawn is easy: after you've selected the object, just click in the timeline on the dot to extend it defining that way the length of the animation for this object. Once it's done insert at the moment you want a key frame: now you're ready to rotate, move, resize, color fade or do whatever you want with the object(s). A nice thing is that you can preview the result of the animation directly in the application from the design view clicking the small play control buttons but you can't view it on your favorite browser (you have to save the animation, launch Microsoft Internet Explorer and open the animation).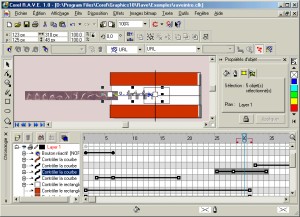 Corel R. A. V. E. TimeLine Editor (click to enlarge)
Motion effects offered by R. A. V. E. are more than complete and will satisfy the need of everyone from the SOHO user to the webmaster graphics expert. Sure users can create keyframes as explained above to create sophisticated animations. If Flash 5 is primarily intended to developers with the inclusion of a complete script language, Corel R. A. V. E. clearly targets designers like Adobe LiveMotion does. Tweening is supported by Corel R. A. V. E. so you can create and change an object's effects or properties over the time. Just like in Corel Draw you can create blends between two objects using the well known blend tool. Obviously a good web animation is nothing without some sound included in it. Corel R. A. V. E. can import .wav audio files, edit and export them to the compressed WAV file format (to reduce the size of the animation and save bandwidth) using the Macromedia Flash (SWF) export options. Inserting Wav files is painful since there's no command in the software to do so: you have to drag & drop the file you want from the Windows Explorer. Note that you can't insert MP3 files into an animation: what a pity!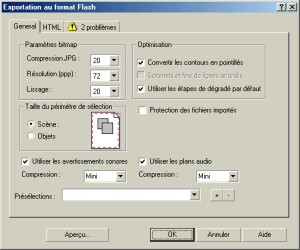 Flash Export Options (click to enlarge)
Sure you can add multiple sounds to an animation, overlap them, etc. The main weakness of Corel R. A. V. E. is surely the lack of interactivity effects. Indeed if you can create three state rollovers that's almost all!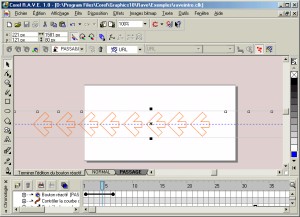 Creating three states Rollover buttons (click to enlarge)
Too bad… Once your work is done you can export your new animation to the SVG or Flash (SWF) format. However you can't open the code of a flash film (FLA).
Extras
As usual, Corel Draw 10 comes with some extras applets that can be useful. Corel CAPTURE 10 allows you to do precise and simple screen captures with ease. You can specify which part of the screen you would like to capture (eg: a single window, full screen, a menu, etc) and then decide the destination of the image, and the resolution and DPI. This feature is very handy for those people that like to take a lot of screen shots, and would like to have many simple features to do so. CorelTRACE 10 allows you to trace BMP (bitmap) files to create vector graphics. This is great for people that create flash movies, or want small but good graphics for webdesign even if the software hasn't been updated (except the splash screen) since a while. Duplexing Wizard makes it simple to create double-sided printouts. Use this to create booklets, etcetera. Finally Corel Draw 10 comes with two CDs filled with tons of high-quality clipart images, true-type fonts, and high-resolution photos. This is great for those of you that need some new fonts, or need a graphic or picture for something you're working on, but don't want to surf the web for hours. This collection should keep you in stock for ages. However we regret that in this release the usual Clipart guide book that listed all the clipart, fonts, photos contained in these CDs isn't included.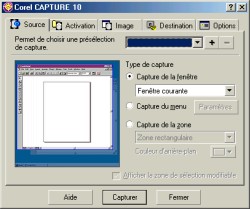 Corel Capture 10 Applet (click to enlarge)