DirectX
ActiveMac
Downloads
Forums
Interviews
News
MS Games & Hardware
Reviews
Support Center
Windows 2000
Windows Me
Windows Server 2003
Windows Vista
Windows XP



News Centers
Windows/Microsoft
DVD
Apple/Mac
Xbox
News Search



ActiveXBox
Xbox News
Box Shots
Inside The Xbox
Released Titles
Announced Titles
Screenshots/Videos
History Of The Xbox
Links
Forum
FAQ



Windows XP
Introduction
System Requirements
Home Features
Pro Features
Upgrade Checklists
History
FAQ
Links
TopTechTips



FAQ's
Windows Vista
Windows 98/98 SE
Windows 2000
Windows Me
Windows Server 2002
Windows "Whistler" XP
Windows CE
Internet Explorer 6
Internet Explorer 5
Xbox
Xbox 360
DirectX
DVD's



TopTechTips
Registry Tips
Windows 95/98
Windows 2000
Internet Explorer 5
Program Tips
Easter Eggs
Hardware
DVD



ActiveDVD
DVD News
DVD Forum
Glossary
Tips
Articles
Reviews
News Archive
Links
Drivers



Latest Reviews
Xbox/Games
Fallout 3

Applications
Windows Server 2008 R2
Windows 7

Hardware
iPod Touch 32GB



Latest Interviews
Steve Ballmer
Jim Allchin



Site News/Info
About This Site
Affiliates
Contact Us
Default Home Page
Link To Us
Links

News Archive
Site Search
Awards



Credits
©1997-2012, Active Network, Inc. All Rights Reserved.
Please click here for full terms of use and restrictions or read our Light Tower Privacy Statement.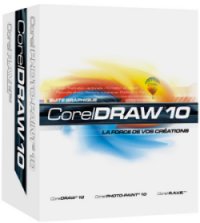 Product: Corel Draw! 10
Company: Corel
Website: http://www.corel.com/
Estimated Street Price: $549.99 (Upgrade: $239.99)
Review By: Julien Jay
Introduction
In the world of graphical design there is an event which occurs every year or almost every two years everyone anxiously awaits. Corel Draw 3, the first graphic oriented software designed especially for PC (best of all it was affordable), was one of the most reliable software programs to work with the newly released Windows 3x. The event I'm speaking about is obviously the release of a new Corel Draw version. This tenth release of Corel Draw is special for many reasons. First, this release celebrates ten years of graphical excellence and domination by Corel Draw. This new release also comes while Corel has totally changed its management team and struggles to find a right path in these changing economical times. Over the years, Corel Draw has grown and became a world standard graphic editing application just as Microsoft Word is the software everybody must have when it comes to editing text. Corel Draw is a graphic software suite that comes with two major applications "Corel Draw" the vector-based drawing program and "Corel Photo Paint" the photo editing software and some other goodies.
During these years, the software suffered several deep changes: I still remember the huge 5 release of Corel in which Ventura (a page editing software) was included. After dropping some bad habits, the major release of Corel Draw 6 was one of the first native 32-bit applications in 1995. Now, every new version of Corel Draw maintains a high level of simplicity while at the same time offering more & more power for graphic designers. In fact the abundance of features in Corel Draw 10 is amazing. I don't know where the Corel team gets these great ideas to continue improving an already outstanding and complete program. No need to say that Corel Draw 10 is more Internet oriented than ever. You can even buy from the built in web browser supplementary tools for the software! Corel Draw 10 inaugurates a brand new component in the suite called 'Corel RAVE'. This newcomer is a marvel, and you'll learn why later in this review. This application lets users create animations to be published in Flash file format on the web! As you can see Corel Draw 10 is definitely a complete graphical software suite that'll interest every artist that owns a PC. So let the review begin!
First Contact
The first change you will notice with this release is that the enormous balloon logo that has represented this release for the past ten years has been replaced by a new, fresh look. This first major change means Corel made clean sweep of the past for this tenth release. Now when opening the box you'll be surprised a second time (in fact Corel Draw 10 is full of surprises!): three thin quick guides replace the usual huge user guidebooks. This is cool since it won't cumber your shelves or drawers but novice users will find this a bit petty since reading a book to learn how to use a feature is more convenient than reading an online help guide. It's surprising to see the US release of Corel Draw 10 comes with very light user guides when you know international versions of the software still comes with complete four hundred page manuals. All things considered it's not a major drawback but it should be said! The main applications of the suite, Corel Draw and Corel PhotoPaint, have deeply evolved and really marks a clear difference with previous releases, despite what some of our colleagues may have said. One of the big issues users addressed to Corel over the years concerning the suite was its huge size! Imagine: in 1996 when Corel Draw 6 was released it fitted on three CDs, which was enormous for the poor two gigabyte hard disks used then. Thankfully, Corel Draw 10 still fits on 3 CDs and so it won't eat all your hard disk precious space especially when you know the 2 & 3 CDs contains bonus materials like the clipart, photos, animations, brushes, web motifs and more. So installing Corel Draw 10 will take up to 314 MB, which is reasonable. If the hard disk space requirement is fair you better have a powerful computer to exploit and unleash all the intrinsic creation power of Corel Draw 10.
Setup
Surprisingly installing Corel Draw 10 was not very easy. Indeed to get the Windows 2000 certification, Corel had to change its setup for a Windows Installer built one. If the usual setup GUI is still here it hides behind this friendly & known interface a brand new engine based on MSI. Sometimes the software refuses to install itself if something is misconfigured in the registry of your system which is very bothering since it can takes hours to troubleshoot the problem (a reformat can be faster). We have experienced another glitch with the setup that may hang when copying files so you have to stop it. Anyway we hopefully managed to get the setup to work and we were prompted for the serial number. Once the serial number was checked users can choose which components of the suite they want to install (there are the major components like Rave, Draw, etc and the goodies & other application options). During this process you can choose which file filters you want to install so you can open Illustrator files in Draw 10, etc. Once you have chosen the components that best fit your needs, you can choose the fonts you want to install on your computer. You can let a default selection of fonts or delve into a myriad of fonts previewing them directly from the setup to select the ones you want to install. Finally, the setup asks you to select some specific color profiles you might want to use for some printing or capturing devices. Once these non-obligatory choices are made, the setup at last begins by copying files. It takes about twenty-five minutes to get the whole suite installed as well as the fonts, etc. When everything is installed the setup prompts you to register the software over the internet and welcome you to reboot the computer so that changes can take effect.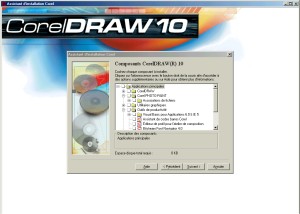 Corel Draw! 10 Setup Interface (click to enlarge)