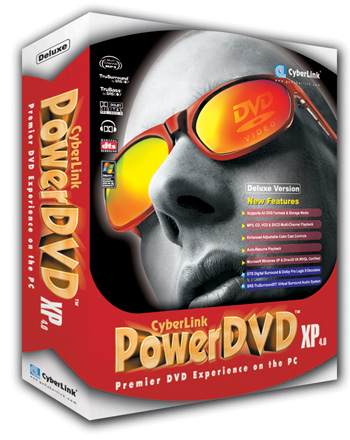 Notice About DVD-Rom Drives
DVD-Rom drive manufacturers maintain a doubt over the impact drivesí performance has when watching movies. Indeed many people believe that with a 16x DVD-Rom drive theyíll have better DVD Video playback than with a 6x DVD-Rom drive. This statement is absolutely false! Indeed for video playback the DVD-Rom drive is used in Ď1xí normal baseline speed so even with a Ď16xí model you wonít get smoother video or so (but youíll experience better loading time with programs that are stored on DVD-Rom).
Audio Decoding Features
The main evolution of PowerDVD XP is obviously the introduction of brand new audio decoding features. Cyberlink has introduced many new innovations to enhance the pleasure of viewing DVDs on computers through dynamic and theater like sound. Indeed with todayís DVDs, the rendering of the soundtrack is as important as the image since the audio ambiance will literally plunge you into the filmís atmosphere. The main interest of the new Power DVD 4.0 audio decoding features is that they work even if you donít have 4.1 channel speakers or any other expensive set of speakers. In the audio options of the software, if you choose ď2 channelsĒ, you will have a choice of different virtual technologies that will reproduce on your two regular speakers the acoustics of a 5 channel sound system thanks to advanced technologies. If you choose 4/6 channels, the software will automatically use the best audio performance for your system. Finally, if you use your sp/dif output (a proprietary technology from Sony and Phillips), you will need an external dd/dts decoder to have the experience of surround sound.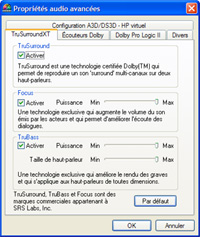 PowerDVD XP 4.0 Audio Settings (click to enlarge)
Dolby Digital

The DD technology is the most famous true-surround technology used for home cinema. It uses 5.1 channel speakers (or more) and lets you enter in a new world, a fantastic world where audio sources are produced in a fantastic way. Furthermore, the main interest of Dolby Digital is that the majority of DVDs available today are compatible with the DD technology, which is great news! However, donít forget that you will need a soundcard supporting 5.1 speakers as well as a 5.1 speakerís installation to enhance the Dolby digital technology (this is also true for the dts technology).
DTS Digital Surround Decoder

This is probably one of the finest technologies ever invented to transform existing "home theater" systems into six discrete channels of exceptionally clear audio performance. After watching a movie with audio dts, I can promise you that I can not watch a movie without dts anymore! The sound is truly exceptional and this 3-dimensional experience is really something worth the try. However, the only problem of this technology is that all DVDs donít have encoded dts audio, and the hardware is expensive (you will need at least 5.1 channel speakers to enhance the quality of dts).
Dolby Pro Logic II Decoder

With PowerDVD, the interest of this technology is very limited. The DPLII tries, from a 2-channels audio sound, to recreate a 5.1 channel output. It might be a great experience for divx, mp3Ö but for a DVD, it is completely useless simply because all DVDs now have at least Dolby digital encoded audio (which is a 4.1 channel technology). Even if you can read mp3 and audio CD with PowerDVD, I donít really think that a lot of people will launch PowerDVD for listening mp3ís J
SRS TruSurround XT
This technology delivers a virtual surround sound and a true bass effect through only two speakers from any multi-channel encoded source (dd/dts). This is probably the most innovative function of this new PowerDVD XP. Many of you (as me) donít have enough space at home (or enough money) to install a fresh 5.1 channels speaker kit. With SRS TruSurround XT enabled, you will easily notice a much better captivating audio reproduction than with simple stereo speakers decoding, even if obviously, this will never replace a real 5.1 multi-channel installation!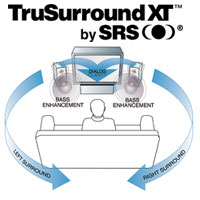 Virtual Speakers Setting
This technology is quite interesting if you are using the SRS TruSurround XT technology with it. It lets you virtually place your non-existing surround-speakers! The modification depends on your real stereo speakers, and you will have to do a lot of changes to find the optimal virtual-installation.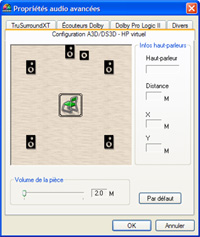 PowerDVD XP 4.0 Virtual Speakers Settings (click to enlarge)
Dolby Headphone Technology
The principle of this feature is to bring a five speaker like sound experience through a classic pair of headphones. And here I must say I was very impressed! This new killing of a feature amazed me: the Dolby headphone sound isnít a marketing trick or something like that! It really works, increasing the relief and spatiality of the sound, providing surround sound through a standard headphone making you feel like if you were in a black theatre. The only problem of this great feature is that it uses a lot of system resources; it increases the CPU load by about 30%, so you will need at least a Pentium III or compatible with 500 MHz to enjoy this feature.