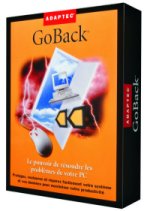 Product: GoBack 2.22
Company: Roxio
Website: http://www.roxio.com/
Estimated Street Price: $49.95
Review By: Julien Jay
Features
GoBack is the software you need to protect your PC and solve problems. GoBack is a kind of time machine that lets you restore your computer to the exact state it was one day ago, or two weeks before a problem occurred. Since GoBack works continuously and in the background, youíll forget it is there and youíll now work in all peace of mind since you know whatever can happen you can always revert any changes made to your PC. Just like its main and only competitor PowerQuest Second Chance, Roxio GoBack 2.2 also lets you fix system problems: imagine that youíve just installed a new software and on the reboot you get DLL crash, system hangs, etc. No problem with GoBack! In just a few mouse clicks youíll restore your system to a fully functional state. Thatís not all! If GoBack entitles you to make errors it also protects you from viruses: Melissa, Iloveyou, etc. wonít resist to the undo power of GoBack. Launching GoBack is very easy: a small rewind icon appears in the tray area of Windows and a double click on it display the main menu of GoBack where you can pick up activities like restoring your system to a previous state or retrieving a deleted file or a previous version of a defined file. The interface of GoBack is very easy to learn and for each feature you choose the help file is automatically displayed making sure you wonít make mistakes just because you donít know.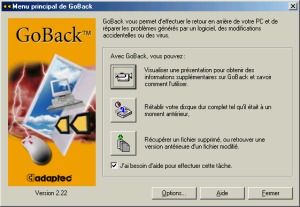 Roxio GoBack 2.22 Main Application Screen (click to enlarge)

Roxio GoBack 2.22 File Retriever (click to enlarge)
A nice feature and exclusive feature of GoBack 2.2 is the fact users can create a virtual hard disk where they can view files & folders as they were at a T time using the Windows explorer: best of all if users double click the files theyíll be able to view their contents! Itís a neat feature to make sure which revision of a file you wanna restore.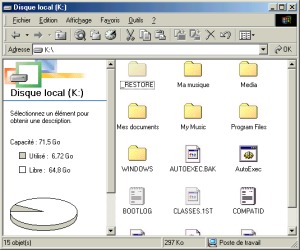 Roxio GoBack 2.22 Virtual Hard Disk (click to enlarge)
In terms of file revision management, GoBack simply excels! Indeed for each document stored on your hard disk like DOC or TXT files a right click on them in the Windows Explorer shows the traditional contextual menu that now have a new command Ďdisplay different revisionsí added by GoBack. Clicking it will show you a dialog box where all the different versions of the file are listed: you can choose to open the revision of your choice or to save it under a new name!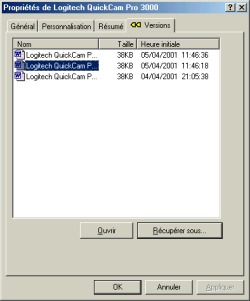 Different Versions of a file Roxio GoBack can restore (click to enlarge)
GoBack 2.2 also protects your dustbin: emptying the recycle bin doesnít mean files are lost anymore! Indeed you can now retrieve them at any time thanks to the power of GoBack. Another exclusive feature of GoBack is the DOS protection! Indeed unlike Second Chance, GoBack monitors any changes that are made to files or folders under DOS mode. Then if you have an alternative operating system installed on the same PC youíll be glad to know GoBack doesnít allow access to the date it protects on the Windows drive so youíre sure to be fully protected even when using an other operating system where GoBack isnít installed.