DirectX
ActiveMac
Downloads
Forums
Interviews
News
MS Games & Hardware
Reviews
Support Center
Windows 2000
Windows Me
Windows Server 2003
Windows Vista
Windows XP



News Centers
Windows/Microsoft
DVD
Apple/Mac
Xbox
News Search



ActiveXBox
Xbox News
Box Shots
Inside The Xbox
Released Titles
Announced Titles
Screenshots/Videos
History Of The Xbox
Links
Forum
FAQ



Windows XP
Introduction
System Requirements
Home Features
Pro Features
Upgrade Checklists
History
FAQ
Links
TopTechTips



FAQ's
Windows Vista
Windows 98/98 SE
Windows 2000
Windows Me
Windows Server 2002
Windows "Whistler" XP
Windows CE
Internet Explorer 6
Internet Explorer 5
Xbox
Xbox 360
DirectX
DVD's



TopTechTips
Registry Tips
Windows 95/98
Windows 2000
Internet Explorer 5
Program Tips
Easter Eggs
Hardware
DVD



ActiveDVD
DVD News
DVD Forum
Glossary
Tips
Articles
Reviews
News Archive
Links
Drivers



Latest Reviews
Xbox/Games
Fallout 3

Applications
Windows Server 2008 R2
Windows 7

Hardware
iPod Touch 32GB



Latest Interviews
Steve Ballmer
Jim Allchin



Site News/Info
About This Site
Affiliates
Contact Us
Default Home Page
Link To Us
Links

News Archive
Site Search
Awards



Credits
©1997-2012, Active Network, Inc. All Rights Reserved.
Please click here for full terms of use and restrictions or read our Light Tower Privacy Statement.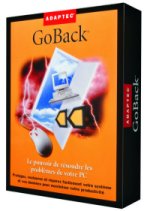 Product: GoBack 2.22
Company: Roxio
Website: http://www.roxio.com/
Estimated Street Price: $49.95
Review By: Julien Jay
How it works
How does it work youíll ask? The GoBack mechanism is based on a simple idea: each time a file is changed, updated, removed on your hard disks, GoBack backs it up in its history so you can next restore them if needed. It differs from an image program like Norton Ghost since it works all the time in the background monitoring every disk activities. To do so, GoBack automatically creates restore points (you can also create your owns) just like the Windows Me build in restore feature. When you open the main GoBack applet a huge and impressive list showing restore points appears with on the left a calendar and a clock to better spot the day you wanna go back to! The list shows every file and folder that was modified with the date and time.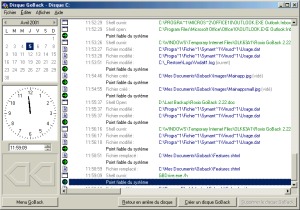 Roxio GoBack 2.22 Time Machine (click to enlarge)
Limitations
As powerful as GoBack is, it has some limitations. Indeed you canít choose which partitions on a same hard disk you want to monitor: you can monitor all of them or none but itís impossible to choose only a few partitions present on the same disk. GoBack uses a small boot utility stored in the boot area of the hard disk: the only problem is that this utility isnít compatible with Windows 2000, Lilo or Bootmagic. It reduces the interest of GoBack for users that have a multi operating system machine. The last drawback we noticed is the fact that when GoBack 2.2 reorganizes its stuff it blocks the whole hard disk so you canít work anymore...
Tests
To make sure GoBack was an efficient system protection software we literally grilled it with tons of various tests. We deleted files, intentionally removed vital system DLL files, and even removed Registry System.Dat & User.Dat files. During the tests, we really appreciate the fact GoBack 2.22 replaces the hard disk boot sector. If this can be annoying for users that have multiple operating systems it lets you restore your computer to an earlier point without starting Windows. You donít have to insert a rescue floppy disk neither: just before Windows starts a small GoBack screen appears for a few seconds and if you push the space bar as instructed youíll be able to go back in time. In all this cases, GoBack always manage to restore our system to a working state proving itís a must have software for everyone that doesnít want to bother about computerís health. The build in file version management of GoBack is amazing and let us always retrieve the first or intermediary version of a document we were working on. Briefly, GoBack is really a state of the art program for absolute computer data security.