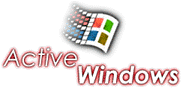 August News At ActiveWindows
[ Search | Online Chat | News Archive | Tech News | Contact | Newsletter ]
31st August 1998
New Sidewinder Drivers - DOJ Expands Case
11:58 GMT - You probably all know this, but the Microsoft SideWinder Freestyle Pro is released on September 26th.
22:44 GMT - Not sure if i mentioned this the other day or not, but Microsoft have released version 3.02 of their Sidewinder Controller software. This version adds support for both the new Force Feedback steering wheel (Excellent btw) and the fab Freestyle Pro.
---
30th August 1998
New DirectControl - Tips Section Revamp - Microsoft Movie
18:28 GMT - BGR Software have released a new version (v2.0.3) of DirectControl (419KB). Below is a little of what has been fixed and added to this current version.

Version 2.0.3:
Corrected Diamond Monster Sound detection
Added DirectX Diagnostics
Added additional CACHESIZE settings (1240)
Increased PREFETCH settings to include 4, 8, 10, 16, 18, 22, 24, 32, and 40 speed CDs
Supports DirectX 6 Enumerate Ramp Rasterizer
Supports DirectX 6 Enumerate Reference Rasterizer
Added 'View Optimization Log' (for use with Disk Defragmenter)
Added 'View WinAlign Report' (displays results of WINALIGN)
Increase conventional memory (older setting, but still effective)
Special thanks go out to Vern Earlywine and 'the Most Beautiful and Wonderful Redhead in the World' :)
18:04 GMT - It looks like TNT are running out of ideas for movies. They are planning a movie based on Microsoft.
10.02 GMT - As many of you have requested, we have split, re-arranged and added more Registry tweaks. The Windows Registry section is now an independent section. Also, there are yet more Easter Eggs for you guys to crack.
---
29th August 1998
New Drivers - New Article - New Review
---
28th August 1998
More Win98 Security Probs
---
27th August 1998
Site Updates - CIH - New Driver
09:44 GMT - The CIH virus seems to have taken a great many victims yesterday. C|Net has an article about how many people were infected.
09:43 GMT - Sorry about the lack of updates yesterday, unfortunately I was in hospital.
---
25th August 1998
Site Updates
21:47 GMT - C|Net has a report on yet more bugs - this time they come in Microsoft Access.
---
24th August 1998
Money 99 - New TweakIt & DirectControl
21:28 GMT - Just a reminder that the CIH virus will strike again for some people this Wednesday the 26th. You can download stand alone virus checkers from McAfee, Norton and various other anti-virus sites. A few of my friends have been infected with it, so it is always best to check.
20:50 GMT - We have set a preliminary date of September 12 for our new website to be released. We'll release more details about the site next week.
20:45 GMT - It seems that Microsoft have released a 90 day trial period version of Money 99. Check out the Money 99 Website for more details.

[Source - MS Mailing]
11:35 GMT - BGR Software have posted a new version of TweakIt Beta and a new version of the excellent DirectControl for DirectX. Here's what's new in this version of TweakIt



Version 3.0.2 Beta 2:
Enabled TweakIt AutoLaunch for custom configurations (i.e. TWEAKIT QUAKE2.BAT)
Added Export/Import Custom TweakIt configurations (saved as .TWK files, supports options listed on the 3Dfx, Advanced and Advanced Cont.'d tab)
Enabled TweakIt custom configurations (saved as .BAT files)
Increased overall speed and performance (smaller EXE and less memory requirements)
11:33 GMT - Moved over some of the older August news to the News Archive.
---
23rd August 1998
New Driver - New Tips
10:44 GMT - Added some new games Easter Eggs. Please note that we will be updating our drivers section into a more comprehensive drivers library. You can expect the update in a few days.
09:43 GMT - Added a new driver to the graphics driver section.

[Source - IRC]
---
22nd August 1998
Word 97 Bug - New Articles
19:55 GMT - The Windows 98 FAQ has been updated. This update includes a number of revisions.
18:13 GMT - Added a couple of new articles to ActiveWindows. Remember, if you ever write a Windows based article and would like to see it posted somewhere on the internet, just e-mail us.
---
21st August 1998
ChromEffects - New Sidewinder Drivers
19:58 GMT - Microsoft have released some updated Sidewinder drivers that include support for the profiler in DX6 along with some other smaller bug fixes.
13:33 GMT - It seems that various people have started receiving their ChromEffects CD's. A reminder to MSDN members, as we mentioned last week - ChromEffects can be downloaded at the member downloads section of Microsoft's MSDN site.

On another note - we have been getting a few e-mails asking if we have made a Chrome website, well the answer is no and we have no plans to because of so few people having Chrome installed.
---
20th August 1998
128-Bit DUN - ChromEffects - New Themes - New Driver
11:18 GMT - Added around 10 new themes in movies, cartoons and celebs sections of our Themes area.
09:20 GMT - The main page design has been updated even more.
00:57 GMT - Added a ChromEffects links page to ActiveIE.
---
19th August 1998
40-Bit DUN - Windows Update Tips - Internet Explorer 4 SP2 - Old News Section
21:53 GMT - Ignore the part at 21:12 about the Web TV update as it wasn't released to Windows Update, expect it in around 2 weeks or so.
21:12 GMT - We have been getting a lot of e-mail saying that the Multimedia Enhancements do not show up on Windows Update when people go there. Web TV will only show up if you either have the previous version installed or a Web TV Card, DirectX 6.0 will also not show up if you have installed the DirectX 6 core files from the DirectX website.

Other Windows Update Tips

Try clicking the Show All button that is at the top of the Windows Update Page and check to see if it says "Already Installed" next to a component. If it does have this, then you have the latest version. If you do not see the Already Installed text, then you should really upgrade that component.
15:49 GMT - Final main page design uploaded.
12:44 GMT - Actually uploaded the new look front page this time.
10:31 GMT - Added a new "Old News" section to make it easier for you to get to older site news etc.
10:30 GMT - Redesigned part of the main page. I will work on the main page more at the weekend and after our new site has been released.
09:29 GMT - We are getting a lot of e-mails asking us where IE4 SP2 is on Windows Update - as many sites said this was due to be released on the 18th. Well as we have said all along, Internet Explorer 4 SP2 was not due in the MM update and is still a while away from release. While I'm on the subject of e-mail - thanks for all the great mail we have been getting these last few weeks.
---
18th August 1998
New Virus DAT - Old News - MM Update
21:46 GMT - We are working on a review of Sentinel Returns (Which is already proving excellent) it will be posted as soon as I've played around with the multiplayer side of the game.
20:37 GMT - I guess we were right when we were first with the news that the MM Update would be released on the 18th because - The Multimedia Updates are now up on Windows Updated for you to download. It includes a special JScript patch for Internet Explorer 4.
20:35 GMT - Windows NT 5 Beta 2 has been released to testers.
10:43 GMT - Just a reminder that the Multimedia Update for Windows 98 will be released sometime later today. The following features should be downloadable.



DirectX 6 support for enhanced games

New unified Media Player

Broadcast PC's new "Gemstar" electronic program guide support and support for Brooktree 848/849 based TV display cards.

WebTV Update which fixes many problems from the early release
10:39 GMT - McAfee have released their new DAT files for their Virus scanner programs. 3108 can be downloaded here. There is now detection for the Marburg virus among others.
---
17th August 1998
New Drivers - NT 5 Beta 2 - WarGames Update
14:01 GMT - Windows NT 5.0 Beta 2 is set to be released later this week, so sources close to Microsoft say.
13:53 GMT - MGM have posted a fix for Wargames (The US version has a virus in the electronic registration). Check out their press release. The fix for the game is available here.

MGM Interactive recently learned that its Wargames PC game shipped with the Win32/Marburg.a virus contained in the electronic registration program. The company is working as fast as it can to resolve the problem and expects to post a Symantec Norton anti-virus software that will detect and disinfect the virus. This disinfectant software should be posted by Monday, August 17 on the Wargames website.
---
16th August 1998
Easter Eggs - New Netscape Release - WarGames Update
12:43 GMT - The tips section has been updated. We have split the Easter Eggs section into a new section. We have also updated the Bugs & Fixes section with a few new recorded bugs.
00:24 GMT - Just an update on the WarGames virus found on the gaming CD by MGM. The WarGames CD was infected with the Marburg virus - not the CIH as i originally stated. Thanks to SkyKing for pointing out the mis-information to me.
---
15th August 1998
Site Updates
18:50 GMT - Things seem a little slow in the world of Windows at the moment, but as usual we are putting our free time to good use. We have a very exciting new website that will launch within the next 2 months.
---
14th August 1998
Windows 98 Bug Official - CIH Strikes Again
19:33 GMT - Microsoft has confirmed there is a bug in its Windows 98 operating system which can make the date jump two days forward or one day back in the seconds before the New Year.

A patch is due in the next few days.
09:18 GMT - It seems that yet another "program" has shipped with the CIH virus, this time it is WarGames from MGM. The virus was in the registration part of the program, so if you haven't run that, then you are likely to be ok.

Anyway - check out the WarGames CIH info page for details on how to remove the virus. [Source - Voodoo Extreme]
---
13th August 1998
New NT Tips - Site Link - WinZip 7
---
12th August 1998
Chrome Stuff - DX 6 Chat
12:53 GMT - We just got some clarification from Microsoft on various Chrome news and information. It goes as following for those of you who didn't already know.
"The SDK will be available via the web, but the runtime will not. The runtime is to go out on new machines that meet the hardware requirements.

By shipping Chromeffects out on new machines, rather than to just any machine on the web, Microsoft can assure that its running in on the hardware that meets its requirements." [Source - Microsoft]
11:16 GMT - There is a DirectX 6.0 chat coming up soon, check out the following news.

Go ahead, ask 'em anything! The DirectX team is assembling this Friday, August 14, from 9-10 a.m. PDT (12-1 p.m. EDT, 4-5 p.m. GMT) at MSDN Online Chat. The topic: graphics and DirectX 6.0. This promises to be a no-holds-barred discussion of the finer points of the latest version of DirectX. So if cutting-edge technical conversation is your idea of a good time, you won't want to miss it. Visit the MSDN Web site to find out how to participate. [Source - Voodoo Extreme]
---
11th August 1998
Graphic Drivers - Office 2000 - Critical OE Update
21:39 GMT - ChromEffects 1.0 now available for Universal MSDN subscribers to download.
21:04 GMT - Windows Update finally has the proper patch for Outlook Express online.

[Source - Justin Bloom]
20:54 GMT - C|Net have posted a preview of Office 2000.
---
10th August 1998
3Dfx DX6 - Bugs Update
15:06 GMT - Updated the bugs section, fixed a couple of bad links.
15:05 GMT - 3Dfx have announced that the DirectX 6 drivers for Voodoo 2 cards will be released in October.

We should have optimized DX6 drivers for Voodoo2 around the beginning of October. Most games currently available don't take advantage of the new features in DX6. We expect to see the first titles that really use DX 6 features to ship in time for Christmas, and we'll have you covered by then.

Erik Johnson
Software Product Manager
3Dfx Interactive
---
9th August 1998
Large Tips Update - Bugs Section Updated - New Driver - DX Review
16:11 GMT - Large revamp of the bugs section, more bugs and information has been added.
16:10 GMT - We have made a large tips update, there are now a whole load more tips for you to browse through.
---
8th August 1998
Chrome Goes Final - Articles - New Driver - DirectX FAQ - MSG Board
13:10 GMT - Added a DirectX FAQ, as usual this will be updated as more and more FAQ's are notified via the newsgroups and mail.
03:08 GMT - Microsoft's Chrome has gone final (RTM in other words). RunTimes are around 15 MB's. ChromEffects is clearly on schedule for it's Mid August release.

[Source - ICQ]
01:12 GMT - We will have a proper Message board up in the next week or so after you all asked for one.
---
7th August 1998
Multimedia Enhancments
13:03 GMT - Added the new "Program Tips" section. At the moment it isn't anywhere near as full as our other tips section, but don't worry, over the coming weeks it will start to fill.

If you have any suggestions or tips for specific programs that you think should be posted there, just e-mail us.
13:01 GMT - Updated the side menu for both IE and NS users.
01:29 GMT - As mentioned yesterday, the Multimedia Enhancements are set to go up on Windows Update on August 18th.
---
6th August 1998
New Drivers - Windows Update News - NT 5.0 Delay
22:47 GMT - I've just got news that Office 2000 will now ship next year, not this year as was previously the date touted around the internet.
22:23 GMT - It seems that a number of new downloads and updates will be hitting Windows Update on August 18th, the updates will include DirectX 6 and Web TV Enhancements.

[Source - E-Mail]
20:37 GMT - Yet another new Graphic Driver has been added, this time it's the new Intel740 drivers.
---
5th August 1998
DirectX 6 Official Launch - DirectX Tips Updated - New Drivers
14:49 GMT - Added new sections onto ActiveIE.
14:06 GMT - Updated the Desktop Themes area. Most pages have new themes added.
11:22 GMT - We have updated and changed around the DirectX Tips section to make it look like our other tips areas. Added a new tip for DirectX 6.0 Users.
10:57 GMT - For those awaiting the first 3Dfx Voodoo 2 drivers for DirectX 6 - your wait isn't far away , read on.

According to 3Dfx, the DirectX 6 goodies are also coming up in their next driver release. The current driver doesn't have any DirectX 6 optimizations, but DX6 and a DX6 driver (including multitexture and multiple-TMU support) are scheduled for the next release.

[Source - Voodoo Extreme]
10:51 GMT - Microsoft have at last announced that DirectX 6 is out. The DirectX 6 Website has finally been updated, announcing that DirectX 6.0 has been released.

[Source - Microsoft]
---
4th August 1998
DirectX 6 for Windows 98 Released - New Driver
01:47 GMT - Added some new awards and split off the awards section in to two parts.
01:46 GMT - Updated the sideframes for both IE and Netscape.
---
3rd August 1998
DirectX 6.0 - Game Patch - New Sections
23:14 GMT - An update to the DirectX 6 news. It should be available for Windows 98 via Windows Update in the next few days or so.
22:47 GMT - DirectX 6.0 has been publicly released, this download is for Windows 95 users only. [Source - BetaNews]
21:31 GMT - Creative Labs have begun shipping their latest line of sound cards last Friday. The new Sound Blaster Live! cards, which support Creative's much-touted Environmental Audio Extensions and home theater capabilities, should begin appearing in stores in the US soon, Europe towards the end of the month.

[Source - Creative Labs]
13:44 GMT - BGR Software have released a new version of their DirectX control utility, DirectControl. Here is the latest on this new version:
Version 1.0.44:
Full DirectX 6 support
Added 'CHUNKSIZE' setting to VCACHE options
Added 'Enable Print Screen' option for DirectDraw applications
Added Enable/Disable status checkmarks for all DirectDraw settings (standard and advanced)
Added VCACHE checkmarks to display current settings
Added Matrox Millennium I / II Display Properties support
13:40 GMT - We have a number of new sections that should come online towards the end of the week - these will bring you even more tips and tricks.
---
2nd August 1998
Site News
20:16 GMT - Just a note for all those people who have been e-mailing us, asking if we need any testers for our new website. Currently the website is nowhere near complete - and only the group of sites that are involved in it will be running the tests until we reach a "good working site" stage.
---
1st August 1998
New Drivers, DirectX News
11:54 GMT - Updated the Graphic Drivers section, added the new rendition drivers that were released yesterday. Remember, if there are any drivers that we are missing or that you think should be added to our drivers area - just e-mail us the details.
---
Do you have any Windows based news? - just e-mail us