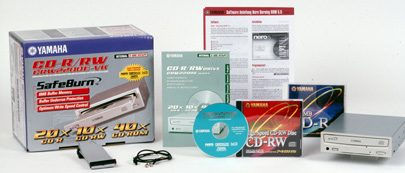 Audio Extraction
When extracting digital audio using MusicMatch JukeBox 6.0 we get the average speed of 26x, while with other programs like Audio Catalyst the extraction speed began at 15x and ended at 21x for MP3 files. Most of the time, when extracting digital audio youíll get the rates reported by Nero CD-Speed: the average digital audio extraction speed reached 29,13x with hits at 38.07x. For WAV files we get higher extraction speeds that began at 17X and finished to 29x giving an average of 23x extraction speed. For audio extracting jobs, the Yamaha burner is a marvel and every MP3 addict will get instant benefits if they choose to use this device: extracting a full CD Audio in 3 or 4 minutes has always been a dream that is now real due to Yamaha.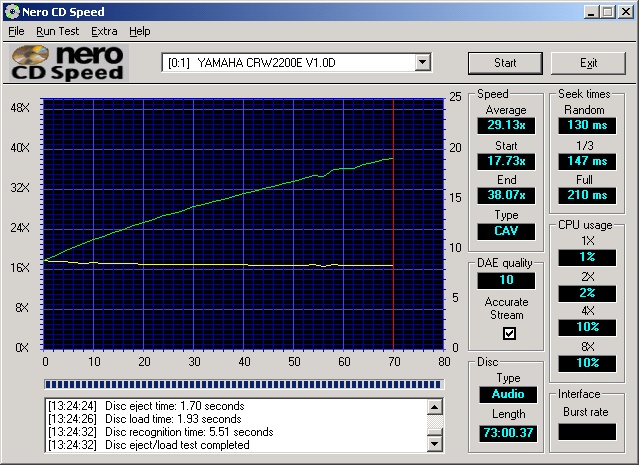 Yamaha CRW2200E-VK Audio Extraction Speed Graph
MusicMatch JukeBox 6.1 & Fast Audio Rip Extracting Audio at speeds up to 24x (click to enlarge)
This feature is the fruit of the long experience one of the best worldwide music instruments maker, gathered through the years. If that wasnít enough the audio quality of burned CDs is excellent and we didnít encounter any errors during extraction processes. Finally since the burner supports the CD-Text format, you can add information to the CD Audio youíre about to burn like song title & artist name. Then when playing the burnt CD-Audio on a CD-Text compliant player youíll see tracks name on the unit.
Burning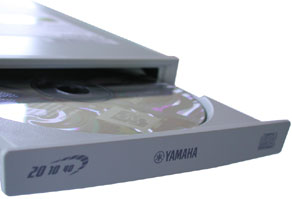 We tested the burner with both actual recording programs including: Easy CD Creator Platinum 5.01 and Nero 5.5.2.4 (provided with the drive) to burn CDs. The first disappointment is that Roxio Easy CD-Creator Platinum 5.01 doesnít natively support the latest Yamaha burner. You have to update to version 5.02 in order to add support for the latest Yamaha drive. Instant CD/DVD 6.0, from VOB, doesnít support the latest Yamaha burner. The DAO-RAW mode is supported by the CRW-2200E, and Clone CD 3.0.5.1 is already compatible with it. We burned tons of CD-R & CD-RWs during our tests and we didnít encounter any burning errors with Nero or Easy CD Creator proving the high reliability of this new Yamaha burner. Even with the IDE interface and due to the use of a wide buffer memory teamed up with SafeBurn we didnít manage to hang a recording session.

Best of all we were able to perform other tasks like playing to Microsoft Mech Commander 2, listening to MP3s, or working with Word & FrontPage 2002 while recording CDs in 20x or CD-RW in 10x. At least with this model, burning CDs can be done in a snap while youíre working or playing without blocking the whole computer like with USB or first generation burners. The burner isnít touchy with CD-R media and you can use 6x or 8x certified ones and burn them in 16x or 20x with no problem if you have previously disabled the OPC feature. Burning high speed CD-RW with the CRW-2200E was no big deal since it just worked great. We also noticed that when using high speed CD-RW media Nero now offers a direct 10x burning speed setting instead of the 8x indicated when using Nero & the CRW2100E-VK. Another important progress of the Yamaha CRW2200E-VK is the noise production while in use. Indeed its precursor was more than noisy: when burning CDs you had the impression the burner would take off! Thankfully this new model is much quieter. In fact whether you read CDs in 40x or burn in 20x you can only hear a silent whisper. Finally we have drawn up a table showing the various format of CD you can burn and read with the Yamaha:
Supported Formats

80 Mins CD

Yes

Black CD-R

Yes

Audio-CD

Yes

Kodak Photo CD

Yes

CD-I

Yes

Video CD

Yes

Mac

Yes

CD-DA

Yes

CD-R

Yes

CD-RW

Yes

CD-Rom

Yes

CD-Rom XA

Yes

CD Extra

Yes

CD Text

Yes

CD+

Yes

Unix

Yes
Supported Writing Methods

Track At Once

Yes

Disk At Once

Yes

Packet Writing

Yes

MultiSession

Yes

Overburning

Yes
To make sure the Yamaha CRW2200E-VK is compatible with most of today blank CD-R or CD-RW we have tested it with a wide variety of CD-R, CD-RW brands. The table below shows the results of the tests:
CD-R/RW Brands Tested

Verbatim CD-RW 10x

Yes

Philips CD-RW74 4-10x

Yes

Yamaha CRWM74BHS (10x CD-RW)

Yes

Memorex Black CD-R

Yes

Memorex 700MB CD-R

Yes

BASF 650MB CD-R

Yes

Verbatim 700MB CD-R

Yes

Verbatim 650MB CD-R

Yes

Imation 700 CD-R 16x

Yes

NoName 74mins

Yes

TraxData CD-RW 4x

Yes

MaxMax CD-RW 4x

Yes

Memorex CD-RW 4x

Yes
Below is a chart showing the average burning time you can expect with the Yamaha CRW2200E-VK when burning a 650MB CD-R in 20x. Globally this new CD recorder shorten the burning time by one minute (comparing to the CRW2110E).