DirectX
ActiveMac
Downloads
Forums
Interviews
News
MS Games & Hardware
Reviews
Support Center
Windows 2000
Windows Me
Windows Server 2003
Windows Vista
Windows XP



News Centers
Windows/Microsoft
DVD
Apple/Mac
Xbox
News Search



ActiveXBox
Xbox News
Box Shots
Inside The Xbox
Released Titles
Announced Titles
Screenshots/Videos
History Of The Xbox
Links
Forum
FAQ



Windows XP
Introduction
System Requirements
Home Features
Pro Features
Upgrade Checklists
History
FAQ
Links
TopTechTips



FAQ's
Windows Vista
Windows 98/98 SE
Windows 2000
Windows Me
Windows Server 2002
Windows "Whistler" XP
Windows CE
Internet Explorer 6
Internet Explorer 5
Xbox
Xbox 360
DirectX
DVD's



TopTechTips
Registry Tips
Windows 95/98
Windows 2000
Internet Explorer 5
Program Tips
Easter Eggs
Hardware
DVD



ActiveDVD
DVD News
DVD Forum
Glossary
Tips
Articles
Reviews
News Archive
Links
Drivers



Latest Reviews
Xbox/Games
Fallout 3

Applications
Windows Server 2008 R2
Windows 7

Hardware
iPod Touch 32GB



Latest Interviews
Steve Ballmer
Jim Allchin



Site News/Info
About This Site
Affiliates
Contact Us
Default Home Page
Link To Us
Links

News Archive
Site Search
Awards



Credits
©1997-2012, Active Network, Inc. All Rights Reserved.
Please click here for full terms of use and restrictions or read our Light Tower Privacy Statement.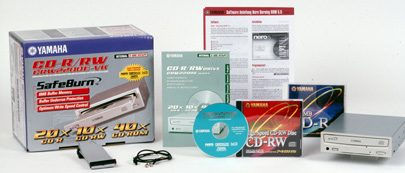 Introduction
A few months only after introducing in real brass band, with trumpets and drum, the fastest CD burner on earth, ever released (that was able to burn CDs in 16x) Yamaha now briskly comes back with a brand new model that sets, once again, a new speed record promising the fastest CD burning experience. If Yamaha is a well-known Japanese manufacturer that sells pianos, hi-fi systems, sound cards, various DSP circuits, engines, they have a famous, strong & long known-how in the CD burners' domain. In 1988 Yamaha introduced the first CD recording system for mastering purposes followed in 1990 by a 2x model to boost master production. Then in 1994, Yamaha launched the first 4x burner intended to the general public paving the way to personal CD recording. In 1997 Yamaha renews its burners' models by unleashing the first CD-RW 2x burner followed by 4x ones and at the end of 1999, Yamaha finally released the first high speed (8x) CD-RW burner before launching the 16x burner. Their new burner, dubbed CRW2200E-VK is a "20x write, 10x rewrite, 40x read" model. Comparing to the previous CRW2100E this model is not only faster but comes with some welcome enhancements like the exclusive "SafeBurn" technology intended to prevent any buffer under-run errors.
Presentation

The new CRW2200E-VK doesn't feature a real innovative new look: it sports the same usual Yamaha beige look with two small horizontal holes in front of the drive (for ventilation purposes), one LED indicating the status of the drive, one volume wheel as well as one headphone plug. Due to the use of a new DSP component along with a new pickup technology the rear fan that Yamaha burners used to feature has been ditched with this model for a more discreet record process (note that this burner is far from over heating even without a fan). The CRW2200E-VK is actually available in different flavours: IDE, SCSI, FireWire & USB 2.0 external. However for internal drives Yamaha now produces in its factories only the ATAPI version. Indeed they have developed a small interface adapter that can change an IDE burner into a SCSI one! That's great since you can adapt your burner to your needs without replacing it, for example converting an IDE burner to make it use the SCSI interface will result in a reduced CPU utilization. Actually we haven't received yet this adapter so we don't know if it works with other burners than Yamaha ones. The rear panel of the burner features a classic 40 pin IDE interface, a power plug and two audio connectors: one S/PDIF Digital Audio & one analogue output.


Yamaha CRW2200E-VK
Installation
Installing this new unit was very easy: after dismantling the old burner, I installed the new one making sure the Master/Slave setting was correct and I connected on it, the Power plug, the IDE controller cable and the soundcard audio link cable. I've mounted back the computer and restarted it. Windows 2000 Professional SP2 instantly recognized the new burner as an UDMA-2 drive and the last thing I did was to install the Nero 5.5 software that was provided with the burner.

Features List
High Speeds

The CRW 2200 drive supports up to 20X write speeds for a CD-R disc and up to 10X write speeds for a CD-RW disc. A good example of this is that an Audio-CD (79 minutes/ 700MB) can be produced in maximum of 5 minutes.

Pure Phase Laser System

Qualitative high quality writing at high speeds are guaranteed by Yamaha with the integration of the copyrighted Pure Phase Laser system.

Partial CAV-write Process The

Partial-CAV process used by YAMAHA can achieve the maximum speed through symmetrical acceleration and without links. This is ideal for audio CDs and for pre-mastering, as CDs with links are rejected by a press.
SafeBurn Technology

The newly developed SafeBurn™ technology from YAMAHA is a three-way protection combination, which guarantees one hundred percent protection when writing to CD-R/RW media."Coasters" are now a thing of the past.

Extensive Compatibility The compatibility protection data, which is obtained by exchanging technical data with the most important media manufacturers, guarantees the compatibility with the media from a very large number of manufacturers. It also supports 700 MB discs.
40x read/audio extraction The CRW 2200 has inherited the fast read / audio extraction capabilities of the CRW 2100 series, which has been described by many Webzines as one of the most powerful CD-R/RW drives available.
The CRW 2200's precise and fast audio extraction capability is preferred by users to whom their music is extremely important.

CD Text

The CRW 2200 drive is compatible with the CD TEXT format. Information, such as the song title and the name of the artist, can be displayed by using the write software included in the package.
DAO-RAW This important format is supported by the CRW 2200 series.
Outstanding Software The features of the CRW 2200 series are further enhanced by the award winning CD-burning software from Ahead: the current 5.5 version of Nero.This software is one of the best CD-recording solutions that is available in the market place at the present time and includes Nero 5.5, NeroMix and InCD 2.0.