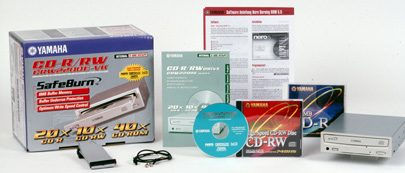 Software Package

The Yamaha CRW-2200E-VK comes with a nice software bundle that is probably the most complete software suite you can find out provided with a burner. First many power users will be glad to know that Yamaha has replaced Easy CD Creator by the most flexible burning program Nero 5.5 from Ahead. In addition you'll find in the package NeroMIX & Nero InCD 2.0. Installing the three software is a bit painful since you have to run three different setup: there's no unified installation program which is a regret. Once the suite is installed you have to reboot your computer: when you're done you're ready to enjoy the most powerful features of the CD recording software's emperor!
Nero 5.5
Each time you start Nero, a system security check will be done in order to ensure that nothing can damage your upcoming CD burning session: if Nero detects that the Autoplay or something like that is enabled it'll prompt you to disable it and restart the computer. The interface of Nero 5.5 is clear even if it isn't as convivial as the Roxio Easy CD Creator Platinum 5's one. Nero 5.5 comes with a user-friendly wizard that'll help you achieve great burnings almost all the time: indeed when you start the software a 'New CD' window appears asking you what kind of CD you want to create. This window is dedicated to advanced users but if you're a newbie a simple click on the 'Wizard' button will guide you to burn CDs efficiently from A to Z! You've got the choice between an incredible number of formats including ISO CD-ROM, CD-Extra, Audio CD, CD copy, mixed mode CD, Video CD, Super Video CD, Boot CD-Rom, CD-Rom (hybrid), CD-Rom (UDF), CD-ROM (UDF/ISO) formats.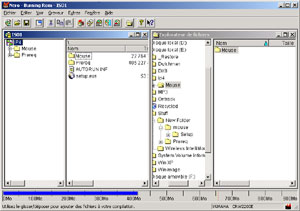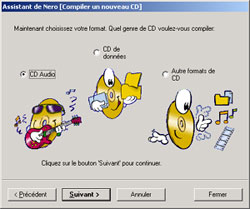 Nero 5.5 Main Interface & Nero Wizard (click to enlarge)
As you can read, every kind of CD format that exists is managed by Nero even bootable CDs. When you have chosen a CD format, the wizard will help you creating the CD. Note that in advanced mode you can define advanced settings for each CD format like 'finalizing the session', selecting the burning speed or changing the audio extraction speed as well as disabling the OPC feature. You can choose to create CDs yourself without the wizard. Adding files to a CD project is very easy since you just have to drag and drop files from the built in file explorer to the CD window. The amount of used & remaining space on your CD layout is shown on the status bar with a small thermometer style graph. Then burning your CD is only a mouse click away: just click the burn CD button and the wizard will guide you by offering you to test, test & burn or directly burn you CD. When you're burning a CD, a status window accurately indicates the status of the burning process so you can know, second per second, what's happening: buffer's use, percentage of writing achieved and more information are shown. On this dialog box you can choose to automatically shut down the PC when the burning is complete: great if you don't want to stay in front of your computer when burning a slow old CD-RW 4x, by example.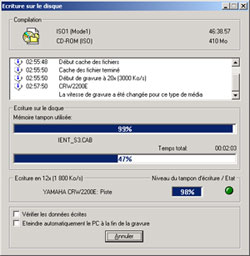 Nero 5.5 Burning Dialog Box (click to enlarge)
At the end of the burning process you can choose to save the log file of the session in order to troubleshoot possible problems or to create a cover. If you have chosen to enable the record verification feature, Nero will check the burned CD to make sure it's conform to the master. Nero 5.5 obviously manages CD-RW media! Nero includes a CD-RW eraser that offers two options to erase CD-RWs: the fast erasing method will erase your CD-RW in 2 minutes while the long erasing process will destroy every data on the disc taking almost 45 minutes to complete. It also supports ISO & IMG images so you can burn them directly without the need to extract their contents first. The copy wizard perfectly duplicated multisession CDs and extra ones and can manage or even repair CRC reading errors.
The record engine is now faster and more reliable than ever: it's also multitasking so you can simultaneously record stuff on up to 32 CD-R/RW drives. Nero 5.5 fully supports the Yamaha SafeBurn technology (it's always possible to enable or disable the use of the SafeBurn technology through Nero but it'd be stupid). On the fly burning is also available and lets you copy directly a CD from your CD-Rom drive to the burner without copying it first on the hard drive: great to make fast burnings especially with the CRW2200E-VK burner' SafeBurn technology. Power users will be glad to know that Nero 5.5 supports the following burning methods: 'Track-at-once', 'Disc-at-once', and multisession. Like its previous releases one of the feature that made the worldwide success of Nero is still included as you can overburn CDs bypassing the capacity of them: with it you can burn up to 79 minutes of data on a standard 74 minutes CDR. You can also get the max out of your CD-RW capacity by finalising the session. During the recording process Nero 5.5 now makes use of 'MultiMounter' which is in charge of the multiple sessions managements and that'll link them.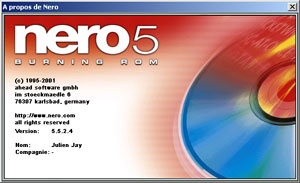 Nero 5.5 About Box (click to enlarge)

Another new software technique is included with Nero 5.5 that can be named a software cache. The Ultra Buffer's aim is to prevent buffer under-run errors: this process is however useless with the Yamaha CRW2200E-VK drive unless you disable the SafeBurn technology. I wrote that hybrid CDs are supported, it simply means that you can create a CD that contains a MAC dedicated part under the HFS file format and a PC area in ISO9660 format. Nero 5.5 helps you create ISO images of the CD you want to burn: simply select the image encoder burner in the burner selector and click the burn button, all the data will be stored in an ISO image file you'll be able to reuse later. We love the 'bootable CD' feature included that allows everyone to make a bootable CD very easily and simply.
For example, inserting the Windows Me boot disk into the floppy disk into the A: drive and Nero will copy the files to the boot root of the CD so you can create bootable CD in a flash, worries free. New to Nero 5.5 is the build in virus checker: you can use this feature to make sure the compilation is virus free before burning it. The virus database can be updated on the internet. Administrators will like the Windows NT4/2000 security feature that let them choose which users are allowed to burn or not CDs.