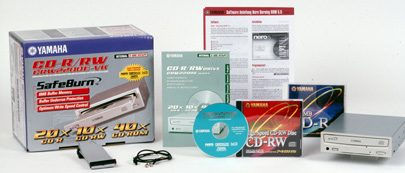 Awesome Audio Support
Nero 5.5 is truly multimedia oriented since it comes with a raging audio support! This top notch burning program takes in charge CD Audio database and CD-Text technologies. So when you are about to copy a CD-Audio (that isnít CD-Text), Nero 5.5 automatically connects to the internet, identify the CD-Audio and retrieves the tracksí titles and the artist name in order to put them on your CD-Audio using the CD-Text format. Actually, Nero 5.5 goes further as it can also add the track names information to MP3, VQF or WMA files. The retrieved tracks names are saved on your hard disk in a specific Nero database: however the database format is a real dinosaur! When creating a Nero CD database, almost 1288 files will be created on your hard disk! Nero 5.5 supports MP3 files and can convert them directly into CD-Audio when you want to burn them.
So you can turn your MP3 files into a CD-Audio that can be read almost anywhere very easily using Nero. A new free plugin from Ahead lets you convert WMA files to CD-Audio: thatís pretty cool since the Windows Media Audio format is really emerging! Sure you can always burn your MP3/WMA files as data in order to read them on portable Discman. Since Nero gives you total control over the burning process, itís possible to specify whether or not you want the program to cache audio tracks on the hard disk or to read them on the fly. Nero 5.5 also manages VQF files that contain compressed audio data just like, MP3 files. Compared with MP3 files, it's possible to create files with a lower bit-rate, but at a comparable sound quality which takes up about 20-30% less space on your HD. Nero features unlimited Encoding and Decoding. Twin VQ files can be dragged into audio compilations along with MP3 and wave files, and burned on-the-fly. Thereís one shade to the multimedia picture of Nero: the MP3 encoder isnít bundled with the software and will cost you 15 supplementary dollars.
In fact Nero 5.5 is what we can call the Swiss armyís knife of burning tools. All you need and more are included in the program! Another aspect of this outstanding audio support from Nero is the audio filters. These filters, included in previous releases, were enhanced: you can now test them in real-time and apply multi-filters simultaneously. Nero 5.5 comes with new filters such as the Karaoke filter, which cancels the voice track of music so you can sing on it (do you want rain today?). A new Cross Fading filter, which allows the blending of songs into each other, is also included. The Split function lets you easily split a sound file. The user interface has been improved to make playing with sounds extremely easy and even a bit funny: when you have dragged an audio file to the CD recipient window you can listen to it by clicking the play button. But if you want to apply audio filters simply right click on the audio file, select properties and click the filters tab: there youíll be able to use all the audio filters offered by Nero. Nero 5.5 continues to support the so-called M3U play lists. These files contain lists of audio files in ASCII text format. This means they can be edited using text editors such as Windows "Notepad".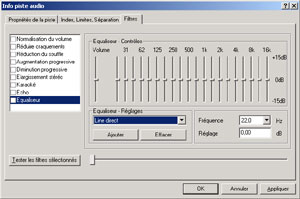 Build-In Nero 5.5 Audio Filters (click to enlarge)
The play lists are read by most MP3 playback programs, MP3 portable player, and can now also be read by Nero. If a M3U play list file is dragged into a Nero audio compilation window, Nero will add all audio files of the M3U play list to its audio compilation automatically. A nice side effect of this strategy is that title and artist information can also be stored for those audio file formats, which would normally not support storing title and artist information. As Nero also stores this data in the M3U play list, even title and artist of wave files remain intact if you store all tracks and then drag the generated M3U play list file back into an audio compilation. Furthermore, M3U play list files can be read and written by most popular MP3 playback programs, including NeroMIX.
Super Video CD (SVCD) is an extension of the VCD standard which uses MPEG-2 compression with variable bit rate encoding, and also allows a bit rate that is twice the VCDís one. Therefore, SVCD also offers better image quality, although it means fewer total playing times if the full bandwidth is used. At DVD quality, a SVCD can store up to 35 minutes of video, compared to 70 minutes for VCD MPEG-1 quality. Nero 5.5 can now encode stuff in MPEG1: drag an AVI file to the CD layout and Nero will instantly perform an on the fly MPEG 1 conversion. Both PAL and NTSC standards are supported. Still images can be added to a (Super) Video CD compilation. JPEG files can be dragged into the MPEG section of a (S)VCD compilation and simple slide-shows created. The (S)VCDs can be played back in all (S)VCD and DVD players which can read CD-R/CD-RW media. New to Nero 5.5 is the ability to create menus for your VCD/SVCD! Through a menu you can easily select tracks for fast playback. Several effects are offered like: music-viewers can "groove" while they select their "grooves", "thumbnail" previews-small, clickable still-images from your tracks
Nero 5.5 can create Ďitselfí a backup of your system on CD-R or CD-RW. This is useful to quickly create a backup of vital files stored on a partition. However it will copy the whole partition even blank space. This restriction dramatically reduces the interest of the hard disk backup feature. Note that also you canít restore one files contained in a backup set: you have to restore everything by erasing the destination unit: too bad. A few other new utilities are provided with Nero 5.5 like Drive Speed and Image Drive. Drive Speed is aimed to help you quiet your drive when playing music CDs: indeed many of today drives are noisy because they are too fast altering your listening experience, this irritating situation is now just a souvenir. Nero Image Drive lets you use an image file like if it was a real CD. This latest feature is very handy since it lets you view or run the contents of an image file before you burn a CD.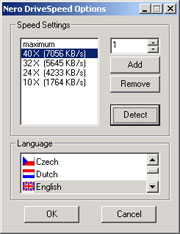 Nero DriveSpeed (click to enlarge)
Nero 5.5 now comes with a brand new cover editor helping you create your own custom jewel case covers for your burnt CDs. You can also design the round labels you want to stick on burnt CDs. Traditional tools are included to create in a few mouse clicks nice covers very easily: you can add pictures, change fonts or colors and more. An artistic text tool is available so you can create some cool texts changing the border outline properties of the characters. Each object you add on your project can be resized, move, and you can even rotate them! A few drawing tools are included to help you draw basic shapes like squares, circles, lines, etc. Itís now possible to create templates so you can reuse them later. A nice feature is the auto-complete one that will automatically write on the labels the name of the audio tracks you burnt with their length: to enjoy the benefits of this cool feature you simply have to create fields on your project and assign them the value they should dynamically display. The printing feature is complete and the print preview mode will help you see if everything is OK. Despite Cover Designer is a separate program, Nero 5.5 can automatically send to it a CD audio tracks list.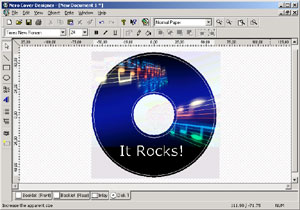 Nero CoverEditor (click to enlarge)
New to Nero 5.5 is the Wave Editor that includes some must have basic audio editing features. This build-in audio editor helps the user adapts and transform its favourite music without the need to use some more complex and expensive programs. It features very friendly Office 2000 like interface. For each audio file you open, just like professional software, Nero Wave Editor displays the audioís waveís length of both channels. You can zoom it or zoom out to get a closer view to the graph. But the wave display can be changed to a spectrum view. Then you can select a part of the wave and delete it but you canít move it (except if you cheat with the software and cut a part of the audio and paste it at another place). Itís possible to mix various audio files into a single one since you can add the content of an existing audio file to the current edited one. To help you in your audio editing task you can use the multiple level undo/redo feature.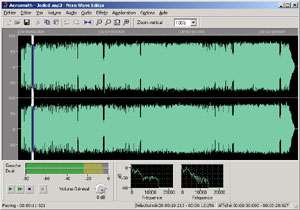 Nero WaveEditor (click to enlarge)
With Wave Editor itís possible to use advanced audio processing options. For example a Dolby like feature is included to reduce the global noise of a track, but you can also correct pitch levels through the build-in 6 ways equalizer, use anti-aliasing or dithering filters and more. A few effects are also offered like Echo, Chorus, making sure you can spice up your tracks. The software supports non destructive editing. Non-destructive editing means that you can deeply change a wave file without ruining the original since the changes will be saved only when you decide to. As good as the non-destructive editing is the real-time Ďauditioní feature that lets you select and hear effects in real time while your tunes are being played. Finally you can save your most common use setting using the preset manager.
As you see, Yamaha didnít choose to include Nero 5.5 hazardously with its CRW-2200E-VK burner. Indeed Nero 5.5 remains, to date, the most renown and powerful burning software that even manage to provide music lovers with an exceptional audio support, worthy of the Yamahaís reputation.
NeroMix

Nero is in the move! Yamaha is the first OEM partner to provide the latest program from Ahead dubbed NeroMIX. This new software unveiled during the latest CEBIT is an all-in-one Audio CD recording tool. Featuring a cool skinnable interface (with a few good looking build in skins) the software lets you read audio files, convert audio to files, burn CD Audio or CD-Rom with MP3 files. The software lets you create your own CD audio or CD compilations: if you choose to burn CD-Audio the CD-Text support will ensure you can know the title of the song being played (if available on your player).
Burning a CD-Audio is quite simple: drag the MP3 tracks you want to burn in the list area and once youíre done push the record button! A gauge has been included in the software so you know how many minutes are used by the CDA compilation youíre about to burn (or how much megabytes are used when burning MP3 as data). Based on the Nero 5.5 engine the software can over burn CD and obviously takes in charge the Yamaha SafeBurn technology. This tiny audio tool lets you easily copy CD-Audio to CD-Audio through an efficient wizard but it also helps you convert your audio CD in MP3 or VQF so you can store up to ten hours of music on your music CD-Rom compilations. Thatís great because the tool is very efficient to rip CD Audio into MP3: not only itís one of the faster ripping tools but it retrieves audio track names over the internet and automatically adds them to the MP3 tags. MIDI fans will surely enjoy the burning MIDI feature that let them burn their MIDI tunes a CD-Audio that can be read everywhere.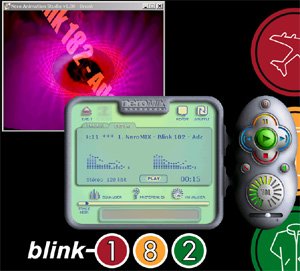 NeroMix (click to enlarge)
Using NeroMIX to play files is quite cool since it supports play lists: you can add files to be played directly through the software using the browse dialog box (in that case the software canít import files stored in subfolders) or using a classic drag & drop. To better manage your play lists, Ahead has included an external manager that lets you add, remove files. But it can also edit tags from the files that are in the queue. We have found a glitch in the play module of the software: if you have hundreds of files in the play list when the shuffle feature is turned on you have to wait several seconds before the next track is played. The build-in 20 bands equalizer helps you create the ambiance of your choice (predefined ambiances presets are included).
The play module offers traditional features like play, pause, stop, next, repeat, previous, etc. To not waste your precious screení space you can choose to switch the player in small mode. Like the Windows Media Player, WinAmp or Oozic, NeroMIX features a visualize window where 3D animations that respond to the beat of the music are shown: this is funny especially when you consider the huge amount of provided visualizations but itís far from being vital. Of course, Nero MIX is opened so you can add plug-ins to support growing industry standards. Finally NeroMIX can also be used to record audio from external devices that you plug to the line-in entry of your sound card.
InCD 2.0

If you want your burner to act just like a hard drive, InCD is for you! Once installed youíll be able to add files to a CD-RW through the Windows Explorer and InCD 2.0 will burn them by packets in the background using the UDF file system. Packet writing is a burning method that consists of burning small increments of data (by packets) onto a CD-RW disk. InCD 2.0 now incorporates a full Windows 2000 and NT support while its engine has been totally rewritten for better performance.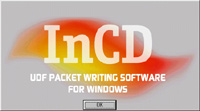 The installation of InCD 2.0 can be resumed like this: simply set it and forget it. Since the software automatically starts with Windows it really works transparently. The main advantage of InCD is that through applications like Word, Excel or so, you can save, delete, and rename files directly on a CD-RW!! This is neat since business users that need to store huge files on CD-RW wonít have to use complex burning program anymore.