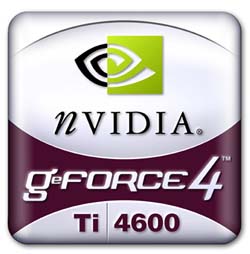 GeForce Ti 4600 GPU
Engraved in 0.15µ and still manufactured by TSMC, this brand new GeForce 4 GPU includes 63 million transistors against 57 million for the GeForce 3 Ti 500. This compares to the Pentium 4 Northwood's 55 million transistors. In terms of speed, the GeForce 4 Ti 4600 is clocked at 300 MHz for the GPU and 325 MHz for the DDR-SDRAM memory. The GPU is seconded by 128 MB of 2.8ns 128-bit DDR-SDRAM. The features of this new GPU are listed in the table below:
63

million transistors

Manufactured in TSMC's

.15

µ process

GPU clocked at

300

MHz

Memory clocked at

650

MHz

128

MB frame buffer by default

AGP 2x/4x

nfiniteFX II engine

Accuview Anti Aliasing

Light Speed Memory Architecture II

nView
The theoretical performances of the chip are as follow:
Vertices per Second:

136

Million

Fill Rate:

4.8

Billion AA Samples/Sec

Fill Rate:

1200

Mpixels/Sec

Operations per Second:

1.23

Trillion

Memory Bandwidth:

10.6

GB/Sec.

Maximum Memory:

128

MB
The GeForce 4 Ti 4600 GPU features only one pixel shader like the GeForce 3 but also includes a supplementary vertex shader for a total of two vertex shaders as well as many new features that we'll see in detail below. In order to further improve performance, NVIDIA added many new optimizations, fine tuning and tweaking to the GeForce 4 in order to boost treatment times for an overall better performance thus not requiring ground breaking new technology. This new approach was already present in the GeForce 3.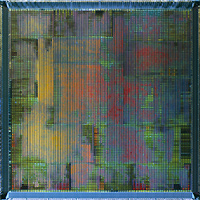 GeForce 4 Ti 4600 GPU Die
GeForce 4 Technology Explanation
LightSpeed Memory Architecture II
The new enhanced Light Speed Memory Architecture II is aimed to optimize the memory's bandwidth for a better and more realistic gaming experience. This new architecture includes six unique technologies responding to the sweet names of 'Crossbar Memory Controller', 'Quad Cache', 'Z-Occlusion', 'Lossless Z Compression', 'Auto Pre-Charge' and 'Fast Z-Clear'.
CrossBar Memory Controller
Just like the GeForce 3, the GeForce 4 uses a new memory controller called CrossBar whose main task is to widely optimize the fillrate of the chip by avoiding bit wasting, thus reducing latency times. Traditionally a GPU uses a 256-bit memory controller that can transfer data only in 256-bit. So if a triangle is only one pixel in size it requires a memory access of 32 bytes when only 8 bytes are in fact required: more than 75% of the memory bandwidth is wasted with this process! That's why NVIDIA intelligently solved the problem by implementing the new CrossBar controller. Unlike yesterday's GPU, the CrossBar controller has four independent wide memory sub-controllers that can treat 64 bit blocks per clock for a global total of 256 bit (it can also group data to treat them entirely in 256 bit). This new memory controller is the key for better memory management in order to answer today's game developers' needs: complexity of 3D scenes (the number of triangles per frame has widely increased in recent games). Comparing to a traditional memory controller, the CrossBar cuts the average latency down to 25%. That way any 3D applications can take benefit of this marvel of technology. According to NVIDIA, the CrossBar controller can speed up memory access up to four times. It's obvious that data that are about to be written or read make only 64 bits, but hopefully this situation is far from being an everyday occurrence. The difference between GeForce 3 and GeForce 4 Crossbar Memory Controllers is the algorithm they used. For the GeForce 4 the load balancing algorithms of the Crossbar Memory Controller have been streamlined for a more efficient use of the memory between the 4 partitions.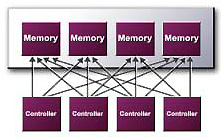 GeForce 4 Ti 4600 CrossBar Memory Controller
Quad Cache
The Quad Cache is a brand new cache memory sub-system that regroups four distinct memory caches. Each of the four memory caches is dedicated to achieve a specific task: one is in charge of the primitives, one for the vertex, one for the texture, and one for the pixel. NVIDIA doesn't disclose the size of each cache memory.
Once data has been processed by the GPU, a small quantity of data or the result of a calculation is stored in each cache with the enormous advantage to be instantly available for the GPU. Even if the GPU needs some of the information calculated before in order to render the next scene, it'll retrieve this information from the quad cache rather than searching the whole memory to find back this data. We can detail the use of the Quad Cache like this:
Auto Pre-Charge
Typically the information that is stored in a memory, no matter what kind of memory is being used, is always identically organized in banks. The problem of this architecture appears if the GPU needs to access information contained in another bank other than the one that is currently opened. To do so, the memory should close the bank actually used and then pre-charge and enable the new bank to give the GPU the information it needs. It results in a dramatic loss of performance since all the operations described above take ten clock cycles to complete while the GPU does nothing except wait.
GeForce 4's Auto Pre-Charge feature is able to automatically pre-charge a memory bank that isn't currently used according to a certain prediction algorithm in order to boost performance. Sure the activation phase is still required but it will take only 2 or 3 clock cycles.
Fast Z-Clear
After each rendering of an image from a 3D scene a conventional GPU should erase the Z-Buffer. Usually this is done by writing a value of 0 for each pixel in the frame buffer. Fast Z-Clear sets a flag corresponding to a specific area of the Z-Buffer and fills the flag with zero rather than filling the whole frame buffer. This technology has nothing new and is already present in ATI Radeon GPU. It is supposed to speed up displaying times by up to 10%.