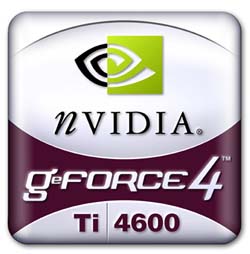 nView
The GeForce 4 Ti 4600 is the first high end GPU from NVIDIA to support multi display configurations. nView is an extension of the TwinView technology that was available only with GeForce 2 MX cards and provides much greater flexibility. nView is aimed to compete with Matrox's famous DualHead technology so users can connect two monitors (CRT, LCD or TV) on a single graphics card. A wide variety of display combinations is available.
To do so, GeForce 4 cards host two separate 350MHz Ramdac along with dual channel TDMS transmitters for dual CRT or flat panel monitors. nView outputs signals on CRT at 2048x1536 resolutions at 75Hz and on DFP at 1280*1024. The TV output is still done by a Silicon Image/Conexant chip.
The multi display feature is controlled on the software side by the excellent Detonator drivers. A wizard is available to help users configure their dual screen configuration through eleven simple steps. In a dual monitor environment you can choose the clone mode (the contents of the first screen are replicated on the second) or the horizontal/vertical extended mode (your desktop is displayed across both monitors). Video DVD can be played in windowed mode on the first screen and output in full screen on the second monitor. Other neat features are available: you can enable the zoom mode to see on the second screen a zoom of the image displayed by the first screen. NVIDIA has also developed a small utility that automatically repositions dialog boxes and context menus correctly so they can be viewed even if they are between both screens. To avoid these problems nView offers three solutions: the dialog box is repositioned on display number 2, the dialog box is repositioned to application's display or the dialog box is repositioned to the mouse cursor.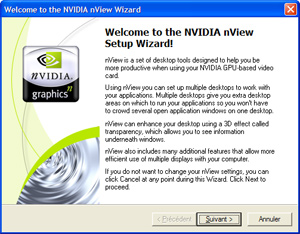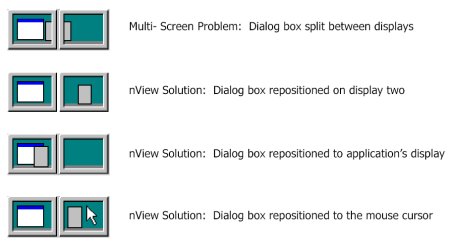 NVIDIA nView Wizard and nView Solutions (click to enlarge)
Detonator XP Drivers
During our tests, we used the GeForce 4 Ti 4600 with the latest drivers 28.32 available from NVIDIA. NVIDIA Detonator drivers are regularly certified by the Microsoft Windows Hardware Quality Lab ensuring a high level of stability and compatibility. As usual with NVIDIA the Detonator drivers are simply outstanding and offer tons of well thought settings you can play around with. It has always been a pleasure to use NVIDIA Detonator drivers: perfectly integrated with Windows they offer a comprehensive and clear way to tweak the functions of GeForce cards through well organized tabs.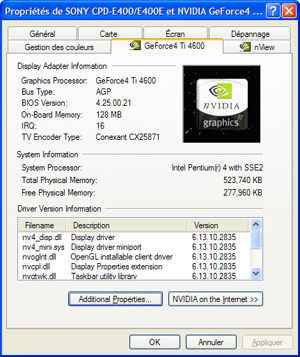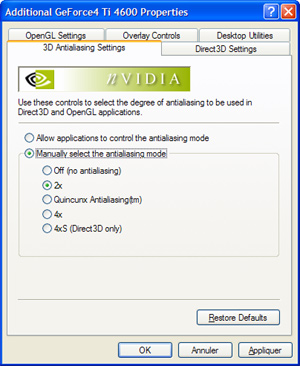 Detonator XP (click to enlarge)
Among the usual Direct3D & OpenGL settings new features have appeared with the release 28.32. Linux users have used virtual desktops for years: the interest of a virtual desktop is that you can remove the clutter from a single desktop by opening applications in different virtual desktops. NVIDIA has now included a 'Desktop Manager' into its Detonator XP drivers that enables you to create and use up to 32 different desktops. Each desktop can be customized: you can change its name and select a personalized background. Totally integrated in the Windows Explorer, switching from a desktop to another is done in a snap using a hotkey or the QuickTweak NVIDIA icon displayed in the tray notification area of Windows. nView extensions appear in almost each Windows contextual menus giving you total access to the various nview settings so you can send the current window to an other desktop, maximize the current window to desktop, make the window transparent or always on top, make the window visible on all desktops, etc. You can even configure nView to open a HTML link into new Internet Explorer windows on the second monitor.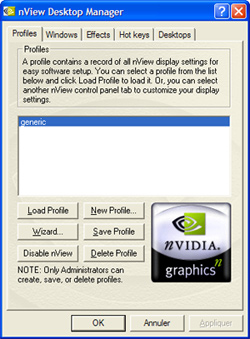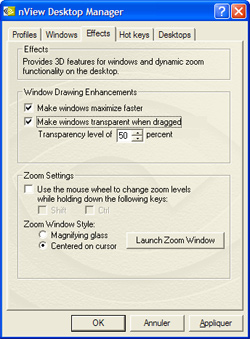 nView Desktop Manager (click to enlarge)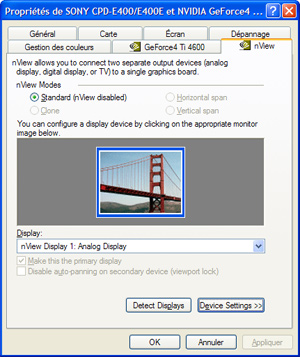 nView MultiMonitor Panel (click to enlarge)
The desktop manager offers various settings: you can assign shortcut keys to perform nView actions, you can zoom on some portions of your desktop, it's possible to make windows transparent when you drag them and a setting accelerates the maximization of your windows, etc. My favourite nView feature is the nifty transparent function that helps you see what's under the current program window without closing it. If the desktop manager is a great driver enhancement I found it consumes an incredible amount of system resources.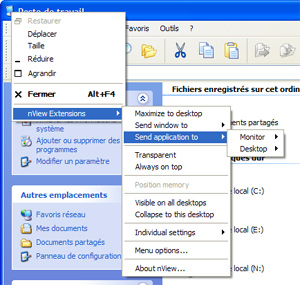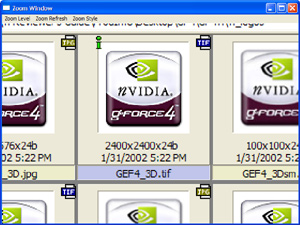 nView Integration with Windows XP and nView Zoom Window (click to enlarge)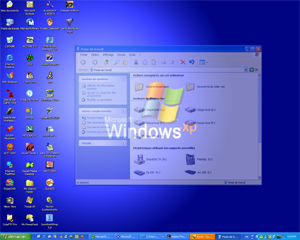 nView Transparent Windows (click to enlarge)
Changing the level of antialiasing can be easily done through the drivers. You can also fine tweak the color displayed on your screen by adjusting the gamma, contrast and luminosity values. When using nView a feature lets you accurately move the image shown on your screen by simply moving your mouse cursor (or clicking arrow buttons). That way the image you see is always perfectly centered.