DirectX
ActiveMac
Downloads
Forums
Interviews
News
MS Games & Hardware
Reviews
Support Center
Windows 2000
Windows Me
Windows Server 2003
Windows Vista
Windows XP



News Centers
Windows/Microsoft
DVD
Apple/Mac
Xbox
News Search



ActiveXBox
Xbox News
Box Shots
Inside The Xbox
Released Titles
Announced Titles
Screenshots/Videos
History Of The Xbox
Links
Forum
FAQ



Windows XP
Introduction
System Requirements
Home Features
Pro Features
Upgrade Checklists
History
FAQ
Links
TopTechTips



FAQ's
Windows Vista
Windows 98/98 SE
Windows 2000
Windows Me
Windows Server 2002
Windows "Whistler" XP
Windows CE
Internet Explorer 6
Internet Explorer 5
Xbox
Xbox 360
DirectX
DVD's



TopTechTips
Registry Tips
Windows 95/98
Windows 2000
Internet Explorer 5
Program Tips
Easter Eggs
Hardware
DVD



ActiveDVD
DVD News
DVD Forum
Glossary
Tips
Articles
Reviews
News Archive
Links
Drivers



Latest Reviews
Xbox/Games
Fallout 3

Applications
Windows Server 2008 R2
Windows 7

Hardware
iPod Touch 32GB



Latest Interviews
Steve Ballmer
Jim Allchin



Site News/Info
About This Site
Affiliates
Contact Us
Default Home Page
Link To Us
Links

News Archive
Site Search
Awards



Credits
©1997-2012, Active Network, Inc. All Rights Reserved.
Please click here for full terms of use and restrictions or read our Light Tower Privacy Statement.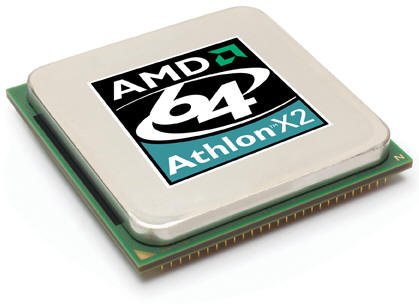 Product: AMD Athlon 64 X2 6000+ Processor
Company: AMD
Website: http://www.amd.com
Estimated Street Price: £105/$200
Review By: Byron Hinson
Introduction
AMD has been the king of 64-bit computing for some time now and no matter what Intel has attempted to throw in front of them, AMD have hurdled over it. With the release of the new AMD AM2 Motherboards and processors AMD are now not only pushing the envelope on the 64-bit and Dual Core front, they are reducing the amount of energy and power that the processors take up, thus producing quieter and cooler PC's. The big question is, has the wait for the new AM2 processors and motherboards been worth it? Do we see any benefit from using DDR2 memory compared to the old DDR2 on the previous Socket 939 processors, read on and we'll find out. This review will also concentrate on the future impact the processor will have when used with Windows Vista, we'll be putting it through its paces on both the 32-bit and 64-bit versions of the new operating system to see what bearing they have on this chip.
AMD's AM2 parts share the following common features:
Manufactured in Fab 30 in Dresden, Germany on a 90 nm SOI process
940-pin micro-PGA AM2 packaging
DDR2 memory controller supporting DDR2-667 for all chips and DDR2-800 for the X2 and FX
Single HyperTransport channel for up to 8 GB/sec combined I/O
Reduced power consumption, including new Energy Efficient models (details below)
AMD Virtualization support (hardware virtualization on-chip)
Redesigned 4-bolt heatsink mount for better stability
Keyed ZIF socket to ensure only correct AM2 processor can be installed
The initial AM2 line-up consists of the following:
Athlon 64 FX processor: FX-62
Athlon 64 X2 processors: 6000+, 5000+, 4800+, 4600+, 4400+, 4200+, 4000+, and 3800+
Athlon 64 processors: 3800+, 3500+
Sempron processors: 3600+, 3500+, 3400+, 3200+, and 3000+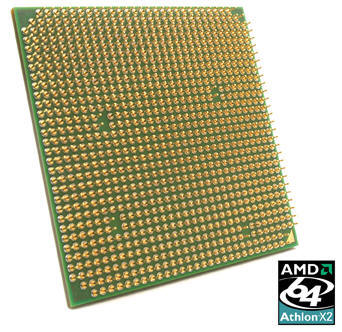 Can you notice the 1 pin difference?
The industry's first true on-die dual-core x86 processor
Inter-core communication at CPU speed
Provides dual-core system capability in single-core system configurations
The AMD64 core provides leading-edge performance for both 32-bit and 64-bit applications
AMD64 technology provides full-speed support for x86 code base for uncompromising performance
40-bit physical addresses, 48-bit virtual addresses
Sixteen 64-bit integer registers
Sixteen 128-bit SSE/SSE2/SSE3 registers
AMD Digital Media XPress™ provides support for SSE, SSE2, SSE3 and MMX instructions
A high-bandwidth, low-latency integrated DDR memory controller
Supports PC-3200 (DDR-400), PC-2700 (DDR-333), PC-2100 (DDR-266) or PC-1600 (DDR-200) SDRAM unbuffered DIMMs (socket 939); Supports PC2-6400 (DDR2-800), PC2-5300 (DDR2-667), PC2-4200 (DDR2-533) or PC2-3200 (DDR2-400) SDRAM unbuffered DIMMs (socket AM2)
Support for 64-bit DDR (socket 939) or DDR2 (socket AM2) SDRAM memory
Up to 6.4GB/s (socket 939) or 12.8GB/s (socket AM2) memory bandwidth
HyperTransport™ technology for high speed I/O communication
One 16-bit link up to 2000MHz
Up to 8GB/s HyperTransport™ I/O bandwidth
Up to 14.4GB/s (socket 939) or 20.8GB/s (socket AM2) total delivered processor-to-system bandwidth (HyperTransport bus + memory bus)
Large high performance on-chip cache
64KB Level 1 instruction cache per core
64KB Level 1 data cache per core
Up to 1MB Level 2 cache per core
Cool'n'Quiet™ technology for quieter operation and reduced power requirements
Recognized in 2005 by the US Environmental Protection Agency for the advancement of energy efficient computer technology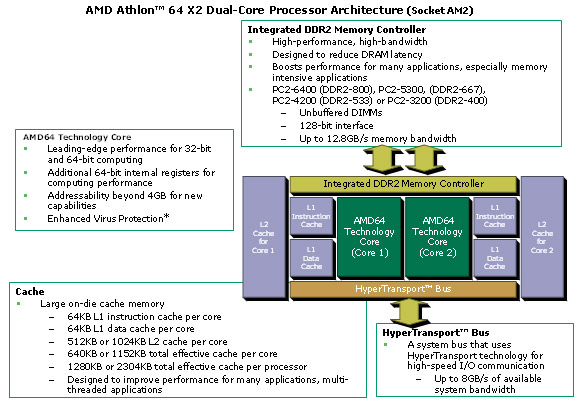 | | | | | |
| --- | --- | --- | --- | --- |
| AMD Athlon™ 64 X2 Dual-Core | 6000+ | 3000Mhz | Socket AM2 | 125W |
| AMD Athlon™ 64 X2 Dual-Core | 5600+ | 2800Mhz | Socket AM2 | 89W |
| AMD Athlon™ 64 X2 Dual-Core | 5400+ | 2800Mhz | Socket AM2 | 89W |
| AMD Athlon™ 64 X2 Dual-Core | 5200+ | 2600Mhz | Socket AM2 | 89W |
| AMD Athlon™ 64 X2 Dual-Core | 5000+ | 2600Mhz | Socket AM2 | 89W |
| AMD Athlon™ 64 X2 Dual-Core | 4800+ | 2400Mhz | Socket AM2 | 89W |
| AMD Athlon™ 64 X2 Dual-Core | 4800+ | 2400Mhz | Socket AM2 | 65W |
| AMD Athlon™ 64 X2 Dual-Core | 4800+ | 2400Mhz | Socket 939 | 110W |
| AMD Athlon™ 64 X2 Dual-Core | 4600+ | 2400Mhz | Socket 939 | 110W |
| AMD Athlon™ 64 X2 Dual-Core | 4600+ | 2400Mhz | Socket AM2 | 65W |
| AMD Athlon™ 64 X2 Dual-Core | 4600+ | 2400Mhz | Socket 939 | 110W |
| AMD Athlon™ 64 X2 Dual-Core | 4600+ | 2400Mhz | Socket AM2 | 89W |
| AMD Athlon™ 64 X2 Dual-Core | 4400+ | 2200Mhz | Socket AM2 | 89W |
| AMD Athlon™ 64 X2 Dual-Core | 4400+ | 2200Mhz | Socket 939 | 110W |
| AMD Athlon™ 64 X2 Dual-Core | 4400+ | 2200Mhz | Socket AM2 | 65W |
| AMD Athlon™ 64 X2 Dual-Core | 4400+ | 2200Mhz | Socket 939 | 89W |
| AMD Athlon™ 64 X2 Dual-Core | 4200+ | 2200Mhz | Socket 939 | 89W |
| AMD Athlon™ 64 X2 Dual-Core | 4200+ | 2200Mhz | Socket AM2 | 89W |
| AMD Athlon™ 64 X2 Dual-Core | 4200+ | 2200Mhz | Socket AM2 | 65W |
| AMD Athlon™ 64 X2 Dual-Core | 4200+ | 2200Mhz | Socket 939 | 89W |
| AMD Athlon™ 64 X2 Dual-Core | 4000+ | 2000Mhz | Socket AM2 | 89W |
| AMD Athlon™ 64 X2 Dual-Core | 4000+ | 2000Mhz | Socket AM2 | 65W |