DirectX
ActiveMac
Downloads
Forums
Interviews
News
MS Games & Hardware
Reviews
Support Center
Windows 2000
Windows Me
Windows Server 2003
Windows Vista
Windows XP



News Centers
Windows/Microsoft
DVD
Apple/Mac
Xbox
News Search



ActiveXBox
Xbox News
Box Shots
Inside The Xbox
Released Titles
Announced Titles
Screenshots/Videos
History Of The Xbox
Links
Forum
FAQ



Windows XP
Introduction
System Requirements
Home Features
Pro Features
Upgrade Checklists
History
FAQ
Links
TopTechTips



FAQ's
Windows Vista
Windows 98/98 SE
Windows 2000
Windows Me
Windows Server 2002
Windows "Whistler" XP
Windows CE
Internet Explorer 6
Internet Explorer 5
Xbox
Xbox 360
DirectX
DVD's



TopTechTips
Registry Tips
Windows 95/98
Windows 2000
Internet Explorer 5
Program Tips
Easter Eggs
Hardware
DVD



ActiveDVD
DVD News
DVD Forum
Glossary
Tips
Articles
Reviews
News Archive
Links
Drivers



Latest Reviews
Xbox/Games
Fallout 3

Applications
Windows Server 2008 R2
Windows 7

Hardware
iPod Touch 32GB



Latest Interviews
Steve Ballmer
Jim Allchin



Site News/Info
About This Site
Affiliates
Contact Us
Default Home Page
Link To Us
Links

News Archive
Site Search
Awards



Credits
©1997-2012, Active Network, Inc. All Rights Reserved.
Please click here for full terms of use and restrictions or read our Light Tower Privacy Statement.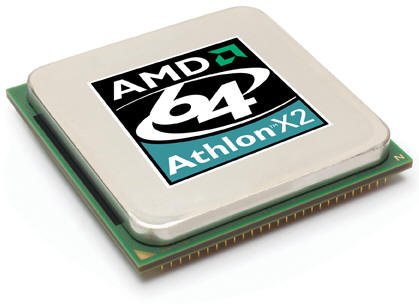 Product: AMD Athlon 64 X2 6000+ Processor
Company: AMD
Website: http://www.amd.com
Estimated Street Price: £105/$200
Review By: Byron Hinson
Installation
Installation of the AMD Athlon 64 X2 6000+ processor was very easy to do, the processor itself was already set on the motherboard when I started, all that was left to me was to install a new heatsink, place the memory on the board and then connect up the hard drive and the DVD-RW drive. This took a short amount of time thanks to the excellent Antec case we were using that gave us a good amount of space to work with. Installation was easy, we installed Windows Vista, this was via MSDN so it was all just one quick install, the installation itself was very fast indeed, I was stunned by how quickly Windows Vista installed. Windows straight away detected that we were using a Dual-Core processor (checked via Task Manager), but we went ahead and installed AMD's latest driver to make sure everything would run as well as possible.
We also made sure we had the latest motherboard update so that the processor was detected and run in the way it was designed to.
For most of our benchmarks, unless noted, we are not using the cool and quiet software that AMD provide. This was simply because it can sometimes hamper some of the hard core tests that we run, but don't get us wrong, its well worth installing for general end-users.
Here is a full run down of the latest AMD Athlon 64 AM 2 based processorts.
| | AMD Athlon 64 X2 6000+ | AMD Athlon 64 FX-62 | AMD Athlon 64 X2 5600+ |
| --- | --- | --- | --- |
| L1 cache per core | 64KiB data, 64KiB instruction | 64KiB data, 64KiB instruction | 64KiB data, 64KiB instruction |
| Clock frequency and Socket | 3000MHz, Socket AM2 | 2800MHz, Socket AM2 | 2800MHz, Socket AM2 |
| L2 cache per core | 1MiB | 1MiB | 1MiB |
| System Link | HyperTransport, 1 link, 2000MTs/sec, 1000MHz | HyperTransport, 1 link, 2000MTs/sec, 1000MHz | HyperTransport, 1 link, 2000MTs/sec, 1000MHz |
| Memory Controller | Dual-channel, DDR2-800, 128-bit | Dual-channel, DDR2-800, 128-bit | Dual-channel, DDR2-800, 128-bit |
| Core codename/stepping | Windsor, F3 | Windsor, F2 | Windsor, F3 |
| Process technology and fab | 90nm SOI, Fab30/36 Dresden | 90nm SOI, Fab30 Dresden | 90nm SOI, Fab30/36 Dresden |
| Transistor count and die size | 227.4M, 230mm², 1MiB per core | 227.4M, 230mm², 1MiB per core | 227.4M, 230mm², 1MiB per core |
| TDPmax, ICCmax, Voltage range | 125W, 90A, 1.35V-1.40V | 125W, 90A, 1.40V | 89W, 65A, 1.35V |