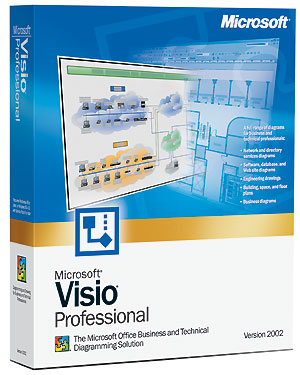 Advanced Features
Now that we have seen how Microsoft improved the ease of use of their diagramming solution letís see what are the new advanced features dedicated to advanced users. First, project planning features have been somewhat enhanced for a better overall productivity. Microsoft Visio 2002 is now compatible with Microsoft Project 2000. So you can import dates and tasks from Project to create Visio timelines and Gantt charts before publishing or displaying them. During the data importing process in Gantt diagrams, new progressing bars will appear letting you know minute after minute the advancement of the transfer. Itís now possible to export dates and milestones in a timeline to create a Gantt chart, and vice versa. Tasks can be modified Ďin situí so users can bring changes to a task without the need to retype it. Through the multiple interchangeable organization chart fields users can display an unlimited number of custom properties on organization charts. Users can change which properties are displayed after a diagram has been generated.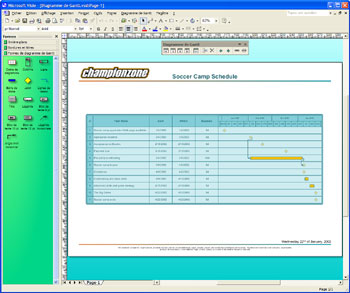 Gantt Diagram (click to enlarge)
Architects and foremen will be showered with features designed for their specific jobs. Itís no surprise that Visio 2002 is used by those occupations since it helps them realize maps of condos, buildings, etc. Indeed using software to draw a map is definitely easier than taking the stencil and sitting behind the drawing table. Plus the result is always clear and accurate. Curved walls are now supported: any flat wall can be transformed into a curved one (and itís possible to change the curvature of curbed wall shapes). Visio now comes with an automatic wall intersection cleanup tool: that way Visio automatically adjusts walls intersections reducing the amount of cleanup required in creating building plans. One cool feature is that you can populate floor plans using data stored in Active Directory, Exchange, Excel spreadsheets, Access databases or other ODBC-compliant data-sources thanks to the floor plan data import feature. Thatís great to avoid spending hours of your precious time just to position furniture around the map. Colors can be automatically assigned to shapes, such as offices in a floor plan, based on custom property values using the Floor plan color by value. Visio 2002ís Autodesk AutoCAD compatibility has been enhanced: you can now see all model space views supported by AutoCAD paper space. You can also add individual CAD entities by converting them into Visio shapes. Additional shapes representing office cubicles have been added. Office layout shapes can be resized using new dimension labels or by specifying custom property values. Shapes now offer a more intuitive positioning mechanism: doors and windows automatically fall into place when dropped on a wall shape.
Microsoft Visio 2002 simplifies the way you work with information coming from engineering components and processes and offers options allowing a flexible tagging. The process engineering solution now displays information about its components in the custom properties window, thus eliminating the need for an external database. Itís now possible to manually tag process engineering components. Plus you can now selectively retag them and tags can also be generated based on component custom property data. Plumbers and other building engineers will be glad to learn Visio 2002 brings a better management of pipe layout with support for junctions as well as splitting and healing of pipe segments by valves and other process engineering components.
Programming engineers have always been able to perform reverse engineering using Visio to diagram Visual Basic 6 and Visual C++ 6 projects. Microsoft Visio 2002 will provide users with full support for Visual Basic 7, Visual C++ 7 and Visual C# in the near future through a service release when Visual Studio .net becomes available. Microsoft Visio 2002 now offers a greater interoperability with Microsoft development tools and a better handling of those ones. That means users will experience a better productivity to create database and software schemas. The software and database diagramming interface has been improved: so you can quickly add new fields consecutively to database tables or software classes. Dialog boxes are now resizable so you can exactly present the desired amount of information. Anchored windows (result, code, database properties, tables & views) free your screenís workspace for better access to models.
Web site maps and associated reports offer more shapes along with enhanced features to trace and create reports so computing diagrams are easier to create and more complete. Microsoft has thought about WebMasters due to the fact Visio 2002 offers the possibility to index and cartography existing websites in a very detailed way. The web diagramming feature can identify broken links in order to help webmasters to identify and solve linking problems. Itís now possible to generate a complete report of all the links in a Website (including the broken ones). The reporting tool can identify changes in a Web site since it was last diagrammed. Microsoft Visio 2002 brings its lot of enhancements, so users now have increased control over discovery and layout. A new list window enables easy navigation by displaying web site elements in a tree view.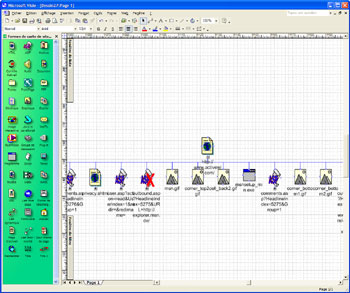 ActiveWin.Com Web Map (click to enlarge)
A real headache for developers is to build Data Conceptual Models of their database: itís complex and takes an incredible amount of precious time that can be better used to complete the database work. Visio 2002 can automatically analysz your Microsoft Access databases, find the resources, the tables, the data and build a diagram of it in a few mouse clicks: can you dream of a better diagramming tool? Databasesí modelling is more complete since Microsoft Visio 2002 now offers SQL Server 2000 support in addition to other databases. Users can generate a complete diagram of databases using the reverse engineering wizard: that way you donít have to drag tables from the tablesí window after reverse engineering a database.