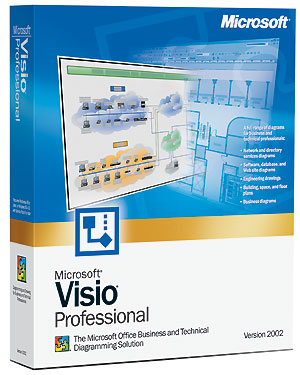 Easier To Use
Sharing diagrams has always been a nightmare since users were required to have the latest version of Visio to view them. Sure there was the save as web option but the saved diagram wasn't as complete as the original. Thankfully Microsoft has improved the save as web page wizard so diagrams can now include custom properties viewer, built-in navigation and enhanced hyperlink positioning (multiple hyperlinks can now be displayed for a single shape). Viewing a Visio diagram from Internet Explorer 5.5/6.0 is simply a pleasure, thanks to the auto-resize feature that adapts the size of the diagram to the current size of the Internet Explorer window.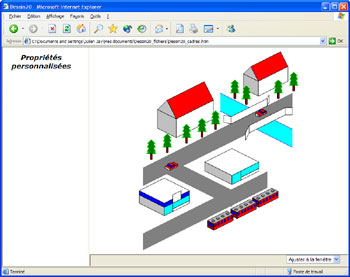 Visio 2002 Diagram Viewed in Internet Explorer 6.0 (click to enlarge)
Visio 2002 is also more tightly integrated with Office XP since you can perform in-place editing of Visio diagrams directly from any Office applications. So after you've inserted a Visio 2002 diagram into Word you can modify the diagram directly within Word by a simple double click that gives you access to the Visio tools in order to do your updates and revisions. To make things better, Visio 2002 features the Autocorrect feature that'll underline every typing mistake and suggest corrections in a contextual menu. Keyboard shortcuts are now familiar with the rest of the Office family while Visio 2002 now includes the acclaimed Office spell checker. Finally you can send your diagrams through email using the toolbar button of Visio.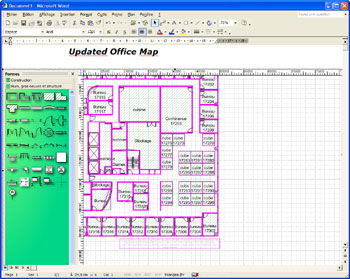 In Place Visio 2002 Professional Diagram Editing from Microsoft Word 2002 (click to enlarge)
Visio 2002 comes with a 'Getting Started Tour' that will provide novice users with everything they need to start using the software that is to say: an introduction to Visio, a sample diagram library and basic steps to create their first diagrams. Even if Visio 2002 purposely doesn't come with the Microsoft Office animated help agent, (you know the infamous character that jumps around your screen and says things you already know) it comes, like other Office XP applications, with the Answer Wizard help. Users can directly type questions using formal language in the Ask a question box located on the right extremity of the menu bar. The wizard will reply by showing a list of related help topics including links and updated topics on the web.
Just like Microsoft Word 2002, Microsoft Visio 2002 now comes with an autosave feature so your documents are automatically saved silently in the background while you work. If for whatever reason the computer crashes users can choose to save their current files at the time the crash occurs. Once the application has recovered from the crash the recovered file is opened and users have the option of discarding the file, saving it over the original or saving it as a separate file. As a result your diagram is not lost! When Visio 2002 hangs, application errors can be reported to Microsoft through the internet for added assurance and diagnostic help. Microsoft Visio 2002 is provided with the application and document recovery applet helping users to safely shut down a frozen application while initiating recovery of the document.
The synchronization of documents has been enhanced: the changes you add to text or custom properties in synchronized copies of a diagram have a smarter behavior allowing you to change the layout of duplicated entities and avoid untimely removal.