DirectX
ActiveMac
Downloads
Forums
Interviews
News
MS Games & Hardware
Reviews
Support Center
Windows 2000
Windows Me
Windows Server 2003
Windows Vista
Windows XP



News Centers
Windows/Microsoft
DVD
Apple/Mac
Xbox
News Search



ActiveXBox
Xbox News
Box Shots
Inside The Xbox
Released Titles
Announced Titles
Screenshots/Videos
History Of The Xbox
Links
Forum
FAQ



Windows XP
Introduction
System Requirements
Home Features
Pro Features
Upgrade Checklists
History
FAQ
Links
TopTechTips



FAQ's
Windows Vista
Windows 98/98 SE
Windows 2000
Windows Me
Windows Server 2002
Windows "Whistler" XP
Windows CE
Internet Explorer 6
Internet Explorer 5
Xbox
Xbox 360
DirectX
DVD's



TopTechTips
Registry Tips
Windows 95/98
Windows 2000
Internet Explorer 5
Program Tips
Easter Eggs
Hardware
DVD



ActiveDVD
DVD News
DVD Forum
Glossary
Tips
Articles
Reviews
News Archive
Links
Drivers



Latest Reviews
Xbox/Games
Fallout 3

Applications
Windows Server 2008 R2
Windows 7

Hardware
iPod Touch 32GB



Latest Interviews
Steve Ballmer
Jim Allchin



Site News/Info
About This Site
Affiliates
Contact Us
Default Home Page
Link To Us
Links

News Archive
Site Search
Awards



Credits
©1997-2012, Active Network, Inc. All Rights Reserved.
Please click here for full terms of use and restrictions or read our Light Tower Privacy Statement.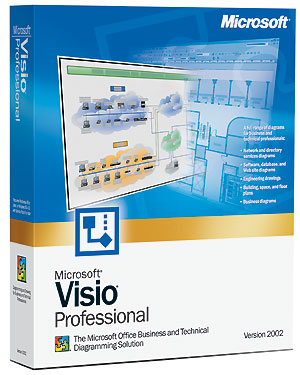 Network Diagramming
Microsoft Visio 2002 helps every network manager to diagram their network efficiently. Users can keep their network diagrams up to date by working with the latest networking technologies shapes including network equipment and directory services structures. Indeed Microsoft Visio 2002 comes with probably the most complete library of network shapes: exactly more than 25,000 network hardware pictures that represent a lot of various stuff such as Ethernet hub, switches, VPN (virtual private network), Firewall, flat LCD monitors, etc. are provided in this release of the software. Compared to Visio Enterprise 2000, Visio 2002 includes more than 3000 new shapes.
Microsoft Visio 2002 perfectly supports the various network features introduced in Microsoft Windows 2000 so you can design your Microsoft Active Directory based directories such as Microsoft Exchange Server to plan and manage directory-enabled networks more efficiently. Using the Active Directory model you can also represent a migration of your existing directory service to Active Directory. The larger your network, the longer the ActiveDirectory drawing process. Thankfully large directories can be imported more quickly and documented in diagrams of smaller file size due to the optional delay in property import. When using the ActiveDirectory solution, users can view the contents of the configuration container (including sites, subnets and more) through a new tab on the browse directory dialog. When dragging and dropping shapes from stencils it's now possible to export your drawings under the LDIF format via the Export changes function. Then you can import them into ActiveDirectory with LDIFDE utility. Note that Novell Directory Services (NDS), or other Lightweight Directory Access Protocol (LDAP) are also supported as well as Netscape Directory Server. This new directory support offers a graphic & hierarchical approach to organize, schematize and communicate your directory structures.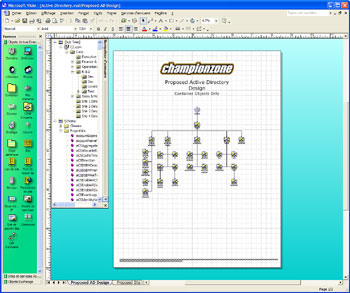 Active Directory Map (click to enlarge)
Microsoft Visio 2002 includes shapes for Microsoft Exchange Server 2000. With those new shapes that represent Exchange objects in ActiveDirectory you can define and communicate maps and configurations of Microsoft Exchange 2000. Finally Microsoft has thought to ease your life by including the exclusive AutoDiscovery technology that scans your network and recognizes the most current equipments such as Hubs, routers, switches, etc. Then a comprehensive database of layer 2 (data link), layer 3 (IP Network) and frame relay network information will be automatically built. AutoLayout for its part instantly turns discovered network into a nice map of your network: can you ever dream better? For big networks users can hopefully schedule the operation to be done at night by example. We tested this feature on a middle range network of 25 computers running Windows 2000 Server and everything was correctly recognized and mapped from printers to computers! You can really trust on the AutoDiscovery technology. WMI network can now be discovered by Visio 2002: property information avaible through WMI (Windows Management Instrumentation) is now added to workstation and server devices documented with the AutoDiscovery and layout solution. Notice that another new feature can turn discovered networks into professional documentation using one of the 20 new reports templates. Network administrators will also find a library of more than twenty network diagram templates integrating with the AutoDiscovery and layout solution so they can accomplish specific network documentation tasks.
Interoperability & Programmability
Microsoft Visio 2002 continues to offer an unprecedented level of flexibility brought by its Visual Basic for Applications 6.3 support: every IT specialist or developer can, that way, adapt the software to the need of their corporate using the fastest and easiest, yet powerful, programming language available today. This new version of Visio supports digital signatures for VBA projects: Microsoft Authenticode technology allows developers to digitally sign VBA projects in their solutions. To do so the developer should use a digital certificate that identifies him as a trusted source. That way security is enhanced: by example, if ever a signed project has been altered a user can choose to disable every macro in the current document. Concerning VBA, administrators and users have the option of removing Visual Basic for Applications from Office installations on a user, group, or organization-wide basis. Microsoft Visio 2002 now supports the object model with over 90 new automation properties and methods providing access to more Visio diagram data. That means you can use the powerful Visio drawing engine and its rich features transparently from specific enterprise software. But you can also enhance Visio programmatically using COM add-ins to extend features within Visio 2002.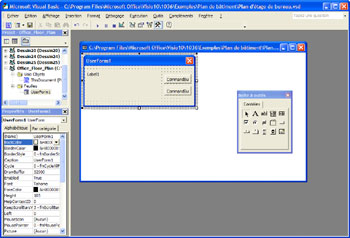 Microsoft Visio 2002 Professional Visual Basic for Applications Editor (click to enlarge)