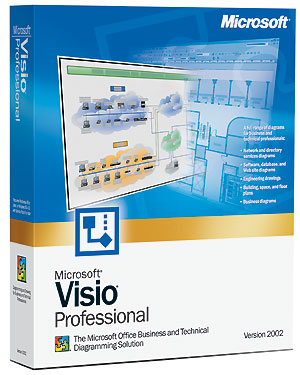 Getting Started
The first time you'll start Visio 2002 the software will build its diagram list before prompting you to activate it. Yes you've read correctly, Microsoft Visio 2002 comes with the controversial Microsoft Product Activation feature. Anyway the process is painless and in a few seconds your copy of Visio 2002 is ready to be used. Notice that until the software is activated, you'll be able to launch it only a few times before it switches in restricted mode (where you will only be able to save and print files). Once the software is activated the changes brought by Visio 2002 will jump to your eyes: the software now totally looks like Office XP and features the beloved and useful Office Task Pane. Since the software shares a real common interface with Office XP it's easier than ever to learn to use it. Visio 2002 now displays in the left part of its window the 'Choose Drawing Type' pane where you can view and choose a new type of drawing template to start creating your diagram; there are several categories available: database, map, flux diagrams, web diagrams, software, network, project planning, organization chart, etc. Next to the 'Choose Drawing Type' pane the Office pane is displayed with options to open a recent drawing, create a new one and choose a model. After a category has been selected Visio 2002 displays thumbnails of the various built-in templates a user can work with. When you highlight a thumbnail a tooltip will appear describing the exact purpose of this drawing.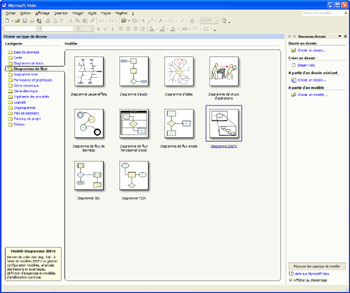 Microsoft Visio 2002 Welcome Screen (click to enlarge)
Once you have chosen a diagram type you'll discover a stencil pane that contains all the shapes you need for a specific chart (for example if you select the map diagram, the stencil toolbar will display roads, bridges and cars shapes only). Navigating in this pane is easy since the shapes are regrouped in various categories: to view the shapes contained in each category you just have to click the desired category header so the software will show its content. You can customize the view of the shapes' pane and switch from the default "Icons & Names" view to the "Icons Only", "Names Only" or "Icons & details" view. Since Visio 2002 offers a bunch of shapes Microsoft has included a search utility helping you find a specific shape by typing its name. One exclusive new feature is that you can retrieve new shapes from the Web so you don't have to wait for the next version of Visio to get the shapes you might need. And this is not a promise, it's a fact! A few weeks ago Microsoft added more than 270 new world map shapes for Visio 2002, including maps for France, Germany and Japan. Microsoft Visio 2002 users can retrieve these new map shapes for free by simply typing 'World Maps' in the find shape option. Obviously the map shapes come from the Microsoft Geographic Unit that is behind the outstanding MapPoint and Street & Trips software.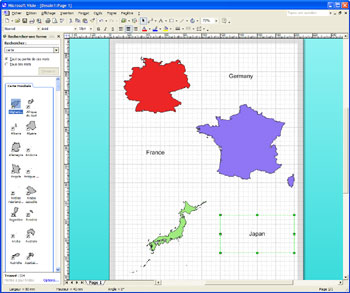 Microsoft Visio 2002 World Maps Retrieved On The Web (click to enlarge)
The main area where you draw your diagrams is a white sheet showing a grid along with rulers you can move for the highest possible accuracy. The bottom part of Visio 2002 shows tabs to switch pages along with buttons to jump to the next/previous or first or final page. Since Visio 2002 sports the Office XP look every menu shows a white background as well as icons in front of their commands. Visio 2002 is totally adaptable since you can change which buttons, toolbars, menu commands should be displayed or not. Unlike its predecessor, Visio 2002 now supports smart menus so it automatically hides the less used menus commands. That's great to not confuse novice users with commands they don't need.
Drawing a diagram is a child's game: you just have to click the appropriate drawing tool you want to use: frames, arrows, lines are the basic tools and just drag and drop the shapes you want to use. Each shape you draw can be customized to change the border thickness, the color of the line, etc. More advanced drawing tools enable you to hand draw figures or to create circles' arc for example. When you have drawn a rectangle or an elliptic circle double clicking on it will zoom in the document and shows a blinking cursor to type the legend you want to appear in this put. Each drawing can be resized using its anchor points but you can also move them using the 'moving' cursor. One of the great drawing tools of Visio 2002 is its link drawing feature that allows you to draw links between frames or shapes easily as it locates the next frame you probably want to link to and so adapts instantly its layout: it's the "SmartShapes" symbols feature. Microsoft Visio 2002 is MDI (Multiple Document Interface) software which means you can work on several diagrams (different files) at a glance. Each diagram can contain several pages you can switch from using the bottom page tabs.
Building Better Diagrams
As mentioned before, one of the key development goals of the Visio team was to release a product that can create better looking diagrams. As a result many new features have been added. First, if you have Office XP installed the Office Task Pane of Visio 2002 will let you add clipart, video, sound and annotations to cheer up your diagrams using Clip Organizer. The drawing engine has been revamped so lines and text now appear smoother than in any previous versions and gradient fills appear clearer when they are being viewed electronically. But that's not all! Visio 2002 now supports up to 16 million colors per document so you can add clipart and vivid pictures without any degradation.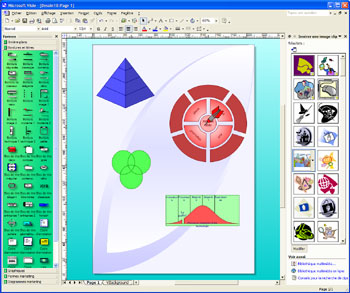 Microsoft Visio 2002 and its Office Task Pane with ClipArt Gallery Opened (click to enlarge)
Just like in Office XP, you can add into your diagrams pictures coming live from a scanner or digital camera using the built-in wizard. Not only you can retrieve images from WIA compliant scanners or digital cameras through the insert picture dialog box (only under Windows Me or Windows XP) but you can also insert pictures using Visio 2002 Twain compliant wizard directly from the application without leaving it.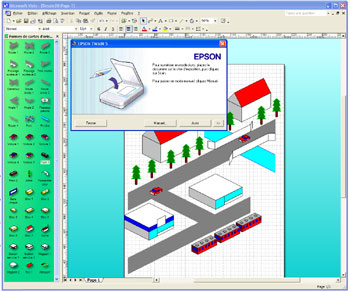 Microsoft Visio 2002 Professional Using A Twain Scanner (click to enlarge)
For those of you who are touchy Microsoft has even included some photo editing tools that let you adjust the level of brightness, luminosity, of a picture you've just inserted. If that wasn't enough you can also master other values like crop, group, or change the fill, border, shadow or transparency and blur values of those imported graphics. Microsoft Visio 2002 does indeed manage transparent objects so you can add a bit of relief and create more realistic effects.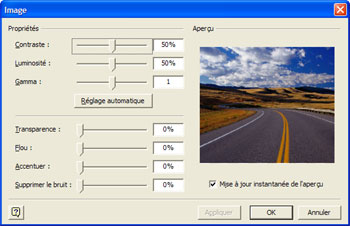 Microsoft Visio 2002 Professional Image Editing Dialog Box (click to enlarge)
For each shape you add into the diagram you can assign a hyperlink that'll lead the reader to a website another Visio document or an Office document. But best of all is the fact you can add several links to a single shape: when clicking it the user will see a menu that'll present him all the links you've created. Most of the Visio's tools have been streamlined in this new version to provide a better working environment. The pan, zoom, custom properties and drawing explorer windows can be merged into a single, page-tabbed window and docked in the stencil pane to retrieve valuable workspace. The search feature has been widely improved since you can now search diagrams for information contained in the custom properties, shape names, user-defined cells and shape text. The font toolbar shows preview of each fonts in the drop down list so you know what your text will look like when choosing a font.