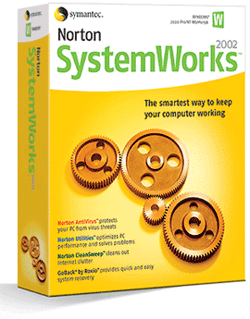 GoBack 3.0 Personal Edition
Norton SystemWorks 2002 comes packed with a time machine called Roxio (previously owned by Adaptec) known as GoBack. GoBack 3, an advanced system recovery tool, is the ultimate solution to undo failed drivers or software installations, recover from system crashes, etc. GoBack 3 lets you restore your computer to the exact state it was one hour or one day ago, or two weeks before a problem occurred. Since GoBack works continuously and in the background, you'll forget it's there and you'll now work in all peace of mind since you know whatever can happen you can always revert any changes made to your PC. GoBack 3 obviously works with Windows 2000 and Windows XP. The main advantage of the Personal Edition is that users can return their PC to a time it was working perfectly without the need to know what went wrong.
Setup
Despite the main word of SystemWorks 2002 is integration, GoBack 3.0 has to be installed separately than the whole suite. During the setup of GoBack 3 you'll have to define some settings like which hard drives you want to monitor and the space that should be allocated to GoBack for those operations (hopefully you can let GoBack defines the optimum settings for your configuration).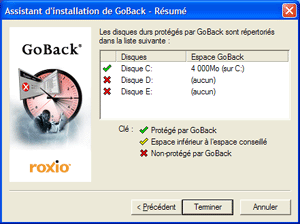 GoBack 3 Personal Edition Setup (click to enlarge)
Attention: once you've defined the size of hard disk space to be used for each partitions during the setup you won't be able to change it after. Once the files of the program are copied, GoBack will carefully check your hard disk seeking for defective clusters: once this process is accomplished (it may take a while!) you're prompted to reboot the computer so you get protected by GoBack. When you reboot your computer a small 'Protected by GoBack' screen will appear for a few seconds in the right bottom corner of your screen.
Features
GoBack 3 is the software you need to protect your PC and solve problems. Just like its main and only competitor PowerQuest Second Chance, Roxio GoBack 3 also lets you fix system problems: imagine that you've just installed a new software and on the reboot you get DLL crash, system hangs, etc. No problem with GoBack! In just a few mouse clicks you'll restore your system to a fully functional state. That's not all! If GoBack entitles you to make errors it also protects you from viruses: Melissa, Iloveyou, etc. won't resist to the undo power of GoBack. Launching GoBack is very easy: a small rewind icon appears in the tray area of Windows and a double click on it display the main menu of GoBack where you can pick up activities like restoring your system to a previous state.


GoBack 3 Personal Edition Tray Icon
The Personal Edition of GoBack 3 is limited. Unlike the Deluxe version, it doesn't let you retrieve one specific document in a single pass: you have to restore the whole hard disk to find back the file or folder that were accidentally deleted. You can't protect GoBack by a password nor enable the virtual GoBack hard disk nor retrieve a specific revision of a file you were working with. The interface of GoBack is very easy to learn and for each feature you choose the help file is automatically displayed making sure you won't make mistakes just because you don't know. Another exclusive feature of GoBack is the DOS protection! Indeed unlike Second Chance, GoBack monitors any changes that are made to files or folders under DOS mode. Then if you have an alternative operating system installed on the same PC you'll be glad to know GoBack doesn't allow access to the date it protects on the Windows drive so you're sure to be fully protected even when using an other operating system where GoBack isn't installed. GoBack 3 features an inline update feature based on LiveUpdate that'll regularly check if updates are available for the software.
How It Works?
How does it work you'll ask? The GoBack mechanism is based on a simple idea: each time a file is changed, updated, removed on your hard disks, GoBack backs it up in its history so you can next restore them if needed. It differs from an image program like Norton Ghost since it works all the time in the background monitoring every disk activities. To do so, GoBack automatically creates restore points (you can also create your owns) just like the Windows Me or Windows XP build in restore feature. When you open the main GoBack Personal Edition applet a list will show the various available restore points so you can easily go back to time you want! However in opposition to the Deluxe edition, it's impossible to view what are the exact changes for each restore points nor to view a detailed list of the files that have been modified.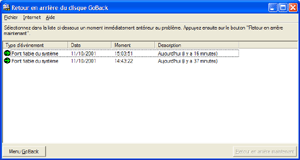 GoBack 3 Restore Points List (click to enlarge)
Restoring a PC to its Previous Condition
There are two ways to go back in time with the Personal Edition of GoBack 3. If you still have access to Windows, you'll be able to choose a restore point and launch a restore process effortlessly. If your Windows system is messed and that you can't even start it, don't worry! In this case you don't even have to insert a rescue floppy disk: just before Windows starts a small GoBack screen appears for a few seconds and if you push the space bar as instructed you'll be able to go back in time!