DirectX
ActiveMac
Downloads
Forums
Interviews
News
MS Games & Hardware
Reviews
Support Center
Windows 2000
Windows Me
Windows Server 2003
Windows Vista
Windows XP



News Centers
Windows/Microsoft
DVD
Apple/Mac
Xbox
News Search



ActiveXBox
Xbox News
Box Shots
Inside The Xbox
Released Titles
Announced Titles
Screenshots/Videos
History Of The Xbox
Links
Forum
FAQ



Windows XP
Introduction
System Requirements
Home Features
Pro Features
Upgrade Checklists
History
FAQ
Links
TopTechTips



FAQ's
Windows Vista
Windows 98/98 SE
Windows 2000
Windows Me
Windows Server 2002
Windows "Whistler" XP
Windows CE
Internet Explorer 6
Internet Explorer 5
Xbox
Xbox 360
DirectX
DVD's



TopTechTips
Registry Tips
Windows 95/98
Windows 2000
Internet Explorer 5
Program Tips
Easter Eggs
Hardware
DVD



ActiveDVD
DVD News
DVD Forum
Glossary
Tips
Articles
Reviews
News Archive
Links
Drivers



Latest Reviews
Xbox/Games
Fallout 3

Applications
Windows Server 2008 R2
Windows 7

Hardware
iPod Touch 32GB



Latest Interviews
Steve Ballmer
Jim Allchin



Site News/Info
About This Site
Affiliates
Contact Us
Default Home Page
Link To Us
Links

News Archive
Site Search
Awards



Credits
©1997-2012, Active Network, Inc. All Rights Reserved.
Please click here for full terms of use and restrictions or read our Light Tower Privacy Statement.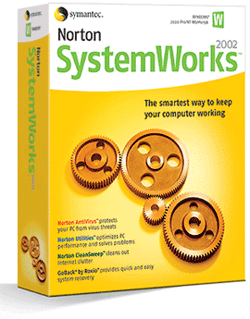 Norton AntiVirus 2002
Norton AntiVirus 2002 is the component of SystemWorks 2002 that has been the most revamped. It now features a new aqua icon that perfectly matches the Windows XP style. Norton Antivirus 2002 feature the Automatic LiveUpdate feature (like in Microsoft Windows Me) that will automatically download, while you're connected on the net, new set of viruses' definitions files to keep your protection level up to date, so you can concentrate on your work not on grabbing the latest updates. When you start Norton AntiVirus 2002 the first screen named 'System Status' will show a resume of the antivirus protection: email protection enabled, number of known viruses, and more. As with every previous version you can choose to activate the real time viruses analysis: when it's enabled a small, but neat, icon appears in the tray area of Windows indicating that all files you read on CD, floppies, ZIP, JAZ and more will be scanned to ensure they are virus free. That way Norton AntiVirus detects and repairs viruses automatically without interrupting your, tough, job.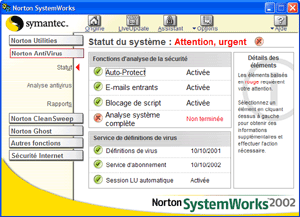 Norton AntiVirus 2002 GUI (click to enlarge)
Norton AntiVirus 2002 comes with a totally redesigned settings dialog box that intensively uses the HTML technology. This redesign makes the process of changing options much more intuitive and easy for novice users.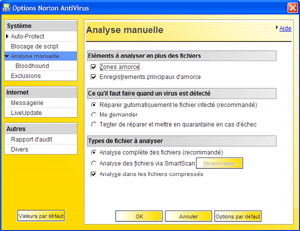 Norton AntiVirus 2002 Settings Dialog Box (click to enlarge)
Norton AntiVirus 2002 is tightly integrated with Windows, since in the Windows Explorer or Internet Explorer 6 a new toolbar named 'Norton AntiVirus' is being displayed. This toolbar (you can choose to hide) provides shortcuts to quickly access the most commonly used features of the antivirus. That way you can launch a virus analysis, display the status of the actual protection, reach the quarantine area, and consult the audit reports as well as the online virus bible. Norton AntiVirus 2002 features built-in links that'll lead you directly to the Symantec Security Response Web site (formerly known as Symantec AntiVirus Research Center) for additional information on specific viruses just when you need it most.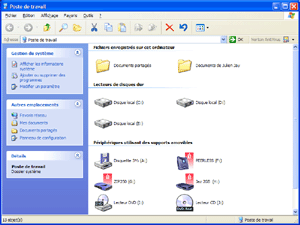 Norton AntiVirus 2002 Toolbar in the Windows Explorer (click to enlarge)
Norton AntiVirus 2002 obviously protects your email clients so you're sure to not grab any viruses when reading email attachments: at least you can read emails in all peace of mind. Not only Norton AntiVirus 2002 scans incoming emails but it also scans outgoing emails so you're sure to inadvertently not spread viruses. You can choose for which email accounts you want to activate or not within the scanner: when the email scanning feature is on it'll replace all your POP3 email servers by Norton AntiVirus specific ones so each time you'll check your email, new messages will transit by it.
When an email is infected by a virus like Sircam or so, Norton AntiVirus 2002 will display an alert dialog box letting you know you have received a contaminated email. This dialog box will also offer actions to eradicate the virus by deleting the email (or attempting to repair it). While you're checking mails a small, animated envelope icon appears in the tray letting you know that the emails will be checked. This feature works with the following email clients: Microsoft Outlook97/98/2000/2002, Microsoft Outlook Express 4.0/5.x/6.0, Eudora Light 3.0, Eudora Pro 4.0, Eudora 5.0, Netscape Messenger 4.x, Netscape Mail 6.0/6.1 & MSN Mail.
Standard disk analysis features are present in this release and you can easily do a manual virus checking on your primary hard drive. During the scan a nice new animation is shown making the lost time more fun. You can analyze folders, specific files or ZIP, JAZ, CD-ROM drives easily and schedule scans. The new virus scanning wizard, is divided in three areas that are: analysis, repair and resume. Within the same window, NAV will check the sanity of your hard disk and offer repairing options (if applicable)! This release of NAV 2002 now features a wizard that helps you create your own viruses' checkups letting you define which drives you want to analyze. As always the reporting feature of NAV is complete and each action of NAV can be logged so you know what happened. Norton AntiVirus 2002 still offers a list of virus (with their properties) but a link is provided so you can flick through the viruses' encyclopaedia, online. That's useful to know the level of danger of a specific virus.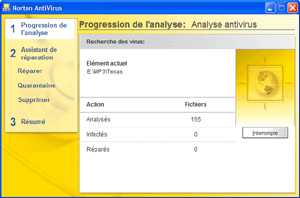 Norton AntiVirus 2002 Analysis Wizard (click to enlarge)
NAV 2002 continues to feature the old but good 'BloodHound' heuristic technology to recognize unknown viruses before they can create damage and the scanner can analyze compressed file content like Zip ones. The Quarantine tool is the same as in the previous release and allows you to move files that contain viruses into a safe place on your hard disk so you're sure the infection won't spread. If you suspect a file that is claimed virus free by NAV, to be contaminated by a virus you can submit it to the Symantec AntiVirus Research Center (SARC) using the online wizard: Symantec guarantees that its engineers will provide you a fix in a few days. Norton Antivirus 2002 offers the exclusive Script blocking technology. With this security enabled, each VBScript, JavaScript that is run by the system is monitored by NAV: when executing one of those scripts you'll be prompted to authorize, block the script. This feature has been designed to avoid HTML emails containing malicious bound scripts to execute themselves without your knowledge even before updated virus definitions are released.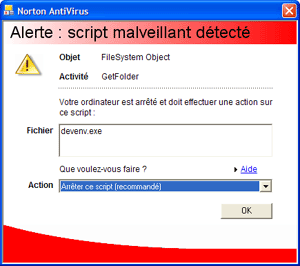 Norton AntiVirus 2002 Script Alert (click to enlarge)
Features of Antivirus software are not all, so we tested NAV 2002 with our set of viruses. Almost every virus was detected from IloveYou, Michael Angelo, Anna Kournikova, Sircam, to a conventional macro virus like Jakarta or Melissa as well as a DOS one JunkieBoot. To date Norton AntiVirus 2002 knows more than (more than 55941!). If NAV detects a virus on your system, a clear and efficient wizard will guide you to choose which actions to do: quarantine, repair (if the file is a document) delete, etc. This wizard is really a good thing so novice users will know what to do! Note that if you're afraid by the eventuality the repair tool can damage your Word document files you can first move them in the quarantine to ensure you've got a backup. We noticed one bad point with NAV 2002 (like every other competing antivirus software): when a virus has been replicated, the Windows Me protected and hidden restore folder keeps a copy of this file that can't be erased, repaired or so since Windows Me totally blocks the access to it: it's an annoying behaviour that forces users to manually remove contaminated files that are in this folder using Windows 2000 or a DOS floppy disk.