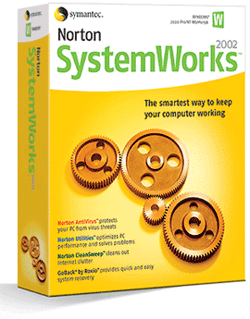 Norton SystemWorks 2002 GUI
After Norton SystemWorks 2002 has been installed and the computer restarted, the Norton SystemWorks Wizard will appear. This wizard will present you the suite and explains some of the default settings. Then, the first time you launch Norton SytemWorks 2002 you'll be prompted to check if there are updates available for your software on the Internet: this step is strongly recommended so your viruses' definitions will be up to date. Updates are always retrieved by the well known LiveUpdate applet that now carries the build number 1.64 since it was slightly streamlined (it has a new interface and is clearer).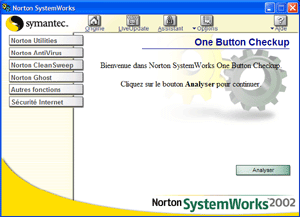 Norton SystemWorks 2002 GUI (click to enlarge)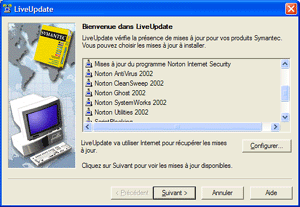 LiveUpdate 1.64 (click to enlarge)
The new interface of SystemWorks 2002 shows a dominant yellow color. The new Symantec logo is displayed on the top left corner of the Windows while flat buttons disposed in the left margin of the window give you access to the various Norton tools including: Norton Utilities (and its various components), Norton Antivirus, Norton CleanSweep, Norton on the Web. From the SystemWorks 2002 toolbar you can launch LiveUpdate or change the settings of each individual program in the suite but you can also access the help file easily. The most interesting part of the SystemWorks 2002 GUI is that it regroups all Norton Software in a same interface due to the exclusive Norton Symmetry technology. So you can run different Norton applications from a single place easily! When you click a Norton program button all the different possible actions will be displayed in the right part of the GUI and you'll have to make your choice!
Norton SystemWorks 2001 introduced the One button Checkup feature. This feature has been enhanced in the new release 2002. It replaces the confusing 'Norton SystemCheck' component of the previous version: with a single click on this button your system will be entirely analyzed while the SystemWorks 2002 GUI displays the status of the checkup with a gauge and an animated background. During this checkup almost every area of your system will be carefully analyzed, thanks to a wide battery of tests, in order to ensure it's a healthy PC: Registry, Hard disk fragmentation, free hard disk space, shortcuts integrity, hard disk integrity and more. If errors are found, Norton SystemWorks 2002 will automatically fix them if you decide to, by pressing the correct button. For ongoing system maintenance you can schedule automatic checkups.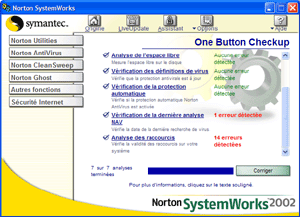 Symantec One Button CheckUp Resume (click to enlarge)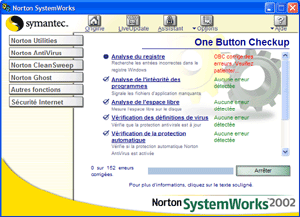 Norton SystemWorks 2002 One Button CheckUp Repairing Errors (click to enlarge)
Note: SystemWorks 2002 contains a Symantec Web tab that links to the free Norton Web Services now powered by CNET CatchUp that will analyze your current software and hardware configuration in order to let you know which updates are available for your system. A Security link will also analyze the level of security you can expect from your system and internet connection. Links to XDrive (free hard disk storage), Expertcity.com are also offered.