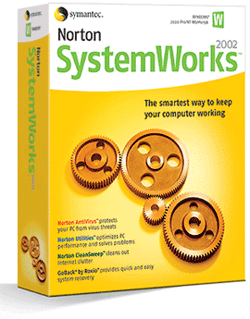 Norton CleanSweep 2002
Symantec bought to Quarterdeck its cleaning software a few years ago to replace the disastrous Norton Uninstall Deluxe software. Frankly I love CleanSweep and Iíve used it since the first release! This version is now totally integrated into the Norton range of software and continues to excel when cleaning PC hard drives or uninstalling software. Unfortunately no new features were added to this release. CleanSweep 2002 offers different features to remove clutter from your hard drive:
Uninstall: even if it lost interest with Windows 95 and the generalization of uninstall programs, CleanSweep can uninstall a program itself using its own database and smart features by removing files, associations, registry entries as well as shortcuts. Any removed program can be backed up so if ever a problem occurs or you need it back you can retrieve it easily. The uninstall feature works great and can be useful especially when the uninstall entry of a program in the add/remove applet of Windows was broken.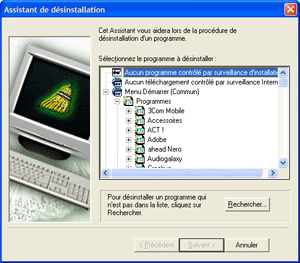 Norton CleanSweep 2002 Uninstall Wizard (click to enlarge)
Move: You can choose to move software from a folder of your hard drive to another one using CleanSweep. When doing this CleanSweep will analyze and change any shortcuts, file associations, registry records so youíre sure that when the program was moved itíll continue to work as before.
Move to another computer: Here is a top notch feature that grabs every file that are needed by a specific program as well as system entries so you can install your program on an other computer easily: we tested this feature with software like LiveMotion, PaintShop Pro and it really worked great.
Backup Wizards: CleanSweep offers the ability to backup a program in a compressed file or to backup several different programs in a single compressed file. It also works great and as with every feature of CleanSweep you are guided with a wizard to make sure what you do is right.
CleanSweep fast cleanup: this tool is intended to detect quickly which files are superfluous on your system and can be removed safely to retrieve some hard disk space. This process can empty the bin; remove Internet temporary files, lost groups files, temporary files (*.tmp, etc.) and Internet history. The software window displays two gauges: one that represents the available space on your hard disk while the second ones show the space thatíll be gained if you confirm the deletion.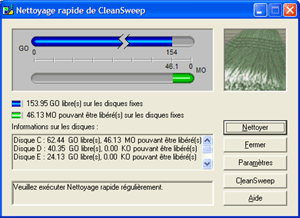 Norton CleanSweep 2002 Fast Cleanup Tool (click to enlarge)
Norton Safe: this is a good feature for those of you who are always scatterbrained as you can add to the Norton Safe every file that are precious for you so you canít delete them accidentally! Itís a good file protection feature.
Internet CleanUp: CleanSweep now manages Internet clutters and with one sweep pass it can cleans it up! The first feature offered by the Internet module of CleanSweep is to uninstall programs that were downloaded from the net. As always, users are guided by a wizard to choose which program they want to remove. You can cleanup the Internet cache with a single click of a mouse, which is great for novice users that donít know how to do so with Internet Explorer or Netscape Navigator. The feature I prefer is the cookies cleaning applet: when you launch it every cookies files that are present on your computers will be listed and you can select the ones you want to delete or delete all of them. Itís a good function to ensure youíre anonymous on the net. Plugins and ActiveX that were downloaded to surf a specific site can also be listed and removed at your convenience.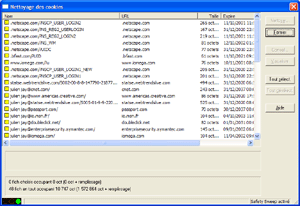 Norton CleanSweep 2002 Cookies Eraser (click to enlarge)
Advanced Cleaning: here are the most interesting features of CleanSweep intended to be used by power users (only under Windows 9x). In this area you can launch a registry cleaning: during a long scan every disabled reference will be listed and depending on its sensibility youíll be able to remove them or not. Duplicated files can also be found and you may delete them if you think they are useless. Redundant DLLS and VBXS can be listed so you can get extra space by deleting the ones you donít use anymore (however youíll have to know which ones are useless else as it can damage some of your installed software).
Unused files can also be listed: the concept is that CleanSweep scans your hard drive for files that werenít used for the last six months for example and suggests you to delete them since you didnít used them for a while. The last feature is the orphan scan thatíll detect every orphan item left on your system by old installed software so you can delete them (orphan items are: dll left behind, orphan file associations, zero byte files, orphan INI files, OLE objects, and more).
As you read the cleaning features of CleanSweep are very complete and are approachable by the smart wizards. CleanSweep 2002 comes with a security feature that classifies files between three different levels shown by Red, orange and green colors. Files that belong to the green group can be deleted safely without any risks. Orange files can be deleted only if the SafetySweep feature of CleanSweep is disabled: deleting this file may be dangerous but most of the time it can be done risk free. The last files or links that are catalogued in the red group cannot be deleted as CleanSweep thinks these files are too dangerous to remove like registry entries even if users can choose to backup every file, links, programs they remove.
Finally note that to ensure the best programs uninstall quality you can choose to launch the CleanSweep monitoring tools: they are two monitoring tools. The first one scans every file, links, associations, registry entries that are added by conventional setup programs while the second one monitors program youíve installed from the web. This monitoring features arenít essential to uninstall programs but provide when theyíre enabled the best accuracy.